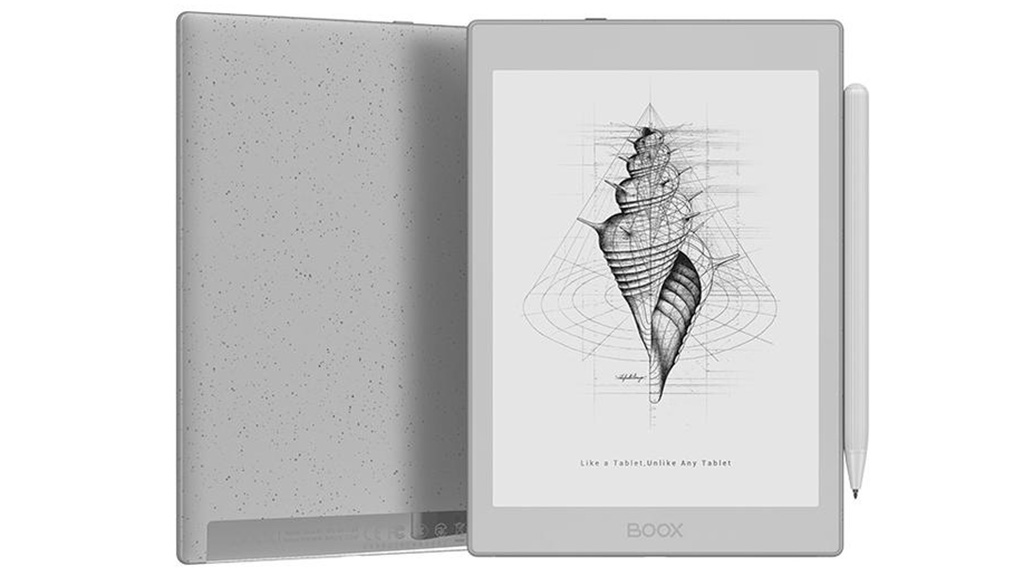 A renowned name in Reading tablet, BOOX, has unveiled its new BOOX Nova Air. It's a 7.8 inch E-ink reading and writing tablet. The overall design of this tablet is significantly different to make it more portable and versatile.
If you own a BOOX tablet, you may definitely want to upgrade to Nova Air after reading this article. It surprisingly weighs only 235 grams which makes it 30 grams lighter than its previous tab Nova 3. Moreover, it also is 1.4 thinner than its predecessor Nova 3.
The company claims that this is the thinnest and lightest tablet in its Nova series. Such a design makes for a perfect device to carry when traveling.
Unlike other tablets by BOOX, it comes in all-white color. The back cover has a grey-white spot structure for a better visual experience. Despite using a metallic back cover, it is an ultra-light tab.
The grey spot design also offers a firm grip while holding the device. BOOX offers a white-colored stylus for writing and making quick sketches. Thanks to its E ink technology, you can work on the tablet seamlessly.
This tab has a thin film coating over the entire display. It acts as a protective sheet as well as gives a natural writing experience by providing some friction and that typical 'pencil on paper' sound. You also get 5 extra marker tips in case you feel the existing tip on the stylus is worn out.
The stylus can be magnetically attached to the tablet so that, you can place it safely on the small groove on the device and prevent misplacing it. You can use it as a quick-note taker whenever inspiration strikes. It has an e-ink canvas display like Kindle, which works even better in direct sunlight.
Similarly, you can read your favorite e-books, store and carry important documents in it. BOOX is offering about 17 different e-book formats without needing to be converted. So whatever file you have, you can access them hassle-free.
All in all, reading and writing outdoors as well is quite convenient with using BOOX Nova Air. BOOX is offering a magnetic back cover with Nova Air. What's special about this magnetically attachable cover is its functioning buttons.
When you use Nova Air with its protective cover, you can flip the pages using those buttons only. This is pretty much convenient while reading books. The cover is also lightweight.
BOOX has added dual speakers with Nova Air. You can listen to audio-books and podcasts when you don't have a plug-in or wireless Bluetooth headphones.
BOOX Nova Air comes with a 3 GB + 32 GB storage system so that you don't have to worry about storage while putting in e-books. It also offers a cloud storage feature to sync and transfer files easily when switching to a different reading tab. Moreover, it has a type C USB port for charging and connecting to your PC.
Nova Air runs on Android 10 and has enough storage to install and use third-party reading apps. Most other apps are compatible with this new BOOX tab of the Nova series.
BOOX Nova Air is available for pre-order on the official BOOX website. It is priced at $349.99 in the USA and Canada. If you're an avid reader and desire integrated writing features on the same device, BOOX Nova Air is just perfect considering the price point.