Artisul has added a new tablet in its Pen Tablet section by launching A1201 12-inch drawing tablet with a stylus. Sure they're comparatively new to the market and don't have many tablets in their portfolio, but the parent company of Artisul, UC-Logic, has been in creating pen and digital drawing tablet technology for over 20 years.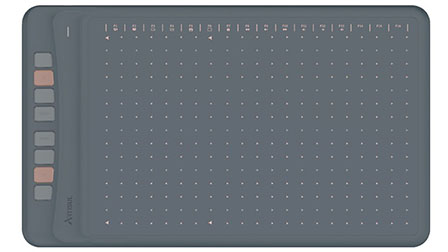 UC-logic then decided to launch their own graphic tablets under their brand Artisul. So, don't be hesitant to consider Artisul A1201 if you're looking for a new drawing tablet. The tablets are designed in San Francisco and manufactured in Taiwan.
The overall features of Artisul A1201 are promising to be considered as a high-end drawing tab. Let's have a look at what it has for you.
Artisul A1201 doesn't have color variants. However, it has used Morandi colors for multi-functional buttons and on the working area. Colors matter, especially when you are using the tablet to pour out your heart. These Morandi shades are quite soothing and serene.
The stylus it comes with, digital pen P62 requires no charging or has a battery. It simply allows you to draw and create naturally. There's a slot on Artisul A1201 beside the concave mark to place the pen when you're not working.
Artisul A1201 is available to buy
Unlike older digital pen technology, it features 60 degrees of tilt angle to draw more realistic. Also, it works with 8192 pressure sensitivity levels for more creatively represented ideas. 8192 levels of pressure sensitivity at the price of Artisul A1201 is one of the best deals you get.
The tablet offers 5080LPI of fantastic resolutions along with a max 440PPS report rate. This makes for a professional graphic tablet. Artisul A1201 is a 12-inch tablet is only 9mm thick. That makes it very convenient to carry wherever you go and represent your ideas with more ease whenever inspiration takes you.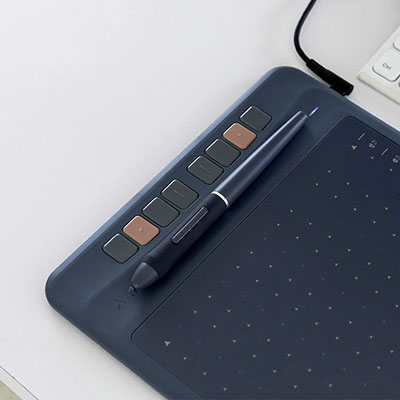 The drawing tablet has 8 multi-functional keys for ease and convenience while you're lost in creating your art. In addition to that, there are 16 other multimedia buttons present on the upper border of the working area. However, those can only be used with the driver installed.
The total working area you get is 258.4*161.5mm when you've installed the driver to use multimedia keys on the screen. Whereas if you want to increase the working area slightly, you can remove drivers and make it 258.4*171.5mm.
Artisul A1201 also connects easily to your Android phone. When connected with a smartphone, it allows you a 161.5*90.8mm working area. Working on an Android phone requires an OTG cable.
Artisul A1201 connects to your computer using a USB type C connector. The cable is long enough and also allows you to change the orientation of the tablet at 90°, 180°, and 270° for more flexibility.
The surface of the tablet is tough to be scratched with the stylus. But in case you feel like the surface has become rough, you always have an option to replace the sub-board. Not many tablets come with this feature.
Artisul A1201 works with graphic software like MediBang Paint, Corel Painter, CorelDraw, Adobe Illustrator, Adobe Fireworks, CDR Adobe Draw, Adobe Photoshop, SAI, Comic Studio, Macromedia Flash, etc. It supports Windows 7 and newer operating systems, macOS 10.12+, Android 6.0+.
The name 'Artisul' is derived from the phrase "Art is Soul" which is also the company's tagline. All in all, this tablet can be used by graphic designers, students and teachers for educational purposes, and literally anyone who loves to put their creative ideas on the screen.