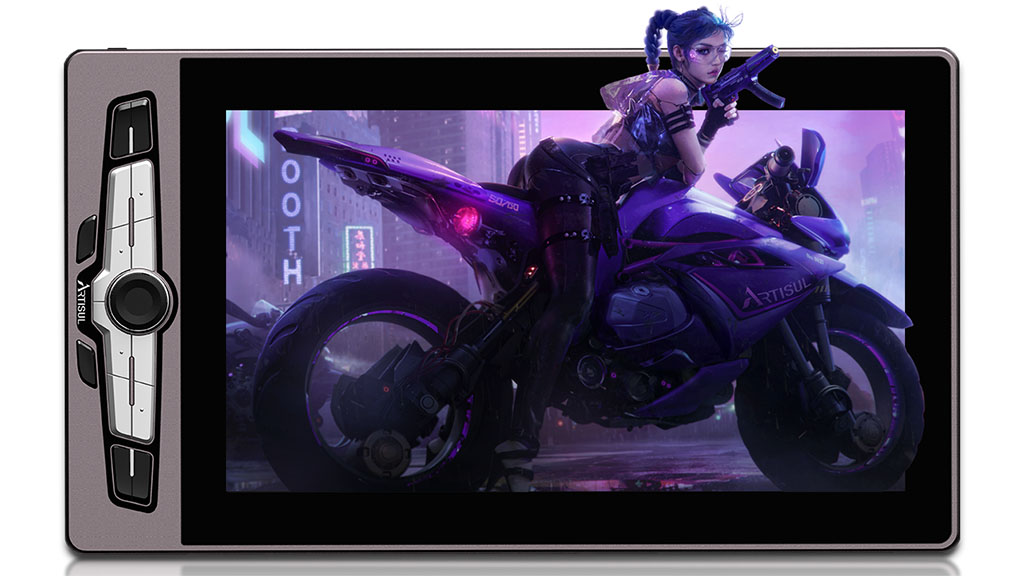 One of the popular companies producing professional gadgets for digital drawing, Artisul, adds one more pen display to its portfolio of devices. Pen displays are quite convenient for creating professional digital drawings on a larger screen and working on the finest details.
At the time of writing this article, Artisul has four other pen displays to offer other than Artisul SP1603. This pen display is significantly different and better. Let's see what Artisul SP1603 has to offer.
It has a unique slim design for improved mobility and convenience to carry around. Artisul SP1603 is only 9 mm thick and weighs about only 1.3kg. The total work area it offers is 15.6 inches which is approximately 344.16×193.59 mm.
It features a mauve al-alloy back case that gives it a stylish look as well as a durable and wear-n-tear resistant surface and heat dissipation performance. All in all, it offers a fashionable yet sturdy enclosure.
On the left side of the pen display, Artisul SP1603 has 14 different functional keys arranged in an airplane wing style panel. In addition to that, there is a dial controller placed in the center of that wing design.
If you install Artisul's driver, you can also edit what you can do with the dial controller. Its keys are quite convenient to operate and provides an immersive, uninterrupted working experience for great productivity.
Artisul SP103 pen display offers a 90% NTSC color gamut. This simply means the display is able to show more colors with high accuracy and allows you to edit and work on colors intricately. Such lifelike output with vibrant colors is indispensable for professional digital drawing.
Working on a fixed digital device for a long time is sometimes exhausting and inconvenient. But thanks to Artisul SP1603, you can position the pen display at different tilt angles.
Artisul provides a stand that lets you fix the display at four different angles, 22°, 26°, 30°, and 32°. The different angles doesn't make you compromise with the picture quality though.
It has a IPS LED display with 178 degrees of viewing angle. That way you can look at the display from different angles easily and without parallax.
Artisul SP1603 has a better and complete lamination between the touch layer and the display so that it can response to the stylus pretty faster with the utmost accuracy and precision. This is possible by eliminating even the tiniest air layer between the two surfaces.
The Artisul pen display features a tempered glass over the display to reduce blue light and make it an anti-glare display. Moreover, its harder surface provides a natural pen on paper sort of feeling.
About stylus, Artisul SP1603 comes with Artisul P77 stylus. The pen has two programmable buttons on it along with a silicon grip for convenient and firm gripping. It contains double pen nib as well.
Not to mention Artisul SP103's industry best pressure sensitivity levels and report rate. It offers 8192 pressure sensitivity levels and 220PPS report rate. In addition, the stylus also allows to use it at different angles with appropriate outputs on the screen.
The Artisul SP1603 comes with an HDMI port and a type C USB. Meaning, you can connect it your computer using and HDMI and a 2-in-1 cable or with a fully featured type C USB cable. The type C cable also lets you connect the pen display with an Android smartphone.
The Artisul pen display is compatible with Android, Windows 7, macOS 10.12, and newer versions. And with such stunning specifications and features, it is able to run professional graphic software like Adobe Photoshop, Adobe Illustration, and a lot more easily.