Handheld devices are in the hype for a considerable amount of time. With better specs being loaded unto the smaller form factors, they have nearly replaced a number of devices that used to be a part of our life. With advancements in technology, the devices are more compact and at the same time smarter as their predecessors.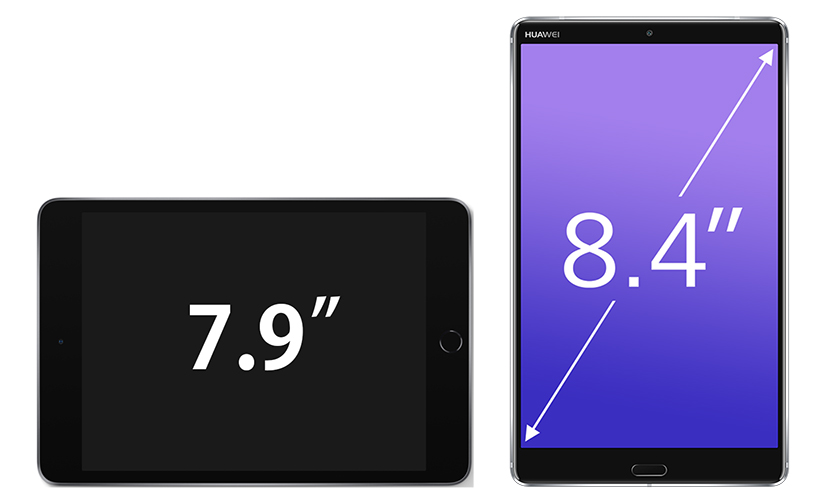 The devices in this consideration are the new 5th generation Apple iPad mini 2019 and 8.4" Huawei MediaPad M5. Well both the manufacturers promise buyers of greatness of their devices. But now its time to find out which one should be your pick. Apple and Huawei have been revolutionary companies that have brought a wide range of devices to the market. It would be really difficult to compare between the two products but let's do it. The smart devices would be compared depending upon a wide range of aspects.
Design
Apple iPad Mini comes with a 7.9-inch form factor in one of the best designed body that feels great to hold and work. Well, the fact that made the iPad's so popular was its dimensions. When you have got all the bells and whistles of your mac in a smaller body, you would never want to switch back.
iPad Mini's design is made compact to fit in your pockets. This will ensure that it is with at all times when you need. With a smaller form factor, Apple has also reduced its weight. The new iPad Mini now weighs only 0.66 pounds and its external body is only 6.1 mm thin. You can carry this device in one hand and in small pouches. Moreover, it is going to be your mate all the time. Who knows when you can get inspired?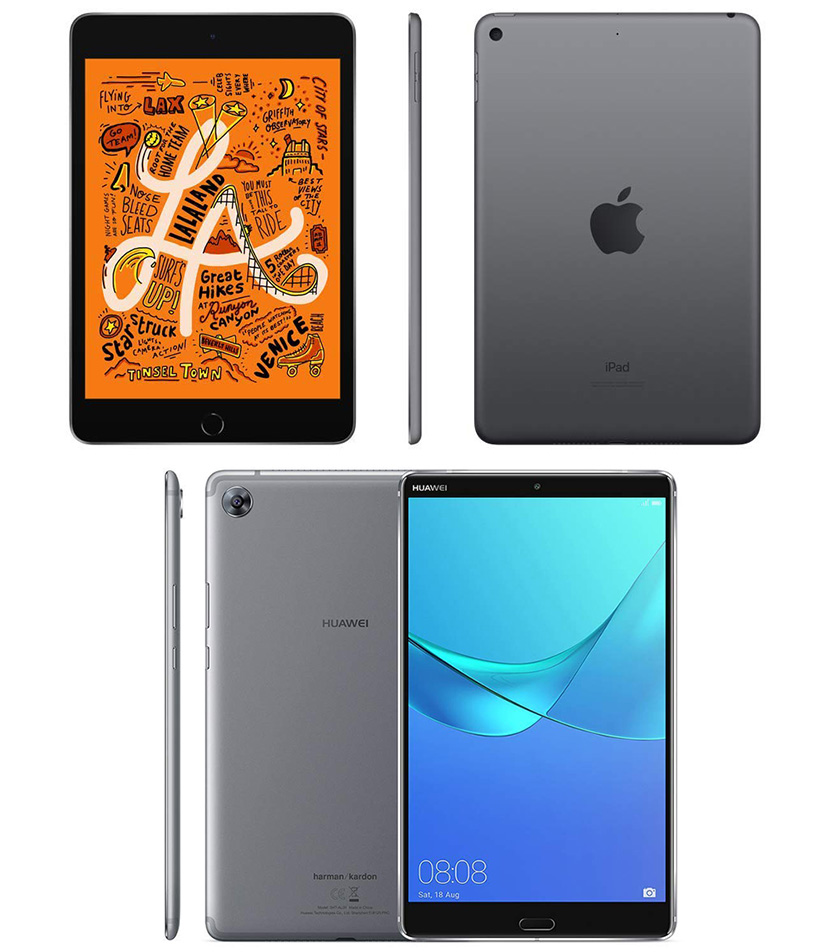 The 8.4" Huawei MediaPad M5, on the other hand, features an 8.4-inch display. As the tagline of the product reads, "Recreation Comes Alive", the designers have designed this amazing product meticulously. The device features a thin bezel on the top and the bottom, which magically increases the screen to body ratio and carves out a bigger display size in the compact design. MediaPad M5 is designed to be thinner and sleeker. The thickness of the pad is just 7.1mm.
Huawei MediaPad M5 here gets an edge over the iPad Mini by featuring a bigger screen to body ratio.
Display
Apple iPad Mini is known for its chunkier and highly responsive screen. It features a retina display and has been home to more than 3 million pixels on the 7.9-inch display. The retina display brings out colors and brightness as it is. Moreover, Apple provides an anti-reflective coating to iPad Mini, which helps in displaying razor-sharp details without any distortion. It also gets True Tone which helps in adjusting the white balances to the perfect mix in order to make your images look natural. Display is also easy on easy, which means longer working hours won't disturb your eyes. Your eyes would ultimately love the screen.
Huawei MediaPad M5 is nowhere left behind. It features an ultra-vision 2k display which brings out every minute detail in the images and videos. Not only that, greater screen to body ratio makes it easy for getting a wider view. It has been fed with revolutionary HUAWEI ClariVu technology that has its own state of the art algorithms that help you to get the best and unclear frames and contrast levels. This technology helps device to transform the viewing experience to greater levels. It's not done. There are some more MediaPad. The MediaPad M5's intuitive display adjusts the surrounding light that makes the viewing experience much better.
Performance
The new-fangled iPad Mini has the beast undercover. It is powered by the fastest ever chip from the house of apple. It's A12 bionic with a neural engine that aims at tackling tougher scenarios with ease. With new iPad Mini, you get hands-on experience of great power mated to a higher level of intelligence intuitiveness. A12 bionic has simply got abilities to perform operations at lightning fast speed. It is offered with two more configurations of 64GB & 256GB. It now comes with AI capabilities and real-time monitoring engines that tend to add a level of perceptiveness to your life. The new iPad Mini runs on the best ever operating system ever made by Apple – iOS 12. iOS 12 is known for its capabilities and you would always expect something impressive.
Huawei MediaPad M5 8.4" is powered by Kirin 960 series processors. Kirin 960 chips gets you the best ever gaming and multitasking experience on the device. It is also highly put into work in order to deliver crystal clear video quality and it never lets you down. It is powered by Android Oreo and comes with a 32 GB internal storage and runs on 3GB Main Memory.
Connectivity
iPad Mini has got a whole range of connectivity features. It features some of the class-leading features like fast Wi-Fi connectivity. Not only that it also gets the segment best Gigabit-Class LTE connectivity.
Huawei MediaPad M5 has also got great connectivity features. It Wi-Fi 802.11 which can deliver the higher speed of connectivity.
Battery
Apple iPads have been designed to be your productivity boosters. They are powered by lithium-ion battery packs that can work seamlessly for a time period of 10 hours on a single charge. But on the downside, Apple doesn't provide any quick charge support.
Huawei Mediapad M5 though has got some of the impressive numbers here. The Huawei M5 is powered by a 5100 mAh battery that takes only 1.9 hours to charge. With a fully charged battery, you can be able to play videos at 1080p resolution for more than 11 hours. The MediaPad gets the latest 9V2A fast charging technologies that make available for sufficient power in very less time of charging. According to the claims of Huawei, you can charge the device for just 30 minutes and then enjoy watching videos for a period of 1.5 hours.
Security
This is definitely the point in the case where the Apple iPad Mini has got a heavier side. Apple iPad Mini gets the most loved touch id from Apple, which keeps all the data secured inside your device and only lets you interact with those.
Huawei MediaPad M5 has also got a fingerprint scanner on the front. Apart from fingerprint sensors, you also get other security features from android.
Camera
Lights, camera and action are what keep us moving. When you want a device that can click great photos and at the same time deliver HD quality video call results, then there is none better than the iPad. Apple iPad mini features a 7 MP front-facing the camera for Facetime and an 8MP Primary camera for taking wonderful snaps. Camera is also capable of recording videos in high definition. You now have AR capabilities in your iPads, so when you get bored, just open the camera and play a number of AR games. You can relieve your best moments with this device.
While Huawei MediaPad M5 gets 13 MP autofocus primary camera and an 8MP front-facing the camera. The clarity of the cameras does come out good and the intelligent display boosts the images captured. The 2k engine makes the images vivid and lively with the perfect adjustment of the contrast.
Verdict
Both devices have their own capabilities. In some of the section, the Apple iPad Mini had been a clear winner and, in some cases, the Huawei MediaPad M5 makes its mark. When it comes to viewing experience and performance, there is no comparison of the Apple iPad Mini with any other devices, similarly, when it comes to battery back-up and sound capabilities, there is no competition for the Huawei MediaPad m5.
The Huawei MediaPad comes with a speaker setup that is tuned by Harman Kardon. The speakers have been well fitted into the device so that they are perfectly balanced and powerful enough to provide that sound output, which has X-Factor in it. Huawei has loaded the MediaPad M5 with four such speakers. So now it clearly depends on your proposition to choose the device. If you can stretch your budget a bit higher, then the Apple iPad Mini should be your pick and if you have less budget then the Huawei MediaPad M5 should be your pick.
So now the choice is yours to decide upon which is going to be the next device that can be a part of your everyday crusade. Take time to think and get the best one out there.
Apple iPad mini 2019
8.4" HUAWEI MediaPad M5
Processor
A12 Bionic chip | Neural Engine | M12 Coprocessor
Kirin 960 Series Chipset
Display
7.9" (2048 x 1536) 326ppi 500nits Retina
8.4" (2560 x 1600) Enhanced ClariVu
Memory
64GB or 256GB Storage
4GB RAM + 32GB or 64GB Storage
Camera
Front: 7MP FaceTime HD
Rear: 8MP
Front: 8MP
Rear: 13MP
Battery
19.1 Whr
5100 mAh
Weight
Wi-Fi: 0.66lbs
Wi-Fi + Cellular: 0.68lbs
0.70lbs
OS
iOS 12
Android 8.0 Oreo
Price
Wi-Fi: Starting at $399 | Amazon
Wi-Fi + Cellular: Starting at $529
Around $319 | Amazon