Soon after Apple CEO Tim Cook announced Apple's earnings, the IDC has statistical confirmation that the June quarter has never been this much fruitful for iPad sales in this decade.
With the data published by IDC, International Data Corporation, we can say that Apple has aced the tablet selling competition in this quarter. IDC is a worldwide corporation that tracks the quarterly sales of personal computing devices.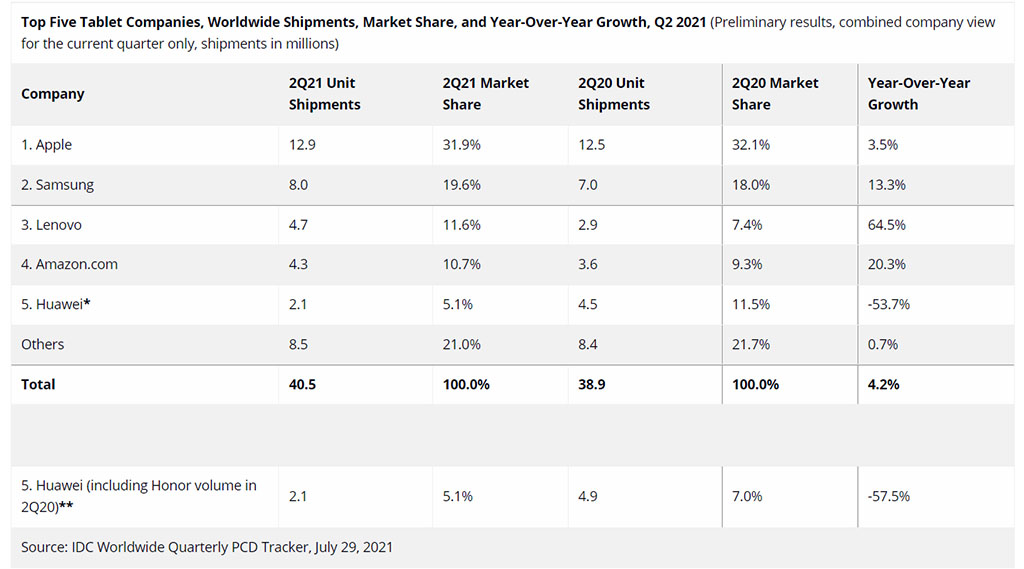 Apple has sold a whopping 12.9 million tablets in the last three months. The company has upgraded its iPad Air in 2020 and iPad Pro this year, now we can expect the next boom in its sales will be because of refreshed iPad Mini. However, there is no confirmed news about Apple's plans to upgrade iPad Mini.
The news says nothing drastically surprising because Apple has always been having an edge over lackluster Android tablets. Sure, Android is a tough competition for Apple in smartphones, it has to bring out exceptionally superior changes in user experience and apps to beat iOS.
In the same quarter last year, Apple made 12.5 million shipments, which means that there's an increment of 0.4 million more sales. And the year-over-year sales growth of Apple is 3.5% in the tablet segment. It looks like the company is making more steady growth in shipments compared to other tablet sales.
The nearest competitor of Apple is none other than Samsung with approximately 8.0 million unit shipments. Comparing the sales with last year, Samsung has sold 1.0 million more tablets in the June quarter.
The year-over-year sales growth of Samsung in the tablet section is 13.3% which looks quite promising. With Galaxy S7 tablets, Samsung has shifted the high-end standard of tablets quite higher. If we see new technological advancements and user experience based on Android, we can witness tough competition between Apple and Samsung in the tablet world.
Following Samsung, Lenovo made 4.7 million 2Q21 Unit Shipments. Which is 1.8 million more sales compared to 2Q20. The year-over-year growth for Lenovo is 64.5%. This again is a good sign that Android tech is innovative and rolling out better tablets consistently.
Amazon and Huawei follow Lenovo with 4.3 million and 2.1 million 2Q21 Unit Shipments respectively. The miscellaneous sales cover 8.5 million shipments. All in all, the total tablet shipments made in the June quarter are 40.5 million with a 4.2% year-over-year growth.
Talking about Chromebooks, the shipment growth remains 68.6% year-over-year with a total of 12.3 million units shipped this quarter. Despite massive shipments, the June quarter isn't a record-making span but they are pretty much close to the previous quarters which did record-break shipments.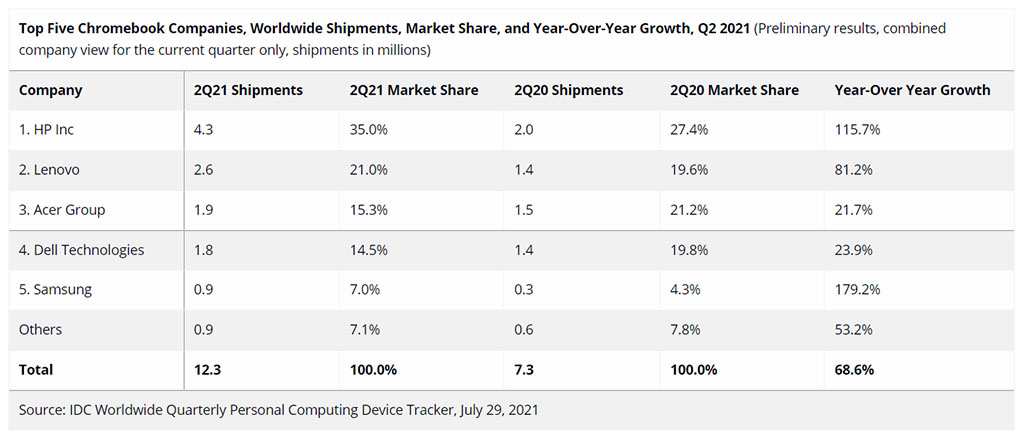 The top 5 Chromebook companies are HP Inc, Lenovo, Acer Group, Dell Technologies, and Samsung.
The growth in both Chromebook and Tablet segments is not promising enough if we take into consideration the booming shipments of both devices in the recent quarters. The reason behind it is the shortage of equipment used in such tablets and due to that, the manufacturers shifted their focus to selling high-end Windows PCs with higher margins.
In addition to that, due to the pandemic, more education deals have been canceled for Chromebooks and tablets. However, this won't affect their sales widely because students are preferring to use Chromebooks over Windows/Apple laptops across the globe. And schools opening with platform change will bring in the growth in Chromebook as well as tablet shipments. The uprising sales in Europe and a few Asian countries support this fact.
Source: IDC