XP-PEN has been a high achiever in the graphics tablet market, since 2005. XP-PEN strives hard to deliver one-of-a-kind graphic tablets to users with one goal in mind- "Make the lives of designers seamless"! And today XP-PEN has released a new Artist15.6 Pro drawing tablet, which is capturing the market at a greater pace. The design of the tablet reflects the teamwork and innovation put in by the company for making this device.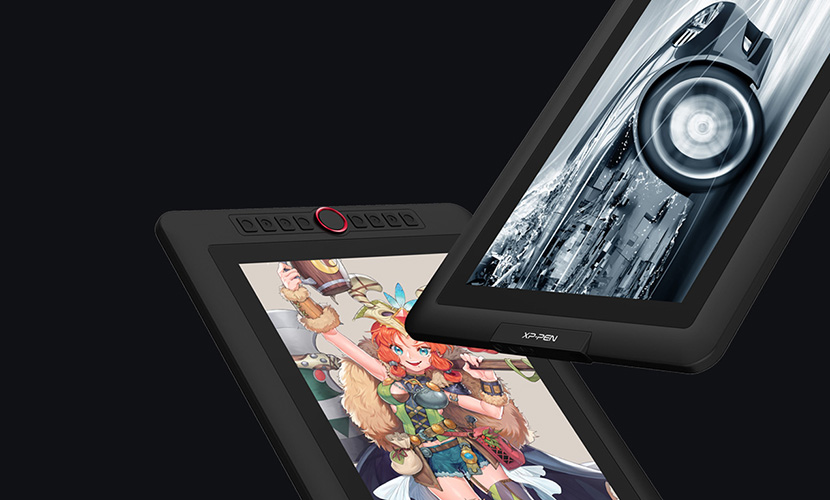 The 15.6 inches tablet comes with a red dial interface and 8 shortcut keys, contravening the traditional graphic models and the old 15.6 drawing tablet. The tablet has IPS display, giving you the resolution of 1920 x 1080 with a 178 degree visual angle, giving you brighter and richer color. The huge screen enables users to work flawlessly, zoom in and out, and optimize their potential to their fullest.
The device is 11mm thick, 3.3lbs lightweight, which gives users a proper hold over the tablet and begin their drawing journey. The XP-PEN is recognized for its unique, lavishing, and efficient pen.  This pen has the ability to tilt at 60 degrees angle, giving users that ease and making their experience unforgettable. The pen has pressure levels up to 8192 along with report rate of 200RPS, allowing you to make your design the way you want without any hassle. Furthermore, the pen is very sleek with a few shortcut buttons on it and battery free- so forget about charging concern and just focus on what you do best.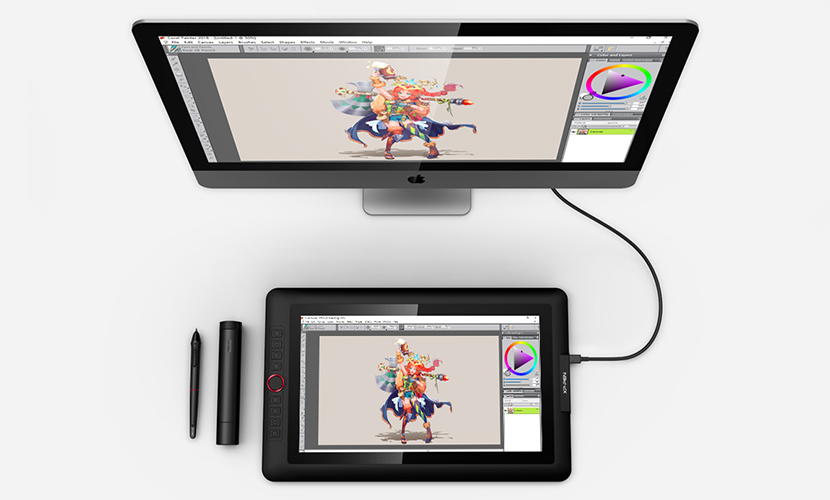 XP-PEN Artist15.6 Pro drawing tablet also offers replaceable anti-glare film, giving designers a transparent and scratch resistant screen with same brightness and richness. More so, the tablet is highly compatible with top operating systems that include Windows, Mac OS to any later version of the same. The tablet also supports major designing software such as Photoshop, Adobe Illustrator, Painter and a lot more.
Your excitement shouldn't end here! XP-Pen Artist15.6 Pro offers a wide range of accessories to simplify your day-to-day activities. You'll be getting an easy-to-use solid stand, which allows you to place your tablet like you used to place a piece of paper for drawing and draw with your natural, flexible and highly sensitive pen and place it in the pen holder, which is sew up with this tablet. You don't have to worry about the nibs of the pen as your stand will secure everything, just place it right!
Besides these, the new Artist15.6 Pro drawing tablet comes with 1 x 3-in-one cable, 1 HDMI to Mac Adapter cable, one extension cord as well with quick guide, cleaning cloth, and drawing glove. The tablet has been considered in the mid-range market- so what extra you want! People are showing their immense love and trust towards this exceptional invention of XP-PEN after 15.6 drawing tablet because the orders are out flowing each day. Hurry up! The tablet has hit the Amazon shopping cart along with the specifications. Order yours now!