XP-Pen recently launched its latest flagship product, Artist 13.3 Pro graphics display tablet. Rumors were high in the market concerning the product, but XP-Pen didn't give any hints concerning this tablet launch. It seems that the plan was to hit the market, unveiling all the features along with price to reduce user's curiosity. A quick glance over the tablet will empower you to purchase this tablet in no time as it is available at a cost-effective price.
The design of the tablet is subtle and decent along with lightweight that makes this tablet user-friendly. If you're an on-the go artist, then Artist 13.3 Pro graphics display tablet is an ideal choice! The aesthetic design and eight express keys in the front, makes this tablet one-of-a-kind. With these keys, you can customize your tools as per your working habits, which means you will not feel like you're switching from a paper to a digital platform.
The 13.3" screen size is similar to that of a laptop and is FHD, which enable it provide you with better drawing experience, animation, fashion, photography, architecture design and a lot more. This table makes sure that you always stay afloat!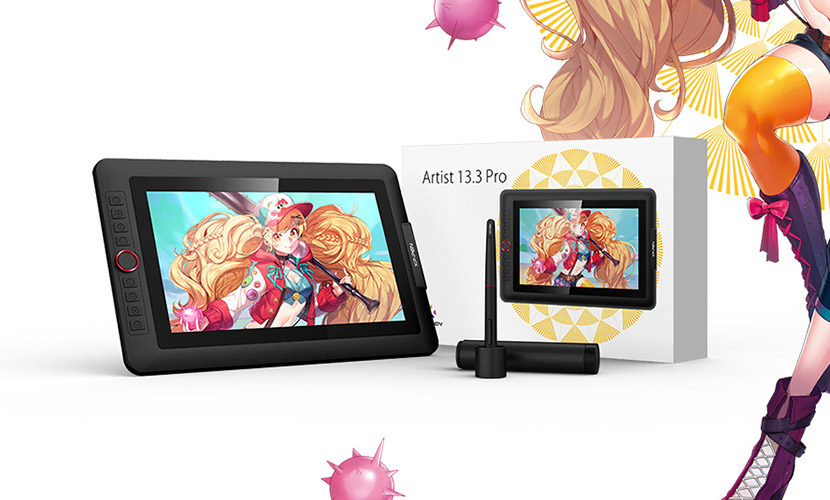 The second most powerful thing that every design is concerned of is the pen. And XP-Pen is all set to deliver you with groundbreaking and innovative pen this time. Pen of this graphic tablet provide natural tilt of 60 degrees, which will help you eliminate the hassle of adjusting the brush in the right direction all the time. All you need to do is, add shades to your creativity by simply tilting the pen, making your experience more seamless. You will experience super smooth transition between the lines and strokes as the device has adopted full-laminated screen.
With a pressure level of 8192, sensitivity of the pen is quite amazing along with increased accuracy and better performance. It enables you to draw finest lines with the ability to present even the smallest lines, which are equal to hairs. Apart from this, the stylus of Artist 13.3 Pro Graphics tablet offer you a battery-pen that means now you can keep drawing and showcasing your creativity to the world without worrying about the magic wand you're holding. You can use it as a mouse with right click on the pen as well as one-click toggle that include pen and eraser. You can also add brushes instead pen at just one click.
The tablet is highly compatible with major operating systems, which MacOS and Windows along with some top drawing software. Adobe Photoshop, SAI, CDR, Illustrator, Blender, Krita, etc are some of the top software that can be easily integrated with Artist 13.3 Pro Graphics Tablet. In this way, you can stay connected with your desktop as well and enjoy the drawing experience in an efficient way.