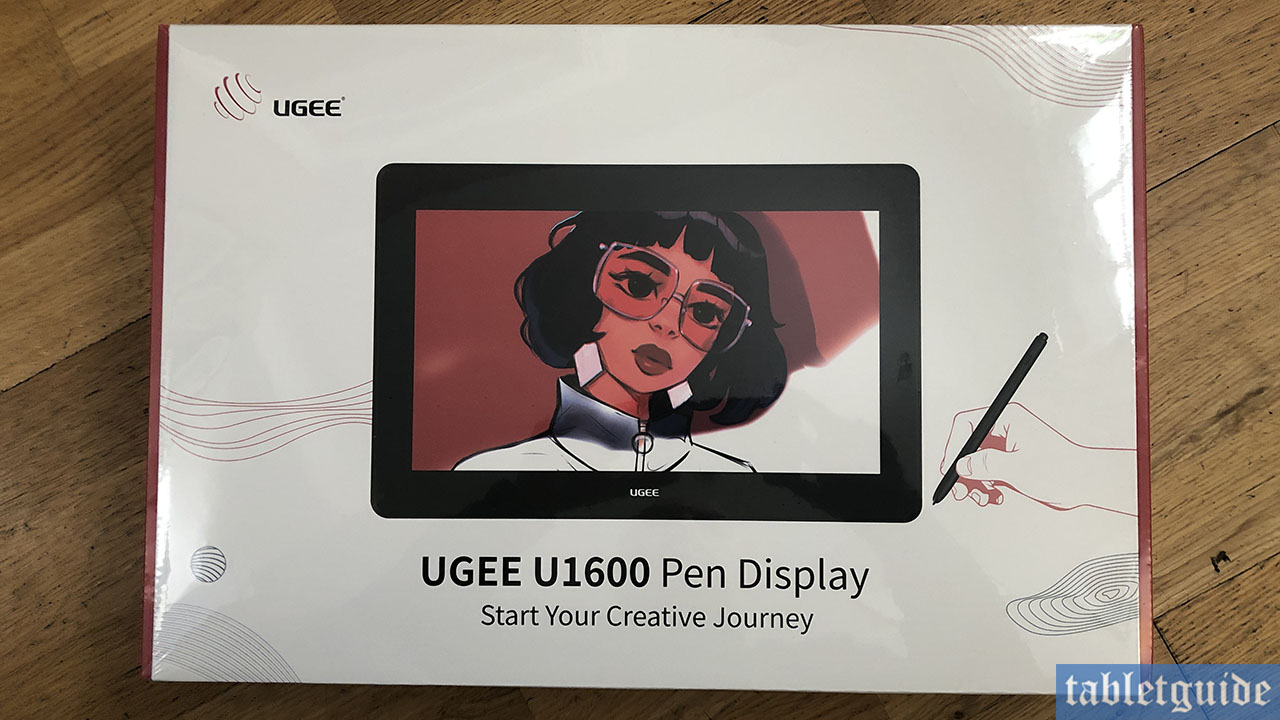 The UGEE U1600 Pen Display is the device we are taking a look at today. Recently released alongside its smaller sibling, the U1200, according to their website, both devices are 'entry level drawing tablets with screen with a wide gamut'.
This will be the first time I've used and/or tested a product from this company and I had to do some digging to find out more about them.
They've been around since 1998 and say they target the 18-20 year old age bracket, but never seem to be mentioned in the same breath as Wacom, HUION, XP-PEN (here in the UK anyway!), although interestingly, it seems that XP-PEN are a holding subsidiary of Hanvon UGEE since 2019 – so they presumably know their stuff – let's find out…
UGEE U1600 – Tech Specs:
Product Model: U1600
Dimensions: 402 x 263 x 14.74 mm
Active Area: 341.0 x 191.8 mm
Display Resolution: 1920 x 1080
Color Gamut: 90% NTSC, 127% sRGB, 94% Adobe RGB
Full Lamination: Yes
Contrast (typical): 1000:1
Brightness (typical): 220 cd/m2
Viewing Angle: 178°
Stylus: PH12 battery free stylus
Pressure Sensitivity: 8192
Tilt: 60°
Resolution: 5080 LPI
Reading Height: 10 mm
Accuracy: ±0.5 mm (center), ±1.5 mm (corner)
Ports Included: 1 x full-featured USB-C, 1 x 3-in-1 USB-C
Power Input: DC 5V ⎓ 1A
Compatibility: Windows 7 (or later), Mac OS X 10.10 (or later), Chrome OS 88 (or later),
Android (USB3.1 DP1.2) and Linux
What you get in the box: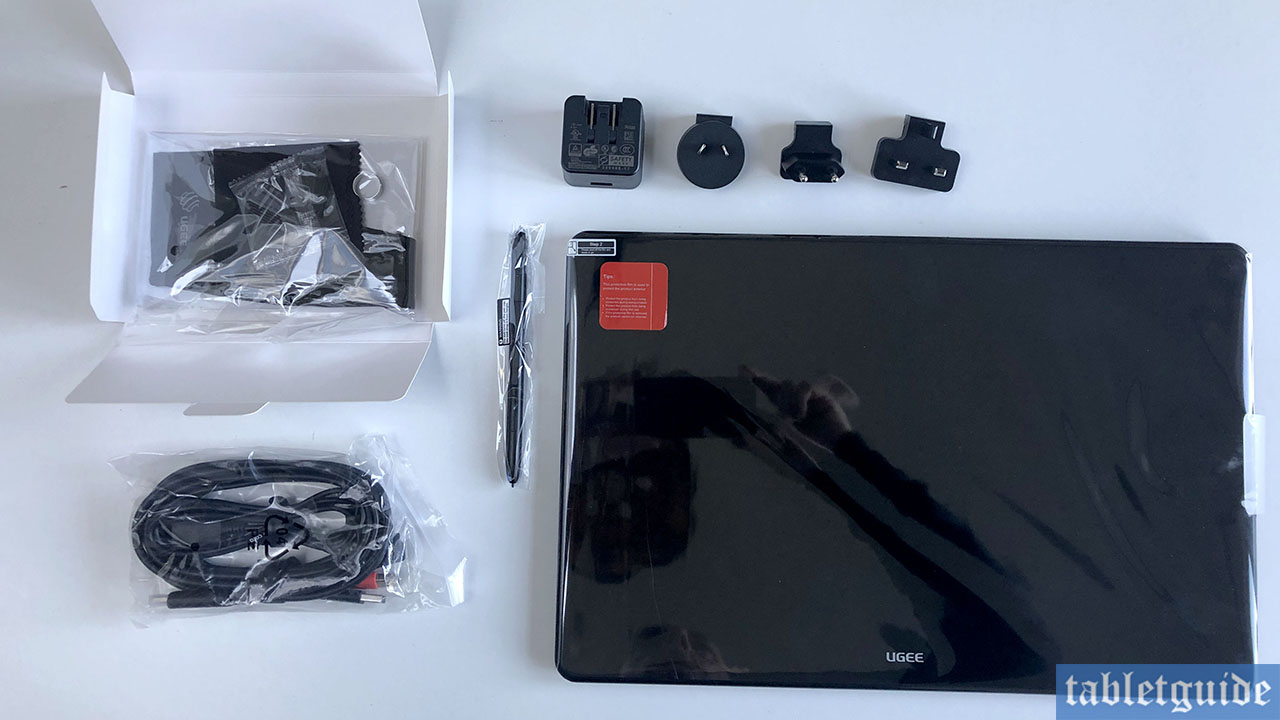 1 x Drawing Monitor, 1 x Battery-free Stylus, 10 x Replacement Nibs, 1 x Nib Extractor,
1 x Extension Cord, 1 x 3-in-1 Cable (L-shaped), 1 x Power Adaptor, 1 x Quick Guide, 1 x Guarantee Card, 1 x Cleaning Cloth and 1 x Drawing Glove.
The (white) box of UGEE U1600 itself has a rather nice illustration of a cool looking, bespectacled young female character looking out from within the tablet itself, as if she'd just been drawn and coloured – I like it! 😊
After removing the black foam screen protector lies the plastic covered and protected screen. Taking all this off reveals quite a sturdy and well-built tablet which isn't too heavy at all.
On the top left of UGEE U1600 is the power button and small LED, next to that is a rocker-type switch which adjusts the brightness levels. There also a hole for a lanyard for securing the device on the top right side and in the middle are two USB-C ports.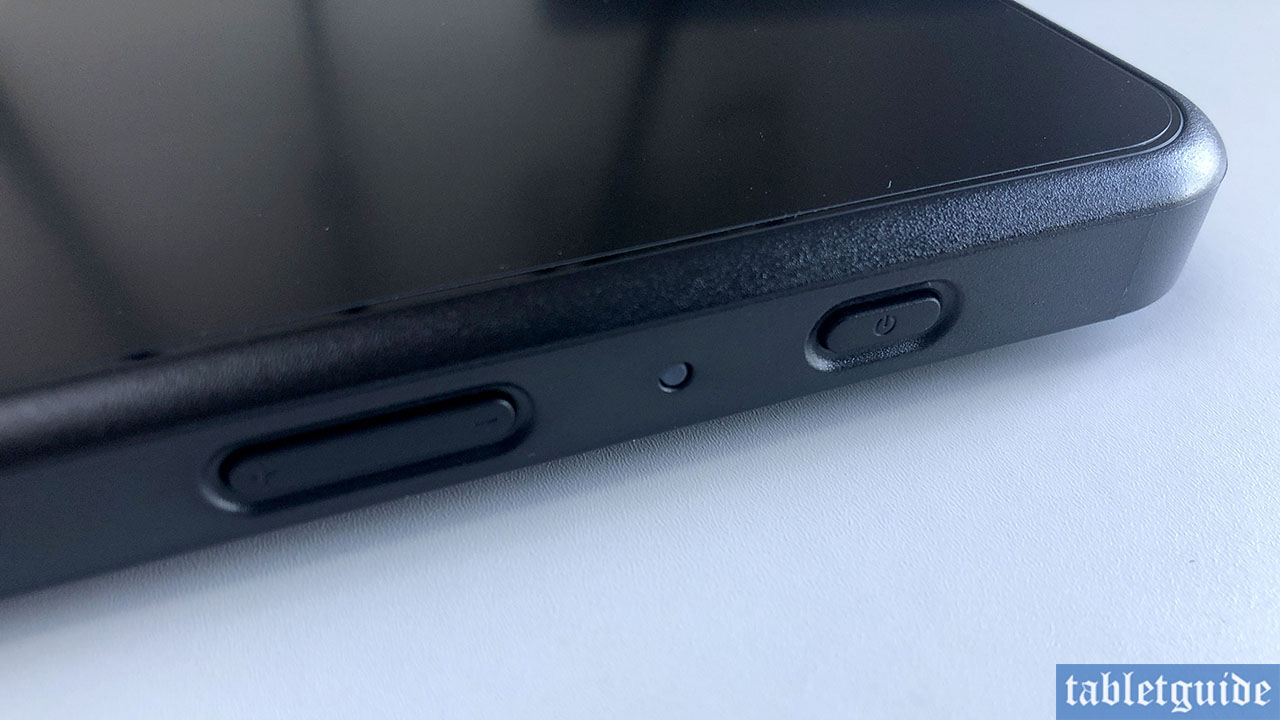 After a quick visit to UGEE's website to download the drivers, it was time for the best bit – the peeling off of the plastic screen protector! I took hold of the sticker on the top left of the screen and gently peeled back the plastic film.
After doing this, I noticed in the bottom right corner that whatever plastic covering was left behind, was full of small air bubbles. Also, in the top left of the screen, it appeared that the cover had 'rolled down' too revealing the screen below.
Now this obviously wasn't the actual layer of protection built onto the screen as it felt a bit sticky to the touch, so I removed it all by rolling my fingers across it and peeking it off.
You couldn't have drawn on it, so I guess that this should have come off with the plastic screen protector – you'll see what I mean with the photos accompanying this review!
Connecting the display to my laptop was a lot more straightforward – the 'L shape' USB-C plug fits into the right-hand USB-C socket on the top of the display, and at the other end of the '3-in-1' USB cable, the HDMI plugs into the computers HDMI socket and the black USB plugs into the USB socket.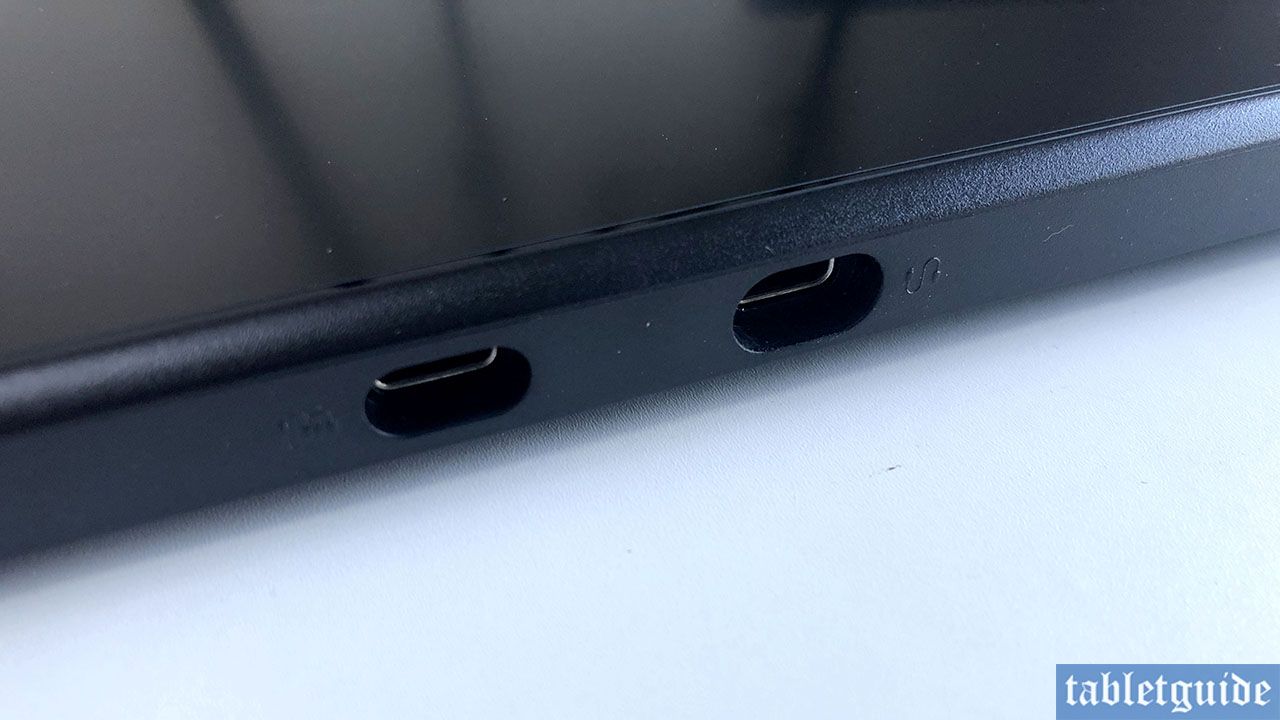 You may find that to increase the brightness of the screen (depending on the power of your laptop), you'll also have to use the orange-coloured USB plug in conjunction with the mains plug. Several additional mains plugs are provided to use depending on what country you reside in and there is a handy USB extension lead provided also.
The pen is possibly one of the slimmest I've seen provided with these devices and does appear to be on the cheap side and 'plasticky'. It's very light, has two buttons and has an eraser on the top.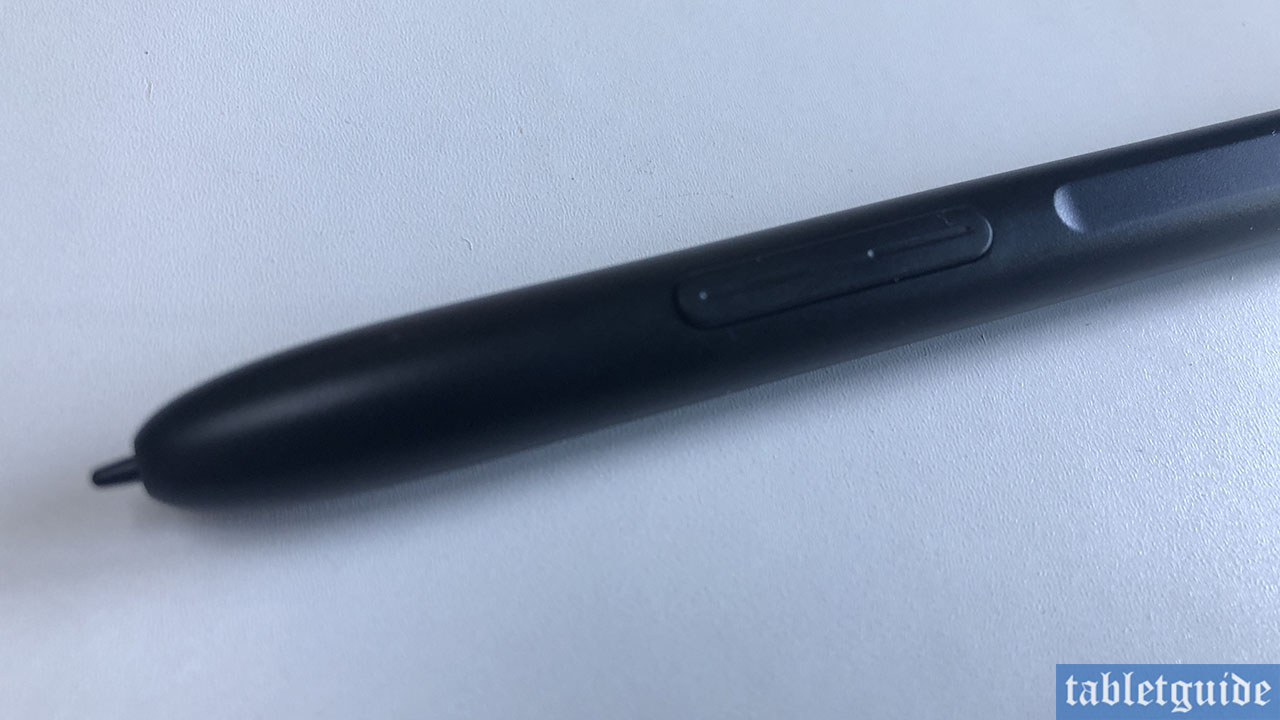 It's battery-free and just like pretty much every other pen on the market today, supports 8192 level of pen pressure and 60° of 'tilt'. That said, the pen performed perfectly and felt quite nice to hold and use.
The button functionality can be changed in the software, but by default are the usual 'Right Click' and 'Pen/Eraser' options. This is actually the first pen I've used that comes with an eraser built into the top of the pen – it was quite amusing rotating it round and 'rubbing out' my lines on the screen. Just like a traditional pencil – let's hope I don't chew it off… 😊
Speaking of the software, all the usual properties can be changed or updated. You can map the tablet to any screen you have if you have a multi-monitor set-up. You can rotate the display around in increments of 0°, 90°, 180° and 270°.
Pen pressure can be adjusted by moving the dots around in the pressure settings box, or by using the 'Hardness' slider, but there isn't a box to scribble in and test like other brands driver software.
Any problems and conflicts you may come across can normally be fixed by ticking and/or unticking the 'Windows Ink' box. You can also change the settings on an 'application by application' basis using the dropdown, but I've never bothered to do this.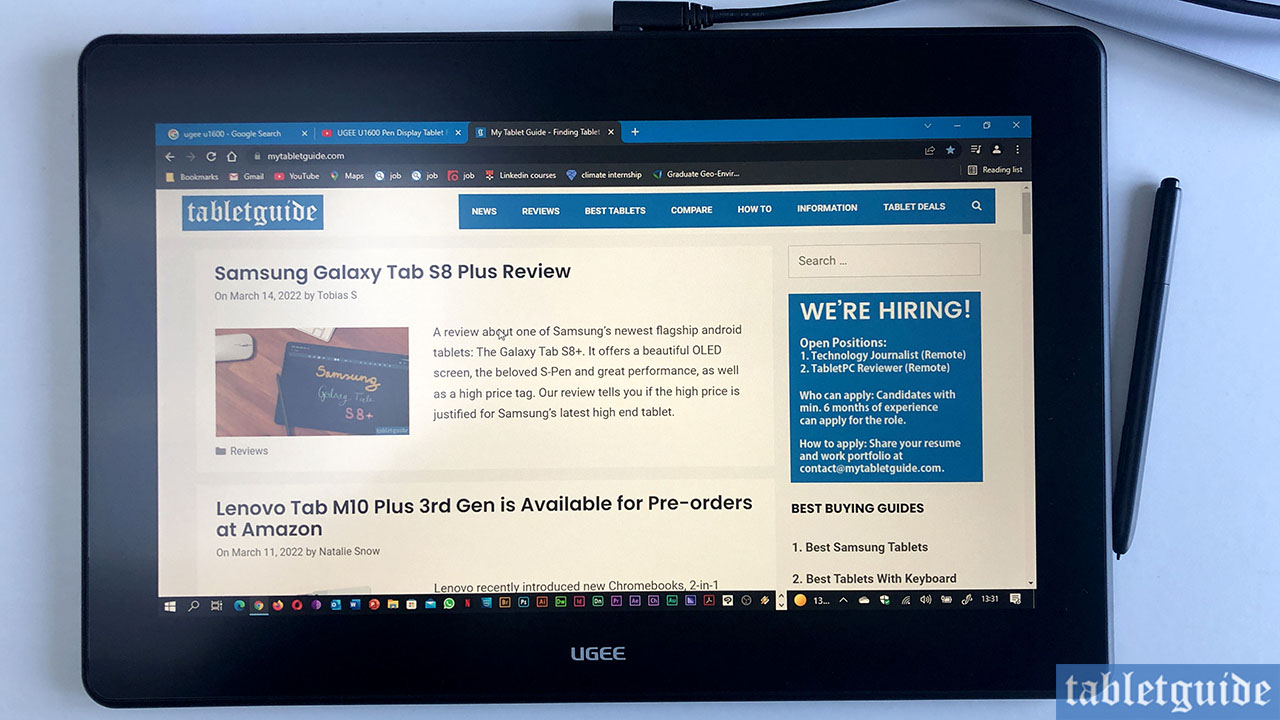 Colours on the screen looked perfectly fine out of the box. I did adjust the brightness slightly before use. Pen pressure worked perfectly as you'd expect – the harder you press, the thicker the line and vice versa. 16" is a nice size to work at a 1920 x 1080 resolution.
The drawing experience of the pen and tablet was just as good as any other display tablet I've looked at – I would have no hesitation using UGEE U1600 on a day-to-day basis as my main device. Lines and strokes tapered off nicely and there was no really noticeable lagging. It's light enough to carry in a small bag from client to client, office to office etc.
It's also works with Android devices, so you can plug your compatible phone or tablet in and draw away on software/apps like ibisPaint, Canva, MediBang paint etc – see UGEE's website for more details.
One thing to note – or actually two things! – is that UGEE U1600 doesn't come with a stand or a pen holder. It lays perfectly flat on the desktop whilst you draw on it. This wasn't an issue for me, but may be a deal breaker for others.
You can actually order a separate stand from UGEE (or any other display company for that matter!), but I couldn't see a pen holder for sale – a quick trip over to Amazon or eBay should solve your problem – you wouldn't want to drop this pen too often on the floor!
UGEE's marketing for this device seems to be aimed at beginners, or the younger 18–20-year-old market, which of course if perfectly fine, but it does hold its own again other devices which are targeted for both amateurs and professionals.
As previously stated, this is my first UGEE review and I have to say I was quite impressed. I look forward to seeing what else they produce in the future.
I just hope I didn't peel off the wrong screen protection! 😊