Trimble has recently announced its very new Trimble T7 Rugged Tablet which is said to specifically designed for construction use. It is a versatile device that is lightweight, portable and rugged which is all customized for construction surveying applications.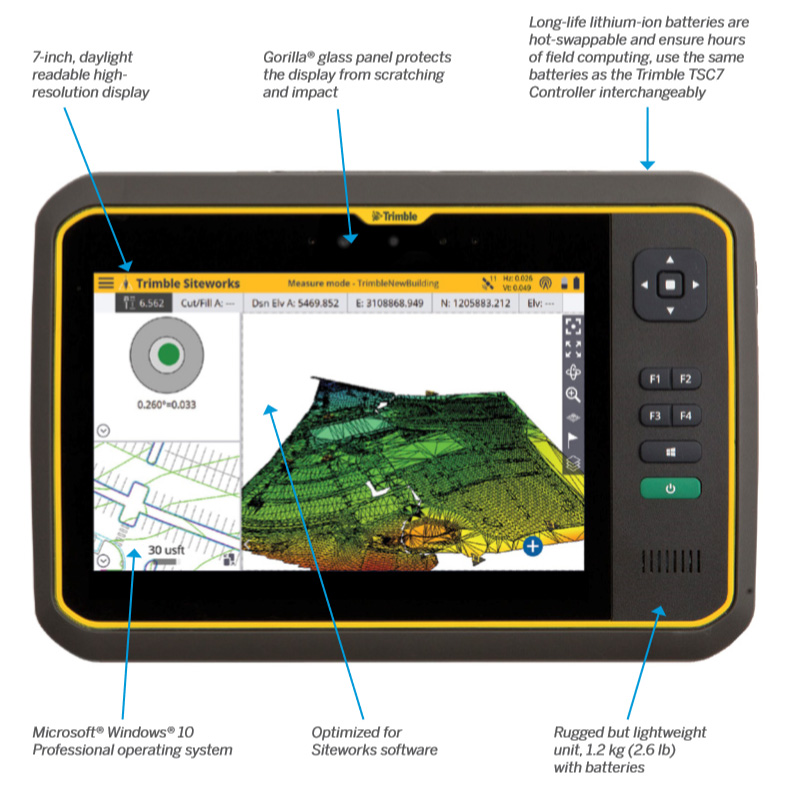 Getting real time data to estimate cut/fill level, material volumes and many more are some of the specializations that T7 Rugged Tablet has to offer. It also makes it easier to communicate work orders which further enhances the productivity and reduces communication gap between the workers.
As it is some high end work that has to be carried on by Trimble T7, the manufacturers ensured to keep it high in performance and other specifications as well. Easy to use, 7-inch in size, digital keyboard, slide gestures, multi-touch screen are some of the features that you would find in this tablet. Constructive much? Well, it is (literally).
With some latest operating and processing system, it gets a way convenient to process date in spread sheets or run Microsoft office programs. You can also video conference from your jobsite and capture a perfect quality videos and images of the construction site. The T7 tablet truly is designed to make construction work a lot easier and convenient.
That was a gist of the all new Trimble T7 Rugged Tablet, getting deeper into the insights, below mentioned are some of the features that makes it a most valuable device needed for better construction.
Designed for Construction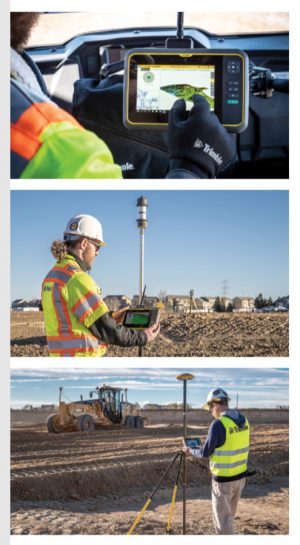 As the name evidently shouts, T7 by Trimble is a rugged tablet that can easily function in extreme conditions. You need not worry about the drop, fall or scratch as it is strong enough for that. Also, you can easily read, video chat or capture images without any compromises on quality.
Indeed a Field Tablet
You can conveniently read in Sun, instantly communicate with your field crew about changes and modifications. You can also access to your mails and other important apps to make your work convenient like never before. So now it gets easier to connect your office to jobsite through Trimble T7 Rugged Tablet.
Optimised for Trimble Sitework Software
The tablet is optimised for Trimble Sitework Software, Trimble SPS GNSS Receiver or Total Station. You can use these software to measure authentic ground levels, real time cut/fill information, conducting quality control for earthworks, syncing design and field data through Internet and many more.
That's not all, there are much more features that makes T7 tablet one of its kind. Some more features are listed below:
Made to Withstand Harsh Conditions
Easily readable in sun
Easy to zoom, pan and select on touchscreen
64-bit Quad-Core Processor which makes its performance pretty impressive
Windows 10 Professional to ensure it is updated and is suitable for all software and apps.
Long Lasting Lithium-ion Battery to extend
According to Scott Crozier, GM, Trimble's Civil Engineering and Construction Division, T7 Rugged tablet will enable the surveyors, supervisors, inspectors and workers to complete tasks without wasting much time as the tablet is pretty adaptable to variety of configurations and jobsite conditions. Hence, you better get your hands on this amazing piece if you happen to be working on a construction site.