Time and again, premium tablets like Surface Pro 6 will always be compared with iPad Pro because of the competitive specs each device offers. Notably, Surface Pro 6 is packed with specs that will wonder you. It can be hailed as the most premium tablet in the market today. However, with the new iPad Pro set to launch this October or first half of November 2018, will both be compared again? Can both offer almost the same specs and still be different in quality? Let's look the specs of Surface Pro 6 (now available on Amazon for Pre-orders) to know about this premium tablet more.

Surface Pro 6 is a premium tablet that is thin, light and powerful enough to execute all of your tasks smoothly. It is unlike any other entry-level tablet in the market which has lower specs with low prices. It is an expensive tablet with better specs than most.
RAM and Storage
This new Surface Pro 6 is called in by the manufacturers as the more powerful tablet. It has two options of RAM. 8GB and 16GB options are available in separate prices. Be it 8GB or 16GB; it shows that this tablet has a very smooth performance with the RAM it has. It not only suggests but work amazing too. It gives the tablet an amazing performance on all fronts. Switching on the device gave me a sense of its performance without glitches or lags. I could multitask with multiple tabs and apps running, be it with browsing windows or heavy apps; nothing lagged me. The Surface Pro 6 matches with your speed and helps you get through the day. The performance is also smoother when it offers 128GB solid-state drive storage. It also gives you alternative options of 256GB or 512GB or 1TB which was pretty surprising. The fact that it can even uphold its performance even with heavy files and apps is impressive! Truly powerful.
Processor, GPU and OS
Surface Pro 6 is geared with Intel® Core™ 8th Gen i5 and is also available in i7 as the much more higher end than the i5. The core of the processor is so powerful it gives you blazing fast speeds at your fingertips. This tablet is not just powerful for the sake of claiming but it does give you amazing processing power optimum for executing all of your tasks. Be it streaming, working or playing; the processing is as smooth as it can ever be.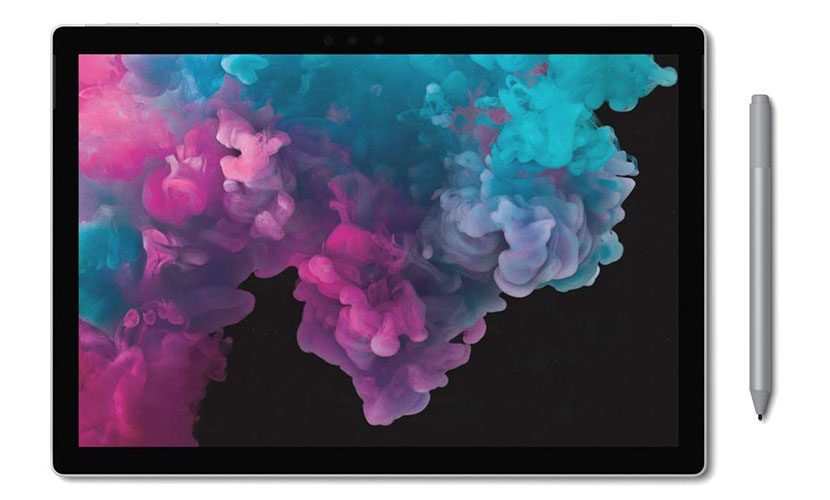 For graphics, it is primarily available in Intel® UHD Graphics 620 (i5) and the higher end Intel® UHD Graphics 620 (i7) both delivering fantastic graphics processing capacities. With this GPU onboard, you can play the best of games with crisp and detailed graphics without lagging even an inch of the entire experience. It has Windows 10 Home with Microsoft Office 365 suit for 30-day trial. It equips amazing power saving features and new security feature of Windows Hello. The best part about this basic variant of Windows 10 is that it also comes with Cortana as your digital voice assistant. This platform is smooth and efficient to use than previous versions of Windows.
Design and Display
This is a sleek and premium looking tablet. It is built with an innovative Kickstand that is attached at the back of the tablet to instantly make it into a laptop or make it stand while watching movies. In comparison to iPad pro, this feature stands unique because it makes the tablet available in different modes and versatile to use. With its dimension of 292 mm x 201mm x 8.5 mm, and body weight of 1.71lbs (i5) & 1.75lbs (i7), this tablet has the best sense of display and build quality, both.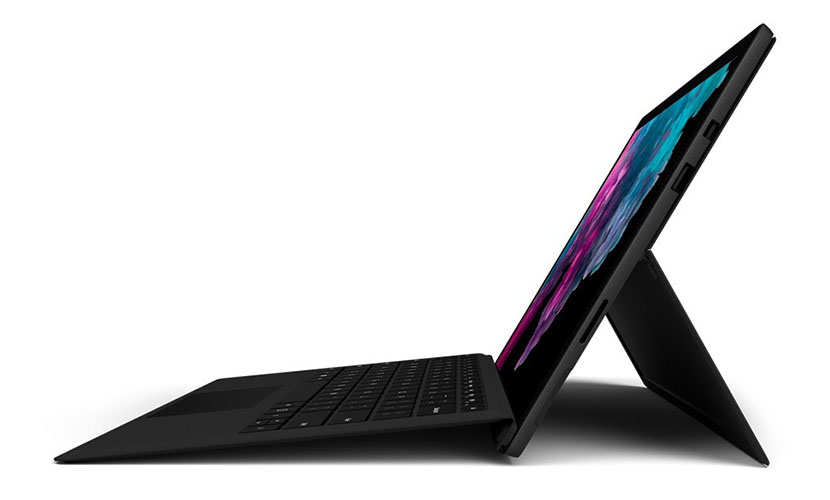 The display screen gives you 2736 x 1824 resolution with 267 PPI. This UHD display is very impressive with its 3:2 aspect ratio of the screen. It also brilliantly packs in have 10-point multi-touch which makes it a very efficient device. The speciality about this screen is that it's a 12.3" PixelSense Display. Usually, the iPad Pro or any apple product is known for its brilliant display, but this tablet from Microsoft does not compromise too.
Battery, Camera and Audio
This premium tablet is powered with a powerful battery that gives approximately 13 hours of video playback with full nits of brightness. It gives you uninterrupted battery upon full charging. It also gives you high quality clicks with 8.0MP rear end autofocus camera and 5.0MP front end camera. This camera is equipped with auto Focus features alongside the 1080p full HD video recording. Elevating the visual experience is the audio which can be this device's most profound feature.
Other specs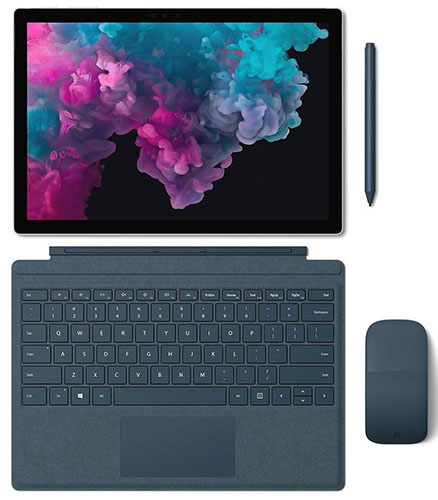 This tablet has network-bandwidth connectivity and compatibility of IEEE 802.11 a/b/g/n/ac along with Bluetooth 4.1. Apart from the Kickstand that makes it so versatile, it also has a bunch load of ports that make it versatile for other devices to connect too. It has a 3.5 mm headphone jack, one full-size USB 3.0, one Surface Connect port, Mini DisplayPort, MicroSDXC card reader, and Surface Type Cover port. This tablet has enhanced security feature of Windows Hello Face Recognition. It uses the TPM 2.0 chip for integrating this feature. It is also a very user-friendly device with its Ambient Light sensor, Gyroscope and Accelerometer enhancing its response on all levels.
Pros
Great Performance
Impressive Display features
Premium finish body design
High-quality camera
Long-lasting battery
Powerful processing
The upcoming iPad Pro has features and specs that could give a tough fight to Surface Pro 6 on all levels. Both these premium tablets have prices that could be heavy for consumers, but it offers the best of specs available in the whole spectrum. Both the tablets will be compared by performance, robustness, rich features and those special specs that make them stand-alone devices. Both devices are the best 2-in-1 devices available that can get your work done. However, the Surface Pro 6 has really notched up the features for good, obviously for the money you pay. It is available in $899 this time compared to the $799 price of the previous Microsoft device.