Samsung launched two editions of its Galaxy Tab S2 previously with model numbers SM-T713 and SM-T813. Both these tablets essentially had the same features as the original device with the same name, except for a few upgrades such as a more powerful processor and an Android upgrade.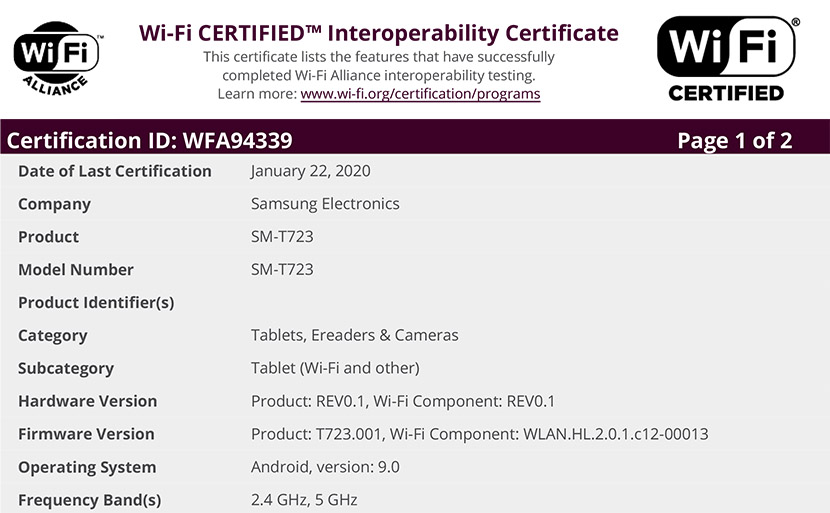 Now, Samsung is apparently working on its next big release – the Samsung Galaxy Tab S2 8-inch with model number SM-T723. There were rumors about a leak last week as soon as the device got approval from both the South Korean and US official regulatory bodies.
Soon after its approval from the FCC, the device has also got Wi-Fi certification on January 22nd. While all the internal specs and features haven't been revealed, what we know so far is that it will have the Android 9 version. It was also apparently tested with a Samsung EP-TA200 charger with USB C. Apart from the dual-band 802.11 a/b/g/n/ac Wi-Fi with SISO (single input, single output), there is no other exciting information about the product that's been leaked so far.
While we know for a fact that Samsung has a new tablet in its Galaxy S2 series coming up soon in 2020, it's features and specs could be similar to any of its previous iterations or bring in a whole range of new innovations. However, it will supposedly succeed the Samsung Galaxy S2 with model number SM-T713 so if you're really curious, check out the features on this tablet to help you get an idea of what the new one will have in store.