Samsung had made it clear that they were releasing two new tablets in the first quarter of 2021. One of those tablets is Tab A7 Lite. From the new image provided by Evan Blass on Voice, we can see that Samsung is rolling out another budget-friendly tablet in Tab A Series.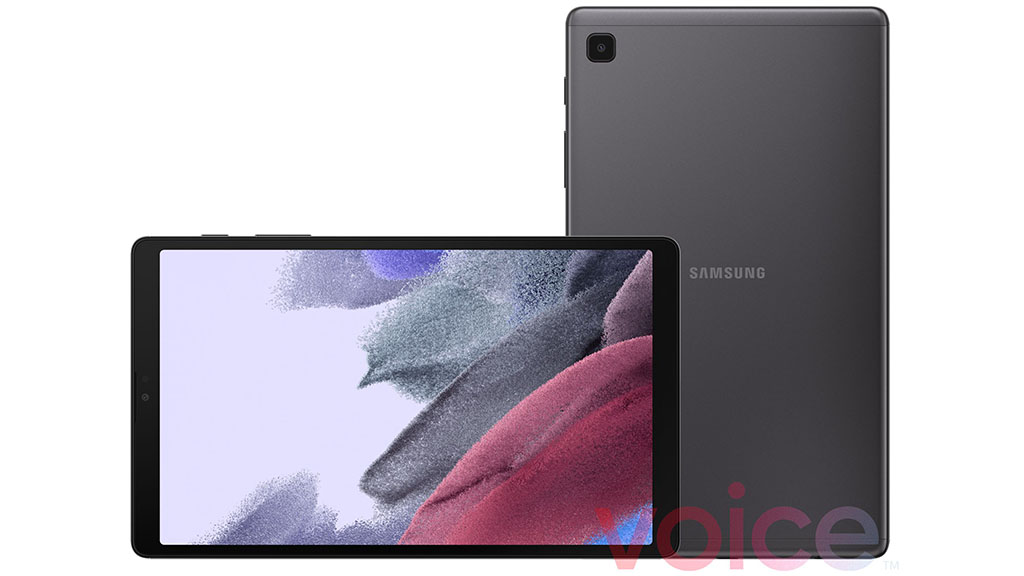 We expected the tablet to have similar specifications in terms of internal architecture and design. Still, we also anticipated that the performance and compatibility were not going to be the same as the parent model.
The new leaks proved those claims by highlighting a smaller 8.4″ display and only 3GB RAM capacity. Now, this is a tablet designed to serve people to accomplish their daily tasks and increase their workflow and productivity. With the new renders displayed on Twitter, we can see the tablet having an almost similar look and feel to the previous tablets in the Tab A series lineage.
If we dial back a month, we have seen @walkingcat on Twitter share some design specs and photos of the front and back of the Tab A7 Lite. All of them still remain true, and some of the new leaks surrounding the processor and selfie camera extend the discussion further.
Samsung Tab A7 Lite seems to follow in the same footsteps as Tab A7 because both are extremely affordable and offer incredible display and speaker quality. As this model is a lower variant of Tab A7, the only changes we expected were processor, display, and battery capacity. And that turned out to be true from the new render looks and leaked specifications.
The Tab A7 Lite is packing a battery with 5,100mAh capacity, and it is likely to run on a MediaTek Helio P22T, which is definitely not on the same level as Snapdragon 662. This model's primary variant had 7040mAh with 10 hours battery life, so we the Tab A7 Lite to have around 5-7 hours of decent battery life.
There is a single rear camera and a selfie camera with below-average quality coming to the camera specifications. It is no surprise because this tablet is not designed to fulfill video recording or anything related to the camera.
But can you use it to attend online interviews and classes? Of course, you can! This is a value-for-money tablet and people experience that shit to at-home work and learning will definitely enjoy Tab A7 Lite.
Another interesting application of Tab A7 Lite is non-stop entertainment with video streaming and gameplay. The graphic memory is expected to be average, but it can pull off some popular multiplayer games.
We also expect the tablet to have a good build quality that can last for many years. The metal body design can facilitate that situation, but users may have to avoid using the tablet without a proper case to eliminate finger smudges.
In a month from now, we will see Tab A7 Lite in action, and Samsung is looking to make it more affordable for users to grab the device. Our estimation can be priced around $350, and if you add in a couple of accessories, it might amount to $400.
There is another device coming alongside Tab A7 Lite, and that is the lite version of Tab S7. This is another formidable yet affordable tablet, and we expect both of them to do well in the market as there are no other tablets with good features at this price range.