In 2020, we have seen some amazing tablets from Samsung, but they didn't belong to any budget-friendly category, so this year Samsung made it clear that they are working on two lite versions of Galaxy Tab A7 and S7. This is based on some of the latest rumors and they have also mentioned some changes in specifications, release dates, and first-looks at marketing renders.
Some of the tweets from @_h0x0d_ highlighted key specifications and changes in the overall design. Even though it is less significant marketing material, we can see that Galaxy Tab A7 lite is going to be a small and compact tablet for everyday use, and the Tab S7 Lite is a 12.4" tablet with WQXGA resolution that can become an integral part of one's workflow.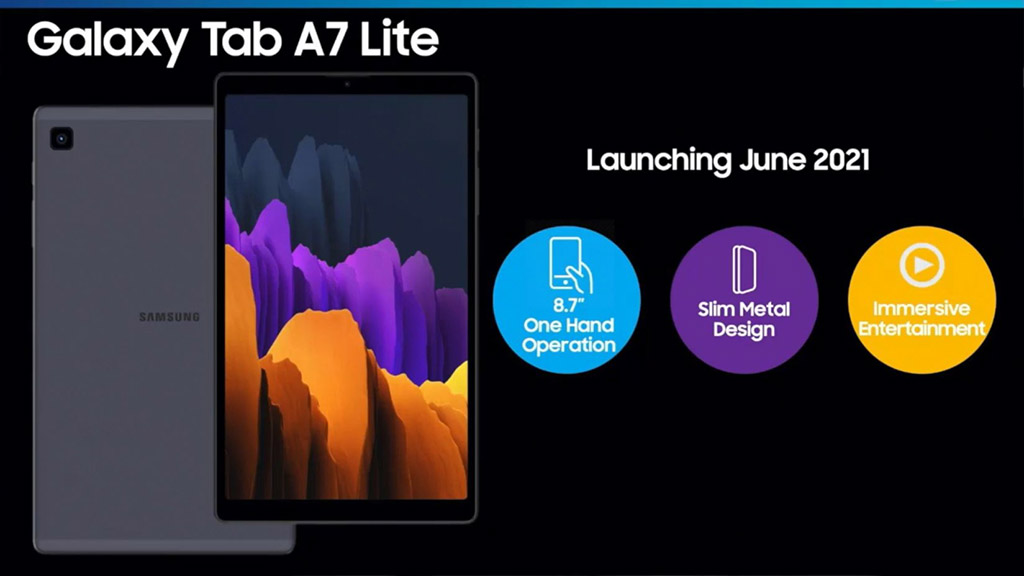 The Tab A7 lite comes with only an 8.7" display, which is a downgrade from the original Galaxy Tab A7. Samsung seems to push through this one-hand operation tablet into their line-up with A7 lite. The marketing material also emphasizes the full metal design which is going to come with relatively thin screen bezels.
With the Tab A7 Lite model, the only question mark is its price point. The original model is also a low-priced tablet at $230, so how low is Samsung willing to go? We are thinking it will be around $180 because the outdated Galaxy tablets are selling below $150 at every major retailer. If at this price tag, Samsung promises an immersive multimedia tablet with a compact form factor, then it is going to be worth it for any type of user.
Meanwhile, the Tab S7 lite is going to face extreme competition in the marketplace because the original model exceeded all our expectations and some buyers even choose the Tab S7 over an iPad Pro model. The lite version is likely not going to be on the same level as the Tab S7 in terms of processing power and display quality, but its massive screen and battery capacity can surely increase productivity.
Samsung is also going to add 5G connectivity to the S7 lite just like the previous models in the series. Along with that, Samsung is likely to produce two more variants in LTE and Wi-Fi models. The promotional piece by SamMobile indicates the incorporation of Galaxy Continuity into the S7 lite tablet. For unaware users, the continuity feature is present to enable a secondary screen from a Galaxy smartphone.
The tablets have impressive counterparts that are hard to pass on but Samsung is likely going to render the design a bit more to make the devices more compelling. The A7 lite is a cheap alternative for any user, but the S7 lite is likely going to attract more attention because it will be the most affordable 5G-enabled tablet in the marketplace.
The strongest points of these tablets are going to be affordability and compatibility, and that is where they have to outperform the rest of the competition. The Tab S6 lite was a huge hit, and to follow in those same footsteps, these tablets have to produce new options including the S-pen and keyboard.
Both the lite version models have something unique to offer, but it all comes down to the price, which we will know in the next couple of months. We may discover new specifications regarding S pen compatibility and other available accessories to these tablets, but it is better to wait till the official announcement is made from Samsung.