A big name in the drawing tablet world, Parblo, has launched its Intangbo tablets on 6th July. These Intangbo tablets are reportedly available in two different sizes and two different colors.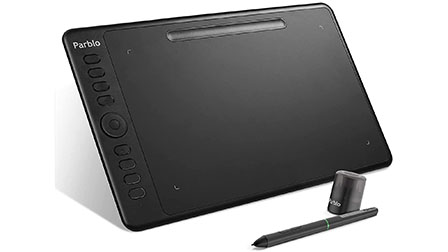 Parblo has been in the digital drawing industry for six years now. It looks like Parblo has tried to design the device based on the youth's preferences.
One of the colors of the tablet is Lilac Purple which is quite uncommon but we predict the youth will like it.
The frame is a lighter shade of purple than the film. Whereas the film has a lilac purple hue.
The color creates a charming and calm aura while working on it. Another color is Stars Black, an all-time-favorite option.
If you're a person who doesn't like to go with common and conventional color choices for smart devices, we would recommend you to go with the Lilac Purple color. Talking about the two sizes, the bigger one, 'M' Intangbo comes with a working area of 10 x 6.25 inches. Whereas the smaller one, 'S' comes with a working area of 7 x 4 inches.
Comparing Intangbo's sizes with Parblo's another generation of tablets, Nino, the sizes M, and S differ a little bit. Ninos M has a working area of 9 x 5 inches and Ninos S has 6 x 4 inches. All in all, Parblo Intangbo are slightly bigger than Ninos.
The bigger one is apt for more intricate designs and provides more comfort and convenience. On the other hand, the smaller one is compact and easy to carry. It's apt for designing graphics on smartphones.
The name of this tablet also has a profound meaning. The name is inspired by the word 'intangible', meaning, an abstract attribute. When you're crafting your masterpiece, immerse into your work and create unique art, that's what Intangbo stands for.
The Intangbo screen has a pressure sensitivity of 8192 points. This is the highest level of pressure sensitivity levels offered by any graphic tablet. The tab has a screen resolution of 5080 LPI along with 266 RPS reading speed. This makes for a powerful combination of specifications for any drawing tablet. And at the price of Intangbo, it's the best deal you can ever get.
Its screen has a graphite coating (oxidized at high temperatures) which offers a scratch-resistant surface. Even after thousands of artwork, the surface will remain intact. Another plus point of Intangbo.
The tablet is quite slim with a thickness of 7.5mm only. This makes it easy to carry. It supports Android 6.0 and above so you can also use it to create graphics on your phone. Apart from digital drawing, you can use Parblo's Intangbo efficiently for online education and gaming purposes as well.
Comparing Intangbo with Parblo's Ninos, the Intangbo is slightly better than Ninos. Intangbo has a better reading speed and a bigger size. Moreover, Intangbo comes with more side buttons for better functioning and efficiency. The key difference on an outer design is the Ninos has a corner hook whereas Intangbo doesn't have any.
And about colors, Ninos tablets come in three colors, Dark Night Black, Tender Green, and Clay Pink. But the film is of black color in all three variants. Whereas, Intangbo tablets have a combination of darker and lighter shades of color.
Intangbo works on a USB C interface and can easily be connected to your laptop or a computer. The stylus it comes with allows 60 degrees of angle range for a real-hand painting effect. This is relatively a higher range than that other drawing tablets allow at the price of Intangbo. If you're looking for a high-end device, you can surely go with Parblo's Intangbo.