Panasonic is no stranger to launching powerful tablets for business purposes, but with the launch of Toughbook A3 rugged tablet, Panasonic just expanded its target audience to the warehouse and smart retail workers. The tablet is a MIL-STD-810 compliant, proving its military-grade ruggedness and has been constructed using shock-absorbent materials. Along with the physical toughness, the tablet comes with a Panasonic Compass Suite for enterprise and management tools which helps the users to speed up their work process.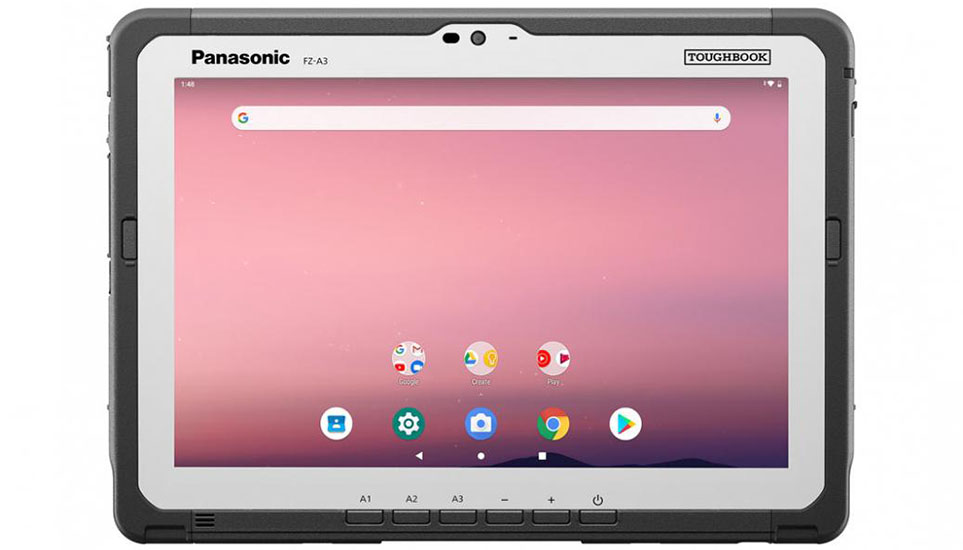 Toughbook A3 is IP65 certified, making it resistant to dust and water. The addition of extra physical protection that makes the tablet suitable to use even under extreme conditions. The tablet is equipped with the best hardware and software that makes it indispensable for all the works that need smart devices on the field. The 10.1″ 1920*1200 pixel resolution display can crank up your performance and enhance productivity.
Touchbook A3 Full Specifications (PDF)
The tablet comes with the usual volume and power buttons with 5 configurable physical buttons to maximize the functionality of the users. To top it all, it has an insert-able stylus making the operability easier and to make footnotes in extreme condition while outdoors. It is perfect to use in smart retail markets as it comes with a barcode scanner.
The device also has an option for integrated smart cards to suit the individual preferences of the customer. The tablet is fully functional with a glove and under the rain. It is tailor-made for all the first responders, field workers, and warehouse and manufacturing unit workers.
The compelling feature of Toughbook A3 is that it comes with dual swappable batteries and extended lifetime. Panasonic provides 5,500mAh cells so that the tablet can work for 15 hours on a single charge. Under the hood, the tablet has Qualcomm Snapdragon 660 Octa-core processor conjoined with 4GB RAM and has up to 64GB expandable memory via the MicroSD slot. The device runs on Android 9.0 Pie.
Panasonic's Toughbook A3 supports all significant GNNS/GPS and Bluetooth technologies for better connectivity. It has a USB Type-C slot and has jack stereo for connecting the device to headphone or microphone. The lightweight offers a great deal of portability to the device. This device comes with a 5MP front and an 8MP rear camera.
Panasonic has also released additional accessories for improved productivity and mobility of its device. Few of the accessories are shoulder strap, desktop cradle, 3200mAh battery, adapter and tether. Along with its wide range of accessories, Panasonic's Toughbook A3 comes with a standard 3-year warranty.
As for the price of this rugged tablet, Toughbook A3 is estimated to be priced at an amount no less than $2700, which will be available for purchase in August 2020.