Onyx has launched the second of it's reading tab this year, Boox Poke2, on 23rd April after Boox Nova 2 in January. The new tab is one of the smallest reading tablets by Onyx. Boox Poke2 has the most comforting sets of features for reading and for your eyes. Here's what you get in an Onyx Boox Poke2 Color eReader.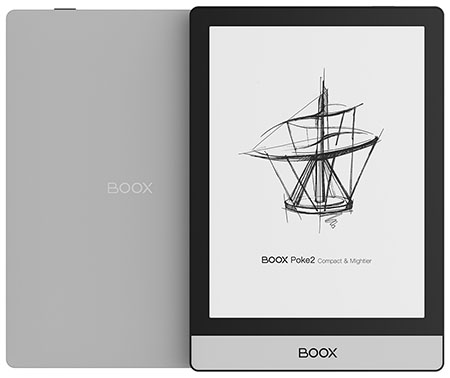 With a screen size of 6 inches, Boox Poke2 can fit into a palm and weighs only 5.29 oz (150 grams). The manufacturers claim that the tab is the smallest and the lightest in the eBook reader in the world.
Its screen resolution of 1488 x 1072 at 300 dpi with the 4th generation of E ink HD Carta display can provide the best reading experience ever. This technology is aimed to make the e-reading experience similar to paper book reading. Moreover, it also allows us to change the fonts of the document and books, change the contrast of the image and texts, change the mode of reading, re-flowing of book, etc. And that makes the e-reading experience a step ahead than paper book reading.
This device has 32 GB that can store thousands of books. Also, it can monitor your reading activity and those statistics can make you an efficient reader. Boox Poke2 supports PDF, HTML, DJVU, RTF, EPUB, FB2, DOC, MOBI, TXT, CHM, and a few more formats of file.
Boox Poke2 comes with 32 adjustable warm and cold display lights for better customization for eye comfort. Also, this tab supports all other reading applications like Kindle from Android Play Store making it an all-in-one reading library.
It has Bluetooth 4.1 and can connect to your headphones. With 32GB you can store audio-books and can play music while you're reading. However, the fast processor and smooth experience will also let you use YouTube if you don't want to store music on the Boox Poke2. It also features the text-to-speech option.
Its battery capacity is 1500 mAh and can connect to WiFi. With Android 9 and a fairly fast Octa Core 2.0 GHz processor makes reading and multitasking easier and loading of documents faster and smoother. It comes with a Micro USB and can also connect to storage drives via OTG cable. All in all this power-packed device with superior features has hit the market and makes a budget buy for all who love reading.