When it comes to buying a worthy tablet, it becomes a really important decision as the number of options available in the market is never-ending. Thus, what is required is to understand the self needs better and choose the correct device that is sure to fulfill all-purpose. The market is every day flooded with new products from manufacturing giants.
HUAWEI MediaPad M6 10.8"
Samsung Galaxy Tab S6
Processor
Kirin 980
(2.6GHz + 3 x 1.92GHz + 4 x 1.8GHz)
Qualcomm Snapdragon 8150 Mobile Platform
(2.8GHz + 3 x 2.4GHz + 4 x 1.7GHz)
Display
10.8" (2560x1600) 280ppi IPS
10.5" WQXGA (2560x1600) Super AMOLED 287ppi
RAM
4GB or 6GB LPDDR4x
6GB or 8GB
Storage
64GB or 128GB or 256GB
128GB or 256GB
Camera
Front: 8MP (Fixed Focus)
Rear: 13MP (Auto Focus)
Front: 8MP
Rear: 13MP Dual Camera
Battery
7500mAh
7040mAh
OS
EMUI10 (Based on Android 10)
Android 9 (Pie)
Price
Starting at $377 | AliExpress
Starting at $649 | Amazon
Two products that have recently been the talk of the town are Samsung Galaxy Tab S6 and HUAWEI MediaPad M6. Both have been released in the market and details of both the study worthy tablets are available to assess. Here, we shall be attempting to understand the features of both these products and make a comparative analysis.
Designing and Style
Galaxy Tab S6 is one of the sleekest looking devices that are right now available in the market. With a thickness of 5.7mm and just 420 grams, this compact "do it all" device packs great capabilities in it to take creativity to new heights. It is available in three color options to choose from Rose Blush, Mountain Grey, and Cloud Blue.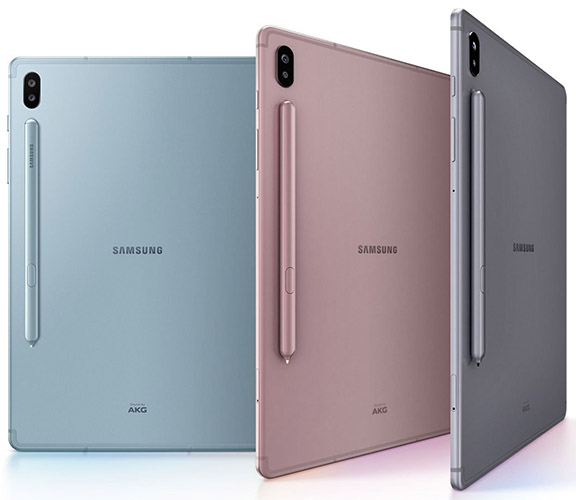 HUAWEI MediaPad M6, on the other hand, is another smart device that is loaded with advanced and sophisticated features and is based on proven technology. It is worth knowing about this amazing tablet from HUAWEI. Appearance-wise it is very modern and stylish. It is available in two color options to choose from which are Titanium Grey and Champagne Gold. Its depth is 7.2mm and weighs about 498 grams.
Coming to their Performance
With Galaxy Tab S6 in your hand, everything is within your easy reach. It promises powerful accelerated performance that brings in advance, lag-free, immersive virtual experience with productive AI applications and Bixby Vision. It is powered by a powerful Snapdragon 855 SoC processor. HUAWEI MediaPad M6 is powered by a 7nm Octa-Core processor, Kirin 980. Thus, working on this device will be a remarkable experience as it assures fast and intelligent performance. Its operating system is EMUI10 that is based on Android 10.
Display
This high-end tablet from Samsung is equipped 10.5 inches display and 2560×1600 WQXGA screen. It promises to provide the best from the spheres of visuals and sound. It's almost bezel-less sAMOLED display supports comfortable viewing and reading owing to its 287ppi and a 16:10 screen ratio.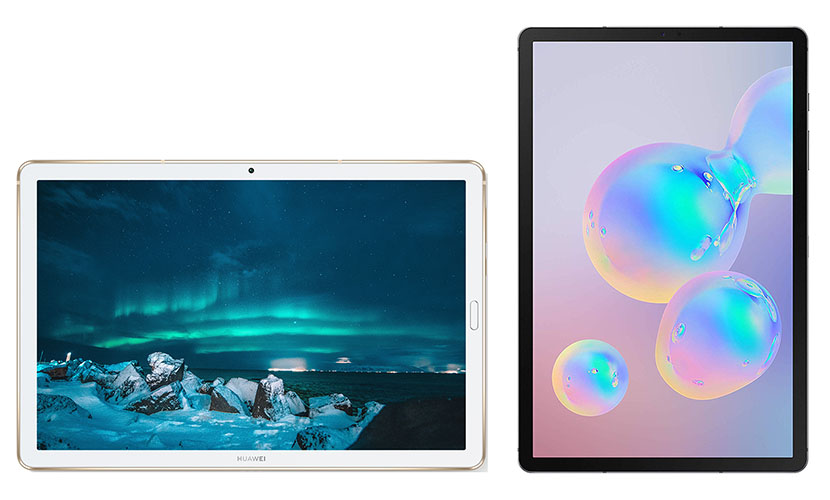 With a practical display area of 10.8 inches, HUAWEI MediaPad M6 is known for its vividness and clarity. Its LCD capacitive touchscreen display is exceptionally clear with 2560 x 1600 resolutions and a pixel density of 280 PPI. Its special technology, HUAWEI ClariVu, makes use of intelligent algorithms to enhance the display quality in terms of contrast and clarity. Also, it comes with Enhanced Eye Protection Mode and is certified by TUV Rheinland. This indicates that the device is meant to care for the eyes of the viewers.
Sound Effect
Be ready to experience extraordinary sound quality with great depth with Samsung Galaxy Tab S6 in your access. All credit goes to the four speakers that help to create immersive audio quality. With HUAWEI MediaPad M6, experience high performance-driven audio quality. It comes with Harman Kardon quad-core speaker and channel that allows the device to produce highly balanced and premium quality sound.
Samsung Galaxy Tab S6 S Pen
The color-coordinated S Pen magnetically attaches to the rear side of the Tab and also gets charged in the process. The overall purpose is to add to the maximum creativity and productivity of users and S Pen plays a great role in this. It helps to jot down notes and ideas as they surface without the need to stop any ongoing video or app in the background. The screen's transparency is adjustable thereby allowing better functionality of the S Pen.

Bluetooth connectivity allows controlling the device with the press of the pen button and S Pen Air Actions makes using the tablet easier with simple hand gestures. The dynamic performance of the pen can be understood from the fact that it supports 4096 levels of pressure sensitivity and provides the perfect non-greasy grip. Here it is important to mention that HUAWEI MediaPad M6 can be paired with the pressure sensitivity M Pen, which is a lite stylus.
More about HUAWEI MediaPad M6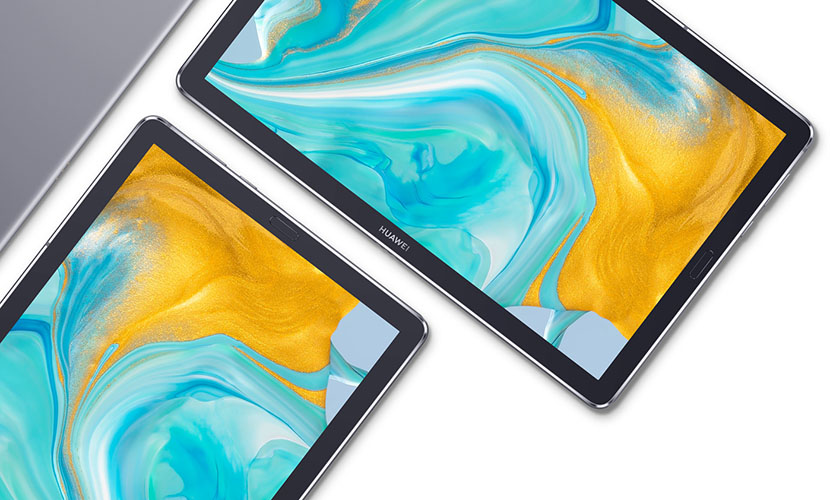 Another useful viewing feature of this device is that it gives out an alert when children are watching in darkness or while lying down for adjustment guidance. This further helps to give the required protection to the eyes. It further brings in assistance from intelligent tools like Children's Corner. This tool makes it easier for kids to unlock more from the world of learning and fun by just putting their fingerprints. It further provides options for parental control to keep a tab on contents accessed by children and monitor the time limits.
More about Samsung Galaxy Tab S6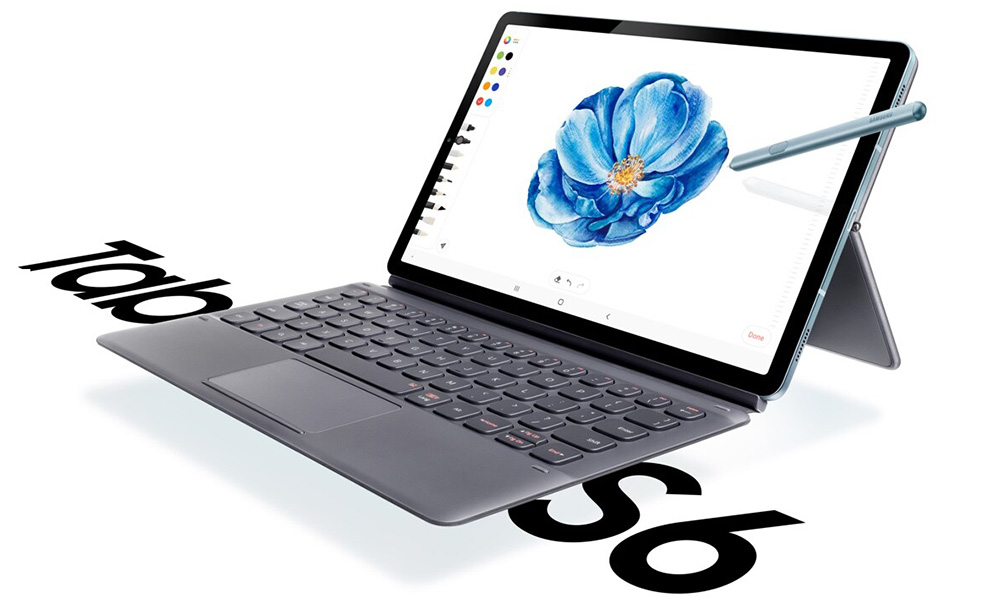 By downloading SmartThings on Galaxy tab S6, users can smartly control all homely appliances remotely that is facilitated by Bixby. Being smart in every aspect, Galaxy Tab S6 also performs the duties of a smartphone and allows answering urgent calls and replying to important messages. It can be unlocked easily by touching the front screen with a finger as it uses fingerprint scanning technology. It optimizes both convenience and security.
Other Important Features
The biggest advantage is that the screen space can be ideally split to use multiple important apps simultaneously. Also, it allows the user to adjust the shared screen size to work as per convenience.
Photo and video quality in Samsung Galaxy Tab S6 are amazing as it comes with 13MP and 5MP cameras. Features like Ultra Wide-angle and smart AI imparts great expertise and finesse to clicks and captures. In HUAWEI MediaPad M6 too there are dual cameras. The front camera is of 8MP, which comes with a fixed focus and the rear camera is 13MP with autofocus.
Galaxy Tab S6 comes in two configurations, 6GB memory and 128GB of storage and 8GB and 256GB of storage are available to select from. Both support further SD card support with a capacity of terabyte storage. You also get two versions of HUAWEI MediaPad M6 in terms of storage capacity. The options are 4GB RAM with 64GB internal storage and 4 GB RAM with 128GB storage. Both options support memory card expansion.
Samsung Galaxy Tab S6 is powered by 7,040mAh battery allows it to perform for impressive 15 hours and is easily charged through USB Type C Port. HUAWEI MediaPad M6 is powered by Li-Polymer 7500 mAh battery
LTE download speed of Samsung Galaxy Tab S6 is 2.0 Gbps and upload is 150 Mbps for Galaxy tab S6. And once connected to Wi-Fi, it gives blazing upload and download speed at 867 Mbps. For HUAWEI MediaPad M6, there are separate versions available in terms of connectivity at a varying price range. Both, LTE and Wi-Fi options are available.
Samsung Galaxy Tab S6 was released in August 2019 and is available for purchase from all primary sellers. Its base model is priced at $649.99. The price is sure to differ if you opt for the larger capacity model. The 8GB RAM and 256GB storage model will cost $729. Now coming to the other product which is part of our discussion, HUAWEI MediaPad M6 has also released and is available for purchase. Its price starts at $377. But the price is likely to vary depending on the connectivity options and storage capacity of the device.