On 20th of April 2021, Logitech made an official announcement about the availability of Combo Touch Backlit Keyboard Case with Trackpad that is specially designed for the next-generation iPad Pro. It will be compatible with the 3rd Generation iPad Pro 11" and 5th Generation iPad Pro 12.9".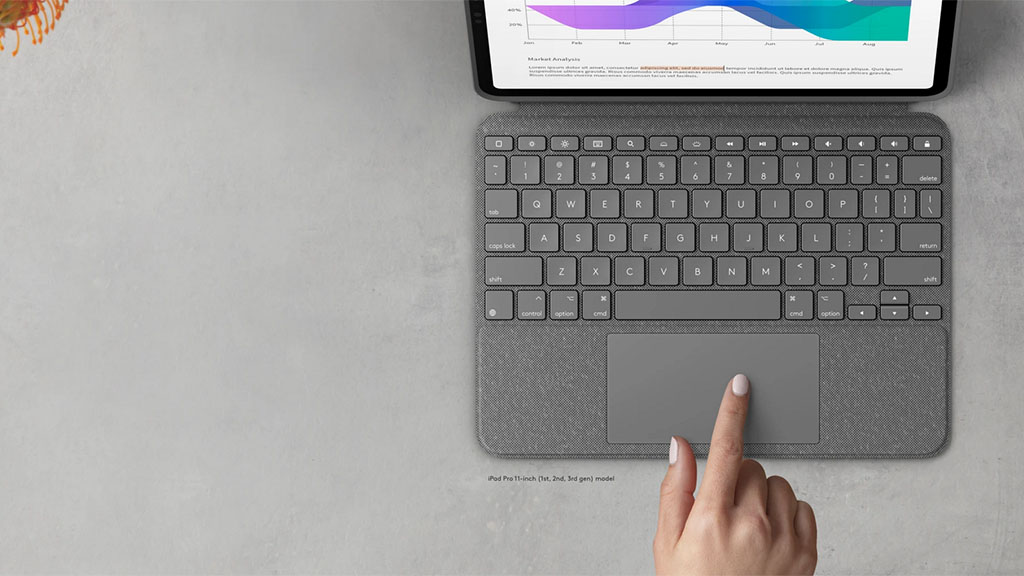 The 'Click-Anywhere' Premium Trackpad
With the Combo Touch, Logitech has taken the whole initiative of providing a seamless working experience on the iPad Pro to a new level because it is bigger and better than the previously launched trackpad by the company.
It is designed to provide better control and accuracy for users when they work on it. It is the largest trackpad to be made available for a keyboard case ever, thereby offering more flexibility and freedom for users to work in a larger space.
All about the Trackpad
With Combo Touch, it will be possible to do all from sketching to drawing to typing and viewing in the iPad Pro without compromising on the security aspect. Yes, it supports four separate use modes, which are Type Mode, View Mode, Sketch Mode, and Read Mode. It is provided with the most versatile and largest trackpad to enable an integrated and responsive experience for the users.
You can connect it with your iPad for a most fulfilling experience via the Smart Connector. So, there is practically no need for an additional battery or power switch or any sort of Bluetooth Connectivity to establish a stable connection between the Combo touch and the device.
The benefit of working on a larger trackpad can be felt and realized by the users as they will have more space to comfortably drag, scroll and switch between applications. The Multi-Touch trackpad gestures can be enjoyed in complete freedom and users get greater liberty to perform well.
These gestures make working on various applications faster and quicker. Like, you can now quickly edit and copy needed texts, highlight cells in Numbers or easily drag objects in Keynotes.
The Aesthetically Appealing Keyboard Case
The keyboard case is thin and sleek but sufficiently protective to keep the iPad Pro safe and secure. The protective case also comes with a rear kickstand. This will help to adjust the viewing angle of the screen to make the using sessions comfortable and convenient. You can adjust the kickstand across a range of 50 degrees.
The keyboard is available in Oxford Grey color and perfectly fits the iPad Pro. It is designed to provide maximum protection to the device against any possible damage. The keyboard features backlit keys set in a familiar layout and also iPad OS shortcut keys to facilitate quick, one-tap functions. The keyboard supports 16 variable levels of adjustable brightness to support maximum visibility in any surroundings and environment.
Logitech has taken every care in making Combo Touch the best choice for iPad Pro by paying attention to the smallest details. This is evident from the fact that there is an open side on the Combo Touch to leave room for the 2nd Generation Apple Pencil so that it can stay magnetically attached to help automatic charging and pairing.
You can now buy the Combo Touch for iPad Pro 11" and 12.9″ for a price of $199.99 and $129.99 respectively at the official websites of Apple and Logitech. Logitech Combo Touch is engineered to enable you to enjoy complete versatility while working on the iPad Pro to open new possibilities.