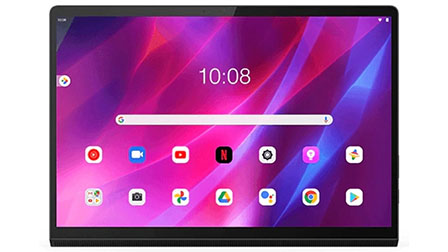 We are excited to break the news that Lenovo Yoga Tab 13 has hit the shelves of electronic stores.
It was launched earlier in China this year and it's available to buy in the United States now.
Many techies consider Yoga Tab 13 as an iPad Pro alternative as well.
Let's see what it can do. Starting at $679.99, it's pretty expensive but the value for money is great. Its versatility and other features and specifications will definitely amaze you.
It has an in-built kickstand that allows you to hang it, stand it, and tilt it. That way, you can position and place this tab the way you want.
Its dimensions are 0.24″ – 0.98″ x 11.55″ x 8.03″. It's pretty much slim and weighs about 803 grams. This power-packed Lenovo Yoga Tab 13 features Dolby Vision with a 2K display.
In addition to that, it offers a full range of sRGB color gamut and TÜV-certified screen protection. This helps the emission of harmful blue light and the overall superior viewing experience.
Lenovo Yoga Tab 13's 8 Megapixel camera is another interesting feature you'd love. Its camera app is powered y Augmented Reality features. That automatically measures the distance between you and the object you're trying to capture.
It is also known as the Time of Flight (TOF) feature. It lets you take some superior shots with its camera. The TOF technology is also used to measure dimensions using the camera. Yoga Tab 13 can do that too.
The tablet features Dolby Atmos audio that captures and plays even the tiniest notes of sound you hear naturally; like cinematic moving audio.
Along with quad JBL speakers, it produces a superior audio quality for an immersive hearing experience. Yoga Tab 13 also comes with its flagship Lenovo Premium audio feature for a better video calling experience.
Lenovo Yoga Tab 13 is powered by Qualcomm Snapdragon 870 along with 8 GB RAM. This powerful combination potentially can run high-end applications as well.
In addition, it packs Qualcomm Adreno 650 GPU. Which is required for a smoother and immersive gaming experience.
This hybrid tablet lets you switch to an entertainment window just by swiping from the home screen. This will let you access all the entertainment in one place, eliminating the need for switching from app to app.
You'll just need to sign up for the entertainment and gaming services you want for a personalized entertainment space. Not to mention, Yoga Tab 13's official Netflix Streaming certification.
Its battery capacity and life are also quite good. While letting you play high-end AAA games for a longer time, it lets you take a break and quickly charge up the device with its 30W fast charger.
The best feature for professionals it offers is its micro HDMI port. It allows you to use it as a 2K display. This becomes quite convenient when you need to work on two screens simultaneously; eliminating the need for a separate display.
It has one USB Type-C 3.2 and a micro HDMI port and comes in a Shadow Black color. More and more smart devices launching after Covid appeared are designed to fit your needs for working and entertainment. That way, you won't be needing a separate device for entertainment purposes.
Lenovo Yoga Tab 13 also supports a stylus and is a perfect tab for education, gaming, professional working purposes. We are quite excited to review it and let you know how we like it and whether it can be shortlisted for the best Android tablet of 2021.