Lenovo has always delivered revolutionary tablets and PCs over the years. It has captured the maximum market after Acer, Dell, and HP as it offers low-budget tablets with great features. Being one of the popular choices across the world, Lenovo has constantly strived hard to deliver top-notch products as they promised. To add more crisp to the innovation, Lenovo has introduced smart tab with Amazon Alexa in 2-in1 tablets i.e., P10 and M10, allowing users to enjoy more and struggle less.
Keeping in mind the day-to-day fight of every individual in this modern world, Lenovo has focused to makes the life of people easier by giving them such a smart tablet. This smart tablet makes your household responsibilities quite simpler, enabling you to be more efficient, productive, and stress-free.
In this article, we are going to discuss the benefits you can gain with amazing combination with the trendy family tablets- P10 and M10:
Explore your tablet wherever you go
Today's generation are on the go and like to tap in multiple things. This is exactly Lenovo smart tab is offering you in the most popular tablets P10 and M10. In case, you are working in office this smart tab can show you the room of your kids and what they are exactly doing with just one click. Because this smart tab is very compatible with smart home tools like Philips Hue, Ecobee and WeMo, allows you to spot who is at the door, adjust the bedroom temperature, and switch off the lights of your room, and a lot more, without leaving your place. You just have to ask Alexa by placing it on the dock and everything will be done in a blink of your eyes.
Spot every home moment on the ultimate display
P10 and M10 have 10.1 inches stunning display, which is Full HD, enabling you to enjoy everything on your tablet with a great resolution of 1920 x 1200. You can enjoy a hands-free day at your home, just place the Smart tablet on Alexa and ask her to play your favorite movie, TV shows, etc., and enjoy the show on this sharp, bright and crystal clear display. More so, both the smart tabs are equipped with Dolby Atmos speakers that give you great sound quality, filling your home with music you love. Again, ask Alexa to play music from platforms like Tuneln, Spotify, Pandora, or iHeartRadio. However, if you like singing you can sing with lyrics on Amazon Music, making your home a concert or temple or dance class- depending upon your taste.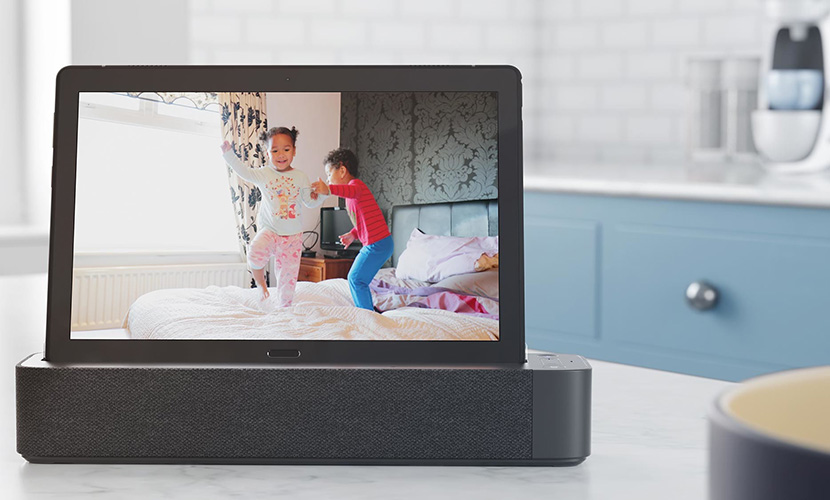 Keep yourself updated anytime
With your P10 and M10 smart tablet, you can keep yourself updated about the happenings across the world. Alexa is constantly there with you! You can relax on your bed with a cup of coffee and ask Alexa to play news headlines, weather forecast, and a lot more. Even in today's busy world, you can stay alert with all the good and evil things around you, sitting at the comfort of your home.
Sharing is caring
The core benefit of using this smart tab is you can seed togetherness in your family. On your Lenovo P10 and M10 you can save your data separately by using distinct user profiles. More so, there's a KIDOZ-inbuilt kid zone for children. You just have to enable it; your kids can see images that are curate, safe, preloaded by you. You can set your profile by using finger print scanner to keep your data distinct and safe.
Smart tab, seamless experience
M10 and P10 are manufactured in a way that helps smart tabs to thrive in two different approaches one is tablet and other one is smart screen. This means you can easily switch to one mode to another, when you are using multiple applications to have a seamless user experience. For instance, you can watch movie and chat with your friend without missing anything. P10 and M10 smart tabs run on Android operating systems, which make things easier and user-friendly, fortunately.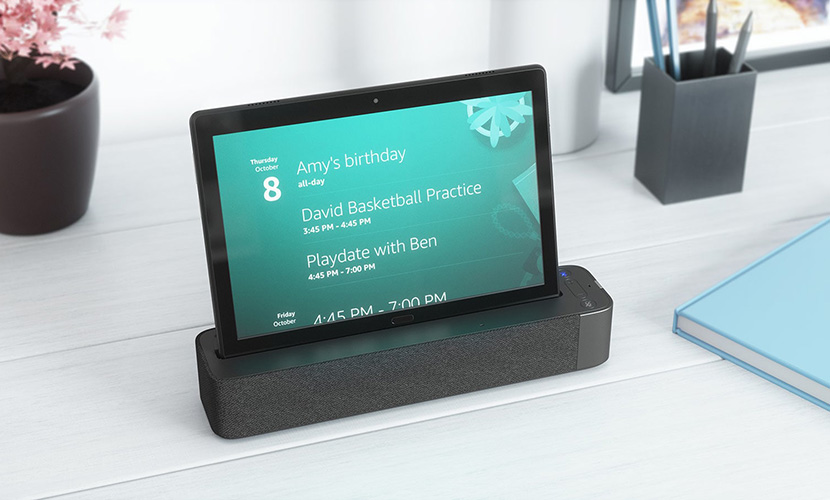 Flaunt around people
Lenovo has worked hard with regards to design of P10 and M10. If you look at M10 it comes with Slate Black color, giving you chic look and is very handy. On the other hand, P10 comes with Aurora Black color with glass on the surface that makes it shiny and eye-catching, allowing you to flaunt around people. More so, P10 is very comfortable to hold and lightweight along with Alexa, giving you a very cozy environment.
Now shop with your voice
With Alexa, you can shop products on your favorite platform just with your voice. More so, Lenovo Smart Tab allows you to reviews of different products, check the delivery status of your order, and a lot more. Alexa is can be your best friend, who is multitasking! You can ask Alexa, "Add this bag in my cart, and "Alexa where is my belonging", at the same time and she will respond to both the answer instantly.
Verdict
If you have always dreamt of a life that is relaxing and hands-free- Lenovo smart tablets (M10 and P10) are one-of-a-kind, giving you the exact life you want. Adding Alexa in these two family tablets is making Lenovo more of a family member across the world. P10 and M10 equipped with Alexa are increasingly receiving positive reviews from users. You can easily sit at the comfort of your home and enjoy movie shows like you are in a theatre, enhance your skills by searching interesting factors on Google, take your smart tabs on the road- keeping an eye on your home activities or kids. All you have to do is ask Alexa and everything is done at just one voice!
Are you still in turmoil whether you should opt for Lenovo smart tab or not? Clear all your doubts simply by just purchasing the tablet or reading genuine reviews of the tablet! Grab your tablet now.