Lenovo is burgeoning in the gadget market at a faster pace. Since the Lenovo brand was found in the 80s, this company has contributed great products back-to-back in the fierce market that too at an extremely affordable cost. After the top brands like Apple, Samsung, etc., Lenovo is the top choice of users as customer service of Lenovo has always been appreciated across the world. Starting from ThinkPad that was actually a boon to family tablets such as Tab 4, Tab 7, Tab M10, Tab P10 – Lenovo has reached the stage of a pinnacle.
Lenovo launched family tablets because of "kid's security." We all have arrived the digital era, and know about computers, laptops, mobile phones and no one can imagine their life without gadgets. Same is the case with kids- they like using mobile phones, but parents are a bit insecure as no one wants their children to be any kind of trap.
Keeping everything in mind and analyzing the entire scenario, Lenovo planned to launch family tablets to build an emotional connection with people around the world. And it actually worked! With the launch of Tab M10 and P10, Lenovo bumped the market positively.
| | | |
| --- | --- | --- |
| Specs | Lenovo Tab M10 | Lenovo Tab P10 |
| Processor | Qualcomm Snapdragon 450, Octa-Core, 1.8GHz | Qualcomm Snapdragon 450, Octa-Core, 1.8GHz |
| RAM | Up to 3GB | Up to 4GB |
| Storage | Up to 32GB | Up to 64GB |
| Display | 320 nits 10.1" FHD IPS | 400 nits 10.1" FHD IPS |
| Battery | 4850mAh | 7000mAh |
| OS | Android Oreo | Android Oreo |
But which tablet is better might confuse, so let's understand the differences between the two according to their configuration:
Design – Tab M10 vs. Tab P10
If you glance over both the tablets, you'll find P10 more alluring than Tab M10. As Tab P10 has dual glass design, which makes it eye-striking and its complete metal body with curvy edges makes it elegant. However, Tab M10 has a plastic body that doesn't make it attractive look wise. But in Tab P10, Lenovo has genuinely worked well for the look of the tablet.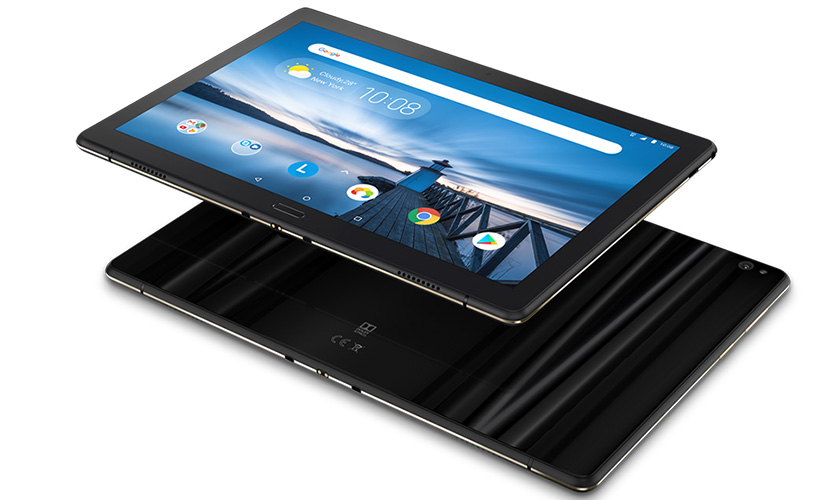 The screen size of both the tablets is 10 inches, but somewhere the dimensions are different as Tab M10 is 168mm x 242mm x 8mm with a weight of 480g, whereas Tab P10 is 167mm x 242mm x 7mm with a weight of 440g. So you can see there's a slight variation concerning their size; however, we can conclude that Tab P10 is more sleek, lightweight, and handy.  Besides these, both the tablets have FHD IPS display with same resolution 1900×1200 with LCD glass. With 70% color gamut, Tab M10 and Tab P10 give user one-of-a-kind experience while watching movies or shows. Still, you'll find Tab P10 much better because Tab M10 gives you brightness up to 320 nits whereas Tab P10 gives 400 nits.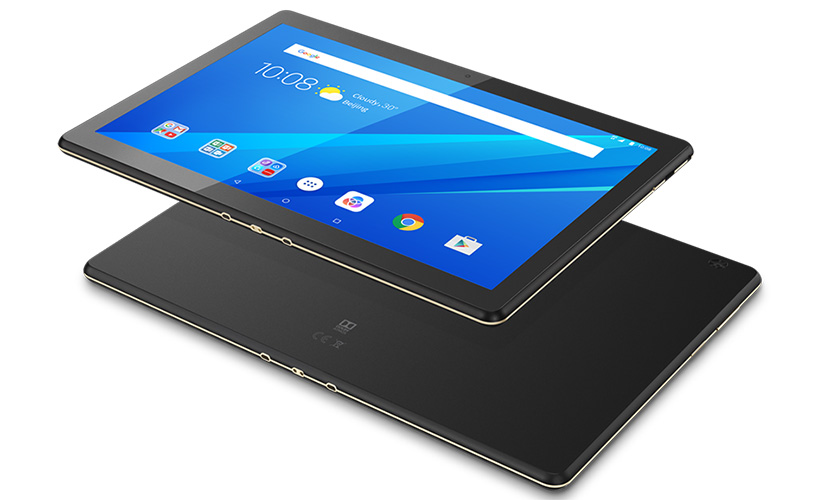 Coming to their colors- Tab M10 comes in Slate Black and Polar White, on the other hand, Tab P10 comes in Aurora Black and Sparkling White.  More so, both tablets give mesmerizing sound effects, but again, Tab P10 is better with regards to sound quality. Both the tablets are equipped with Dolby Atmos technology- Tab M10 has dual speakers in the front and Tab P10 has fours speakers in the front, giving you cinematic experience.
Processor and Software
Before plunging onto processor and software, let us discuss the camera both the tablets. Well, Tab M10 offers 5MP rear camera including auto-focus and a 2MP front-facing camera with fixed focus. But the scenario is different with P10 as it offers 8MP auto-focus camera and 5MP front-facing fixed focus camera, which again clearly means that Tab P10 is better.
Heading towards processor, both the tablets are equipped with Qualcomm Snapdragon 450 Octa-Core, giving you the speed of 1.8GHz. However, there is dissimilarity with regards to storage- Tab M10 comes with 3GB RAM and 32GB ROM, whereas Tab P10 comes with 4GB RAM and 64GB ROM, both have extendable storage option up to 256GB.
We talk about the operating system, again both the tablets run on Android O, giving unforgettable user experience. Apart from this, tablets offer a list of basic applications like file manager, settings, messenger, launcher, contacts, FM Radio, Calculator, App search, etc. In addition, it also includes third-party apps like Google Chrome, Gmail, Google docs, and many related to Google, but it also provides three interesting apps, i.e., Microsoft outlook and Netflix.
Talking about the button and ports, both have same button ports starting from power key, volume key to USB Type C to 3.5mm audio jack, etc. Both the tablets have one SIM slot, accepting Nano SIM only. Tab M10 and Tab P10 support Wi-Fi and Bluetooth to keep the sharing and connecting process of the user more seamless. Tab M10 offers a special Kids pack that provides exciting things to your kids while protecting your investment as well. On the other hand, Tab P10 doesn't offer such packages they offer to ensure that everyone using the tablet is safe from viruses or harmful links.
Battery and Sensors
Lenovo did a tremendous job with regards to the battery life of these tablets. Tab M10 comes with a decent of 4850 mAh offering a battery life of just 5 hours, but Tab P10 will amaze you as it provides 7000 mAh of battery that can support you up to 20 hours! Shocked?  Its true- you don't have to hunt for plug points or carry power bank with you, Lenovo Tab P10 will always stay by your side throughout the day.
Coming to sensors, Tab M10 has only G-sensor and Vibrator, whereas the list of the sensor in P10 might again fascinate you again as it offers G-sensor, Hall Sensor, L-sensor, Vibrator, and FingerPrint Sensor. Besides all these, what you'll receive in the box is the same for both tablets.
Verdict
Well, Lenovo Tab P10 is a clear winner as compared to Tab M10 as you can see it has better features than Tab M10. Furthermore, Tab P10 has a glass body that allures more users, whereas Tab M10 is like all other with a plastic body. If you are planning to buy any of the family tablets and confused between them, you can go through its specifications to quickly understand, which tablet will suit your needs exactly the way you want. So what are you waiting for order your favorite tablet today!