Since BBK electronics, the parent organization of OnePlus, has started this company in 2013, its aim has been to launch high-end devices. Despite Oppo, Vivo, and Realme's success, none of its sister companies are competent enough to compete with tech giant Samsung.
But OnePlus is constantly expanding its portfolio of high-end products to give a tough competition to Samsung. Yet again, the rumor of a new OnePlus Pad is making rounds on the internet.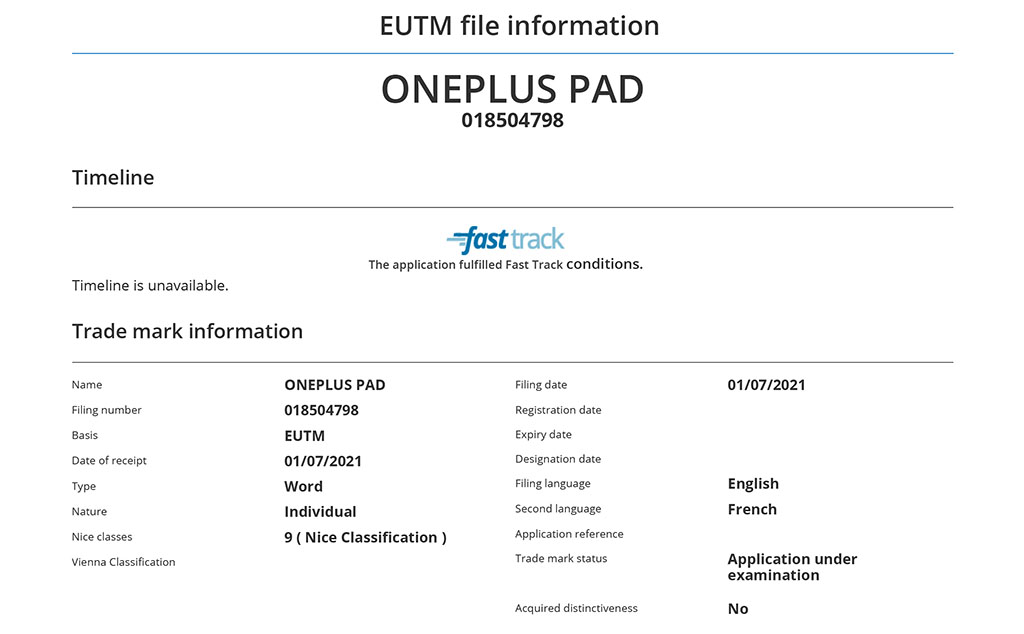 A registration named 'OnePlus Pad' has been done to European Union Intellectual Property Office (EUIPO) recently. This can mean different things. First, OnePlus is planning to launch their first ever tablet called OnePlus Pad very soon.
OnePlus entered the market of earbuds in the year 2019 and then in 2021, they launched their first smartwatch. Moreover, they have diversified their smartphones with different price points with their affordable Nord series. Considering this, OnePlus may have completed working on their first tablet and is ready to launch it very soon.
Second, the tablet is just under R&D and they've just registered their upcoming product. The trademark registration only has basic information like the language of filing, time, etc. This does not reveal much about either the product or the surity of the release of the tablet.
So, it won't be a surprise if you don't see the new tablet from their side this year. But the news coming out is suggesting otherwise. Recently, OnePlus has announced that it will operate as Oppo's sub-brand from now on.
This profound merger is intended to integrate both companies' codebase for operating systems and to provide optimum performance and leverage the benefits of both OxygenOS and ColorOS. Even recently launched OnePlus smartphones in China are having new integrated operating systems. The old devices will get over-the-air updates while the next OnePlus X series will get the newly programmed operating systems pre-installed.
In addition to that, OnePlus's new smartwatches, earbuds, and affordable Nord smartphone series are indicating that it's expanding its portfolio of devices. The first OnePlus One smartphone had Qualcomm Snapdragon 801 when launched in 2013. Meaning, OnePlus has maintained the high standards of their devices.
The sister company of OnePlus, Realme, is already there in the market with their newly launched Realme Pad. While other subsidiaries of BBK Electronics, Vivo, and Oppo are also in plans of launching their own kind of tablets.
If we consider all this, there are high chances of seeing the first OnePlus Pad very soon. However, if the company has just started developing its first tablet, we will have to wait a little longer before we see it in the market.
The rival company Samsung has been in the tablet world with a wide range of price points. To keep up with Samsung, the flagship company will have to launch its first tablet very soon and have to expand its portfolio at a lightning speed.
Not to mention the presence of Amazon Fire Tablets and iPads. If OnePlus sets its foot with their first tab as a unique set of UX and UI with a feel of the typical OnePlus, like they've done with their smartphones, we are sure the launch of the OnePlus Pad will be a big boom in the Tablet world.
The OnePlus Pad should have that sleek and shiny look like their new OnePlus 9 series of smartphones. If the flagship company succeeds in maintaining its standards with its tablet, the OnePlus Pad tabs will be a contender in Android tablets.
What do you think about the OnePlus Pad? Let us know your thoughts in the comment box.