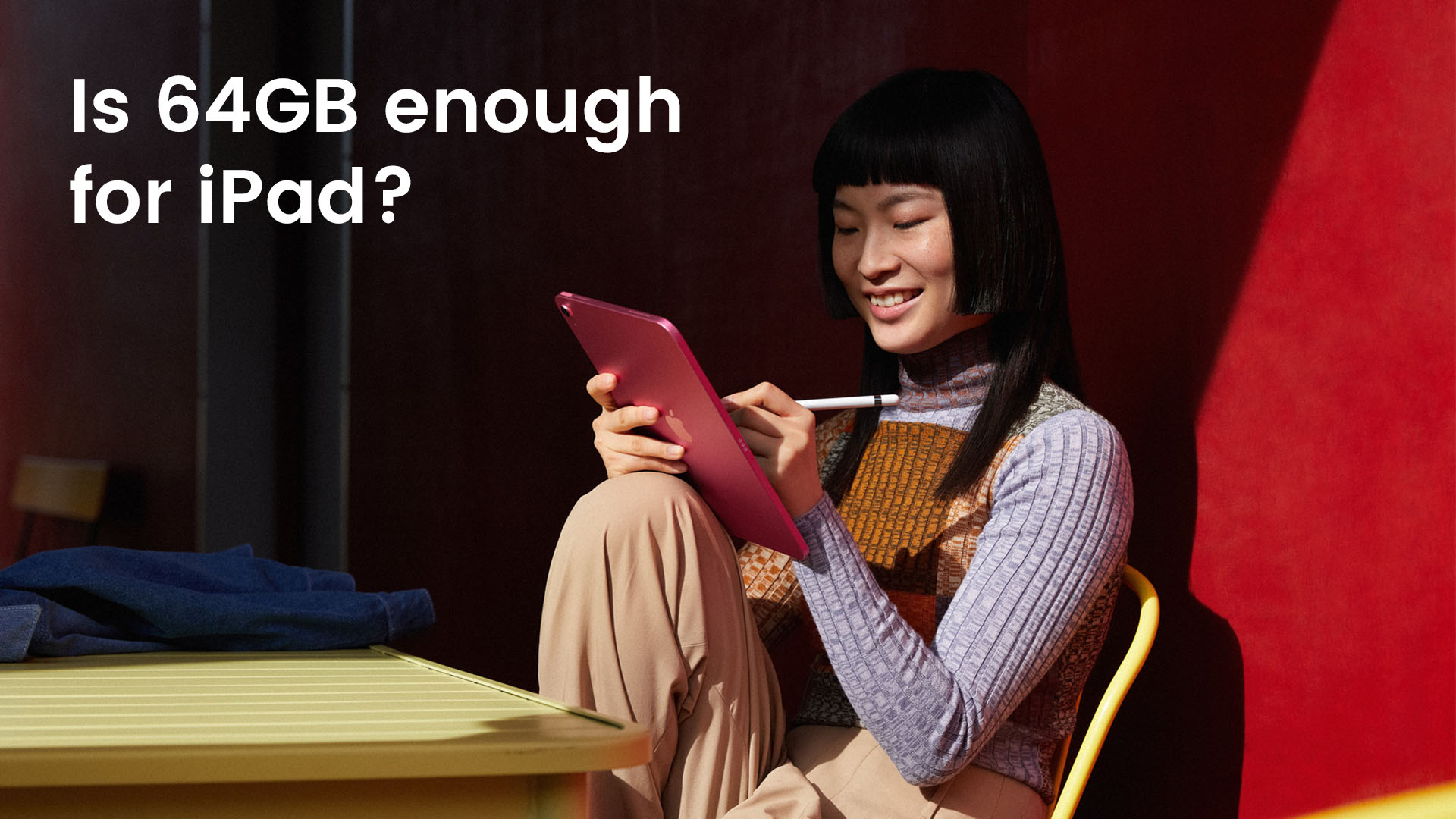 Buying an iPad isn't a cheap affair. You easily pay an upwards of $300 and more to get your hands on this portable productivity beast. However, one factor that often makes the purchase decision even more complication is the storage capacity of the device.
How much storage in your iPad is enough? Are the base models with the staple 64GB variant enough to meet your day-to-day productivity needs? The answer to this question lies with your intent of use.
This article will explore all the important factors that you need to consider before buying an iPad with 64GB storage in it.
What Storage Capacities of iPad are Available?
Much like the memory specifications in the model, even the storage capacities in your iPad varies from one model to the other.
The standard 64GB variant that we are putting to the limelight in this article is generally the second storage capacity of your base model or the one most user opt for. The base model with the 32GB storage is often "too less," according to the existing iPad users.
But the good news is that Apple caters to the demands of each user. So, although the iPad models start from a minimal 32GB storage, they can go up to 2TB storage capacity as well.
The reason why we want to constantly emphasize on the importance of storage is because Apple continuously provides new software updates.
And, each of these updates take up a good chunk of your storage. So, if you don't have enough storage left in your iPad, chances are that your device won't be as functional as you think.
Factors to Consider before Buying a 64GB iPad
The concept of 64GB might sound very trivial now but it was a lot back in the 2000s. However, technology has advanced since then and the way people consume data now has changed drastically from what it was before.
From our heightened urge to capture every moment in the form of images and videos to downloading more and more apps to a device, our needs for an iPad with more storage is justified and a requirement for every user.
That said, there are certain points you have to pay close attention to before finalizing your purchase.
What is your intent of use?
The first factor is to determine the kind of user you are. What do you need the iPad for? Is it for taking notes during classes or running high-end apps like Adobe for editing?
Getting a clarification to this question should answer half of your question. While a 1TB storage capacity in an iPad might sound like a lot to someone who just uses the device for browsing the internet, it isn't a lot for a content creator or an entrepreneur.
Here are a few instances worth considering:
Photographers or Videographers
We can't stress this enough but an iPad isn't just for staple productivity apps like Microsoft Office. In fact, you can use the device for a lot more, including editing your photos, videos, etc.
As a photographer, videographer or filmmaker, your iPad needs to come with optimal storage – without any question. If you primarily depend on your iPad to run your editing applications and storage your data, then a 64GB iPad might not be enough for you.
Most of the raw images and videos, especially ones taken with a DSLR is going to take up a significant amount of storage in your iPad.
So, your primary intent with it should be to consider this purchase as a long-term investment and get an iPad with 1TB or 2TB storage capacity.
Graphic Designers
Similar to photographers and filmmakers, even graphic designers need a lot of storage in their iPad to process editing software like Adobe, etc.
As a graphic artist, you are likely working with a lot of high-quality and high-resolution images, editing apps, and need that extra storage to save your created graphics as well.
Simply creating a minimal digital art on an app like Procreate might take up 400 MB of your space. So, you when you are doing it professionally, be assured that the standard 64GB variant isn't enough.
Travel Enthusiasts
This has a two-way answer. If you use the iPad to work while you are on the go, especially work that involves using heavy-duty software, a 64GB variant will not suffice.
However, if you don't have any heavy usage of the iPad and want to carry it as a safekeeping in case you need it for work or other purposes, a compact 64GB iPad should be enough to cater to those needs.
Streamers
This isn't even a question at this point but if you download movies from the internet in HD, 4K or even a lesser resolution, you will need an iPad with good storage if you save those movies in your system.
However, if you simply download the movie, watch it and then delete it, then a 64GB iPad should work just fine. Even for online streaming, there's not much influence on the internal storage, so a 64GB storage capacity should be enough to get you through.
Gaming Enthusiasts
Can you even game on an iPad? And, the short answer is yes. But, not on a 64GB iPad because most online games save the app details in the device's storage.
And, when you are streaming the game online, be assured that its going to take up quite a lot of the storage already.
So, for safekeeping and uninterrupted usage, we'd recommend that you invest in an iPad with more storage, especially the 128GB or 256GB variant.
Productivity Users
The best use of a 64GB iPad is with the average users. Not only are they comfortable using the device, the 64GB storage is more than enough to keep them occupied with their work, fun and entertainment – all packed in one.
If you don't plan on using the iPad for heavy-duty work, gaming, streaming or editing, the 64GB storage capacity should be just right for your needs.
Is Cloud Storage Worth Splurging on after buying a 64GB iPad?
Due to budget constraints, you went ahead and bought the 64GB iPad. But, the more you are using the device, more you realize that the 64GB storage won't suffice.
In that case, your only options are saving your data locally using an USB device like a pen drive or saving all your data to your iCloud.
While the local storage is comparably safe, it isn't very convenient. So, let us highlight some of the pros and cons of using iCloud for expanding your iPad's storage as per your needs.
If you use your iPad to work remotely, having access to the Cloud storage enables you to have a convenient access to all your data from anywhere across the globe. Its fairly easy to use, so you shouldn't have a hard time navigating through that as well.
However, if you are still on the fence about using Cloud Storage to expand your iPad's storage limitations, here are a few pros and cons to consider:
| | |
| --- | --- |
| Pros of using Cloud Storage on iPad | Cons of using Cloud Storage on iPad |
| Inexpensive and flexible payment plans according to the user's needs and budget. | Relies solely on internet connection for accessibility. |
| Very convenient and allows users to access their files and data from anywhere. | Data loss is rare but not completely obsolete. It has happened before. |
| With server backup, the chances of a user losing their data is close to none. | Downloading multiple files from iCloud can take a lot of time. |
| Allows easy collaboration with team mates and workmates. | |
So, is iCloud worth the splurge if you want to expand your 64GB iPad storage? Yes, definitely.
But, we'd recommend that you don't rely just on the Cloud to keep all your data and information safe. That can get you in trouble, every so often, especially if you are somewhere with no internet connection.
Instead, focus on delegating a balance. You can save your files in the iPad and also in the Cloud so you can have access to the important data whenever you need it and without any hassle at all.
Internal and Usable Storage Space
| | |
| --- | --- |
| Internal Storage Space | Usable Storage Space |
| 16GB | 5GB to 7GB |
| 32GB | 20GB to 22GB |
| 64GB | 50GB to 53GB |
| 128GB | 112GB to 115GB |
| 256GB | 240GB to 243GB |
| 512GB | 495GB to 498GB |
| 1TB | 1005GB to 1010GB |
| 2TB | 2000GB to 2005GB |
Verdict
And, that concludes our article emphasizing whether or not 64GB storage is enough for your iPad.
Although there is no "standard" answer to this question and it is primarily user specific, we'd suggest you scope out your user needs first. Knowing what you will use the iPad for is what makes all the difference.
That said, we'd also recommend that you also consider using Cloud to back up your extra files and documents, when the 64GB runs out in your iPad.