With the release of iPadOS 17, Apple is set to continue their winning streak in the tablet market. The latest version of iPadOS boasts many features and optimizations for native apps and OS-level functionalities.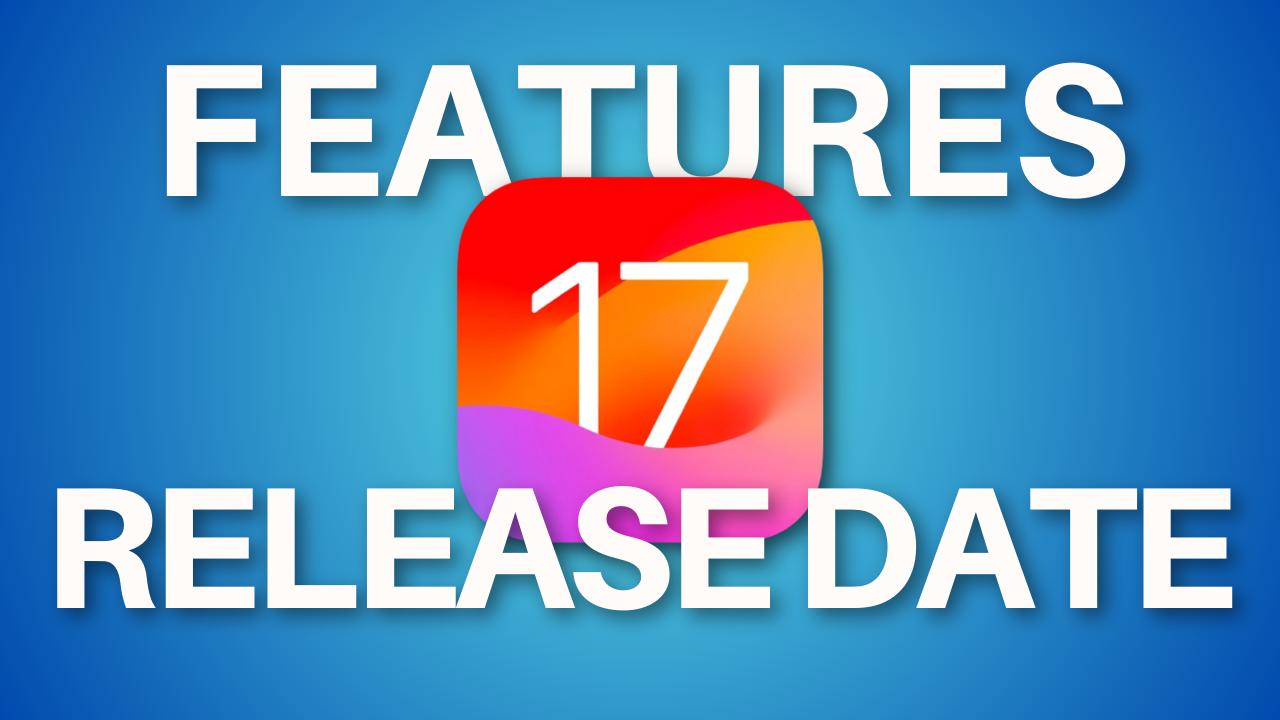 ince many things are introduced, we will be looking at everything you need to know about the iPadOS 17, along with the release date and compatible devices here. Let's get started.
1. Personalized Lock Screens
When iOS 16 introduced this feature, most people expected the same features to arrive for iPadOS 16, but to everyone's surprise, Apple didn't bring any of them to iPadOS 16. iPad users will finally experience the customizable lock screen with iPadOS 17.
In case you missed it, users can personalize various aspects of the lock screen. This includes font style, thickness, colour, and clock language. Users can also incorporate useful widgets and create unique wallpapers from scratch.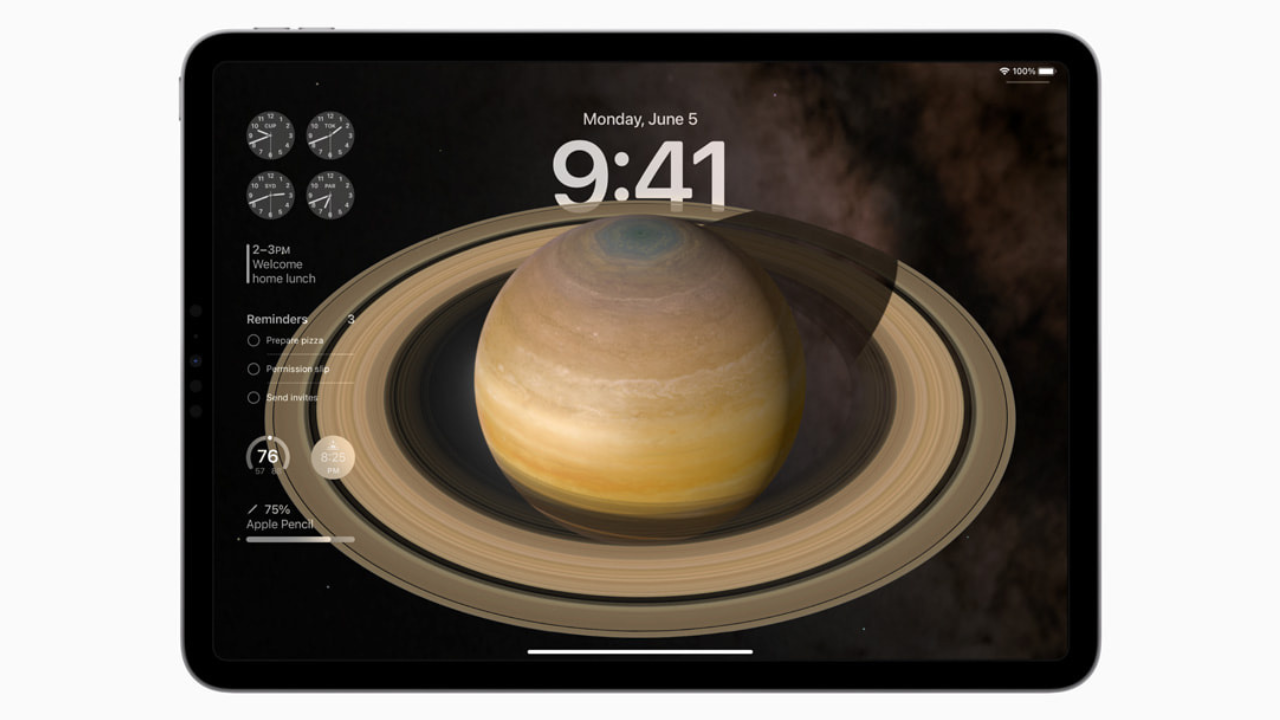 iPadOS 17 users can also use Live Photo wallpapers on their lock screen. The new iPadOS will intelligently generate a captivating slow-motion video based on the Live Photo you used and will respond as users unlock their iPads.
The lock screen gets more interesting with the introduction of Live Activities. This feature lets users quickly view real-time information such as the score of a sporting event they are following, the status of a ride-share or food order, timers, and more.
2. Improved Widgets
Before the introduction of widgets to the Lock Screen, widgets were already available on the iPadOS home screen. Now, Apple is expanding the capabilities of Widgets further by making it more dynamic and interactive.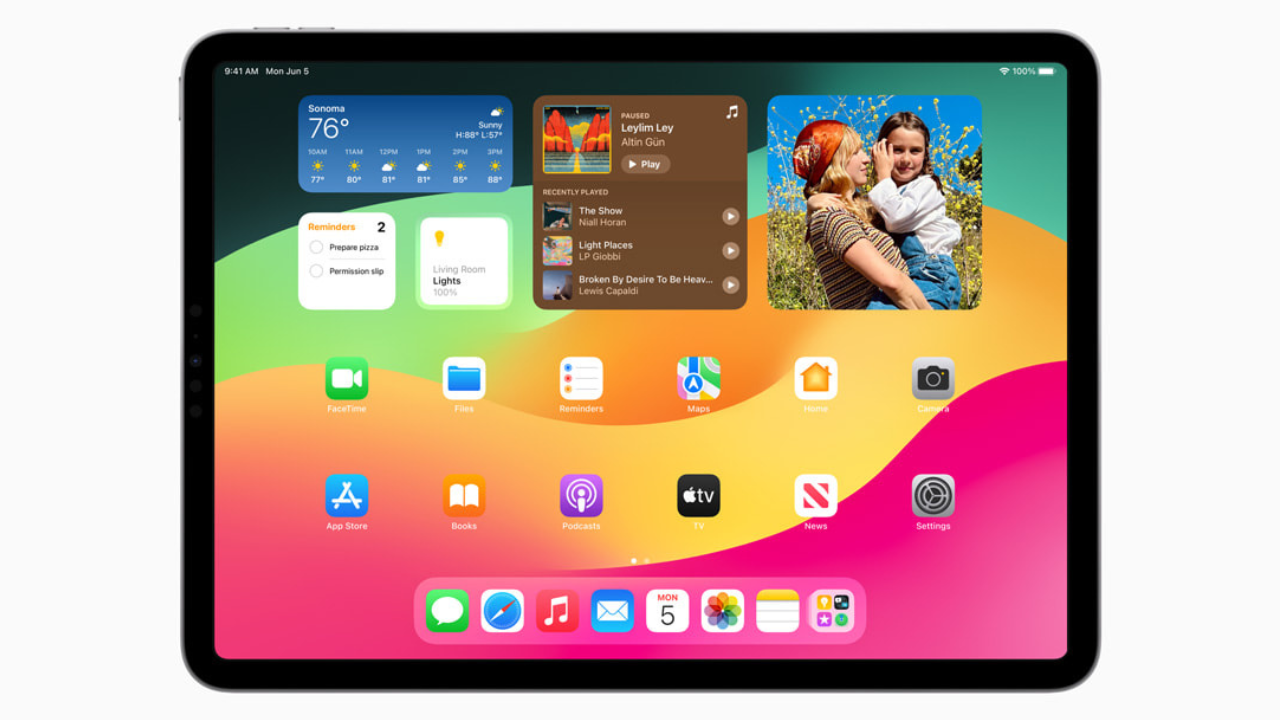 For example, let's consider a widget displaying reminders. With this update, users can interact with the widget, which will be synced with the corresponding app. Moreover, users can control their smart home, play audio, and enjoy other functionalities. These improvements to widgets can be experienced in both the lock screen and the home screen.
3. Enhanced PDF Editing
PDFs have become the go-to format for sharing documents in a non-editable form. Since iPad is mainly used as a productivity device, PDF can also be high. However, there are instances where users need advanced PDF editors to make necessary changes.
Thankfully with iPadOS 17, Apple is enhancing the document management experience by introducing features that analyze PDFs and identify text boxes for data entry. Once the software locates it, you can conveniently fill in the required details. Users can even import information directly from their contacts.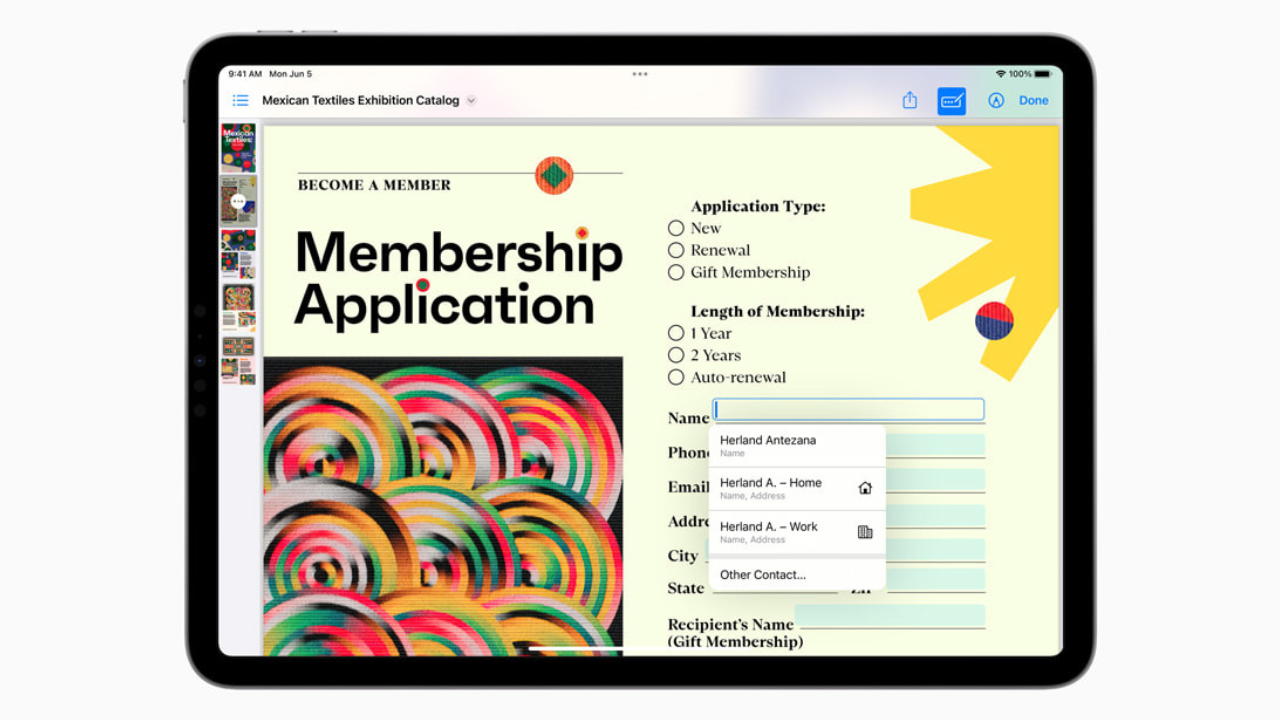 The Notes app will seamlessly integrate all of these features. PDFs can be viewed in full-screen width and can make easy annotation and sketching using the Apple Pencil. Additionally, live collaboration becomes possible within the Notes app, enabling users to collaborate with friends, co-workers, or family members in real-time, working together on ideas and observing changes.
4. Messages Becomes More Interesting
Messages is a beloved app among Apple users, and its experience on the iPad is equally remarkable. To improve the app experience, Apple also introduced Live Stickers to the app. With Live Stickers, users can create personalized stickers from photos.
Users who rely on voice messages also get some interesting features. With the introduction of transcription, users can see the transcription of the voice notes, thus letting the recipient read the contents.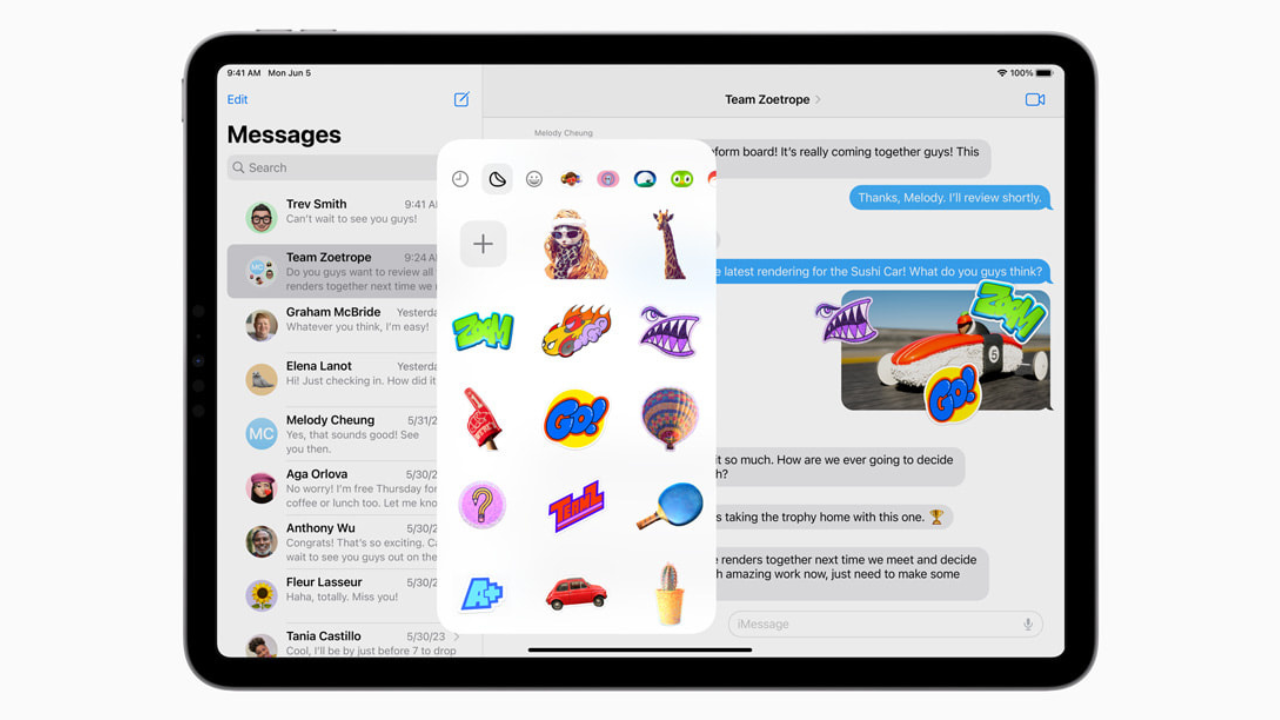 iPadOS 17 brings several other user-friendly features to Messages. Users can now swipe a message to reply, tap on the new up arrow to jump directly to the last unread message and see live updates for the locations shared within the chat.
5. Safari Gets Superb
Apple has enhanced Safari with new features to improve safety and maintain a clear distinction between work and personal activities. The latest update introduces the ability to create multiple Profiles, where users can create profiles based on the various use cases, such as personal and work.
All the cookies, browsing history, and tag groups remain separate based on the profiles. This means users can keep their work and professional life separate from each other. Furthermore, Private Browsing has undergone significant improvements.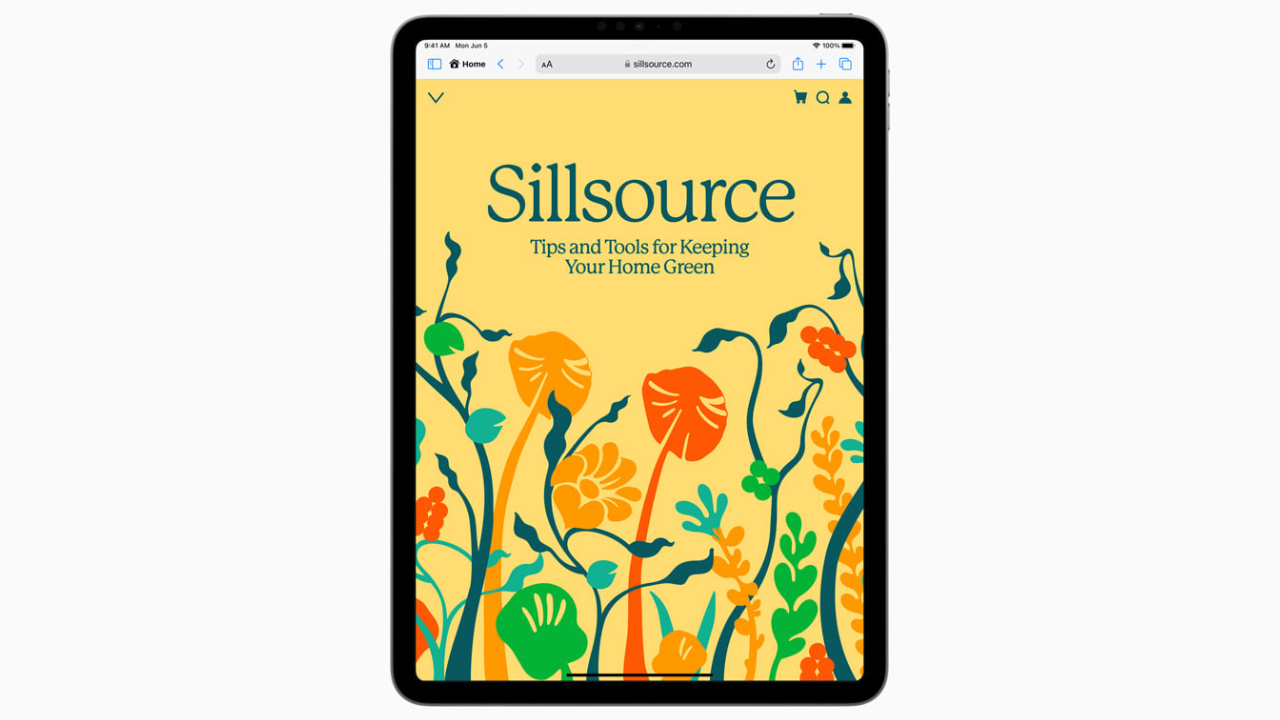 Previously, if you temporarily stepped away from your device, there was a possibility that someone could view your browser and monitor your activities. However, with the new update, you can now secure the Safari window via Face ID or Touch ID.
This means that nobody can access your browser window even in your absence, ensuring the utmost privacy and security.
6. Health Comes to iPadOS
Apple is bringing the Health app to your iPad, granting users access to their health data on a larger screen. Like iPhones, users can connect their Apple Watch to their iPad and view their health data. Additionally, developers can leverage the HealthKit API for iPad, enabling them to further enhance their apps and fully utilize the expansive screen real estate of the iPad.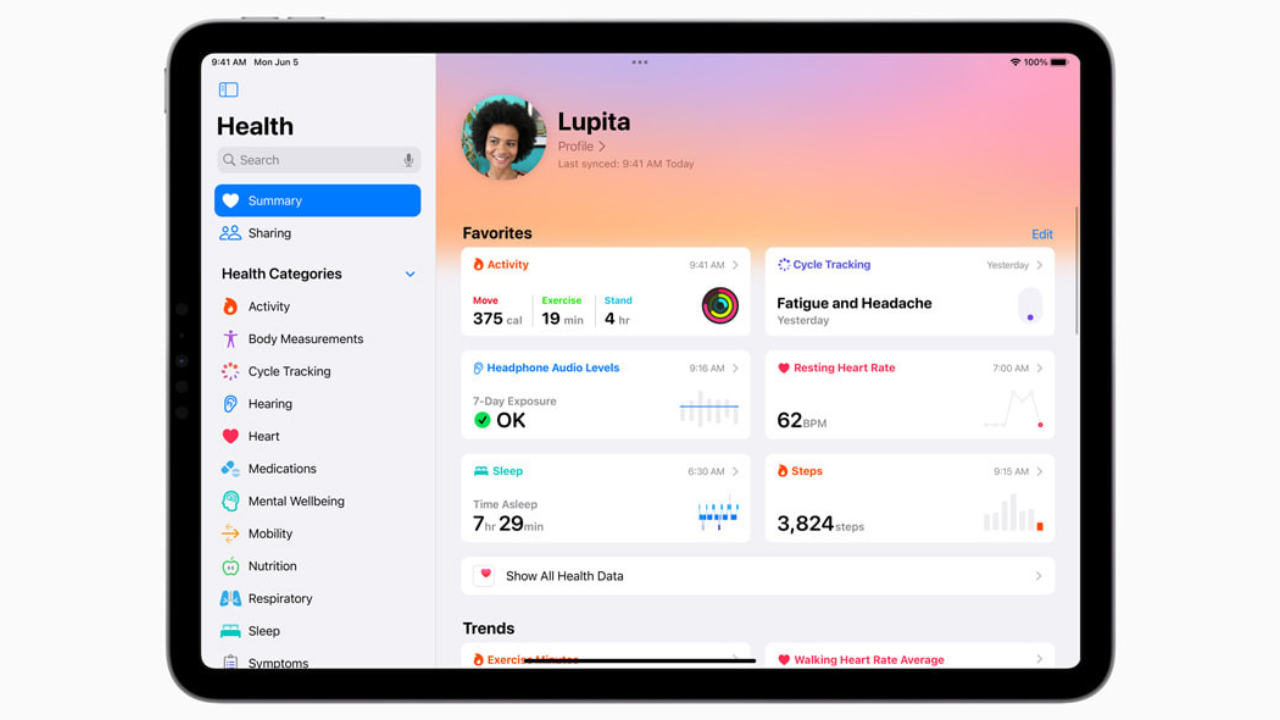 More Interesting Features
Apart from the other features mentioned above, there are still many things to explore. However, these are not as important as the ones mentioned above but play an interesting role in making iPadOS 17 the best. So here are they:
Stage Manager: Users can now arrange and resize windows to utilize the space efficiently.
Freeform: When drawing with the Apple Pencil, users can use features such as hover, tile, and snap to shape. Another new feature has been introduced where users can add connection lines or shapes to objects.
Siri: You can use Siri more efficiently by calling just "Siri" instead of "Hey Siri."
FaceTime: FaceTime now supports audio and video messages. There's also support for reactions in the form of hearts, balloons, fireworks and many more. These can be activated through gestures, similar to Snapchat and Instagram filters.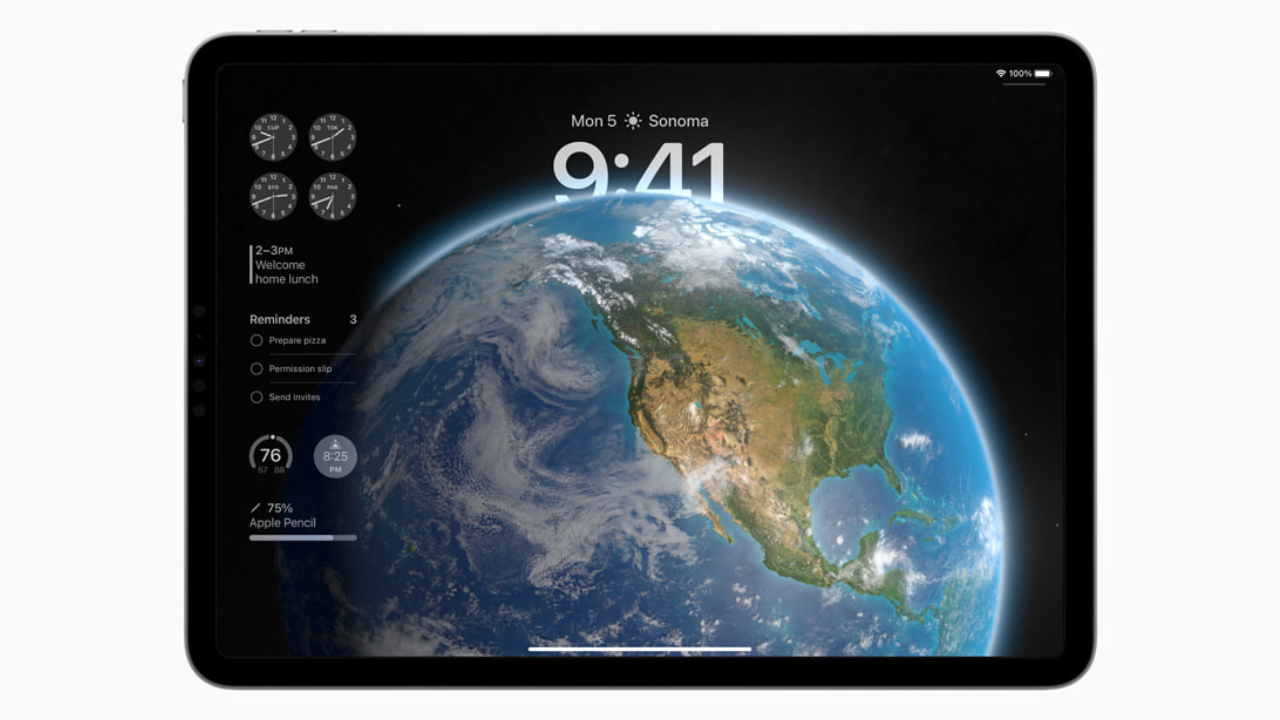 iPadOS 17 Release Date and Supported Devices
Now that you know everything about the new iPadOS 17's features, it's time to check if your iPad is compatible with it, and if it does, when you can experience it. Check if your device name is mentioned in the list below:
iPad (sixth-gen and later)
iPad Mini (fifth-gen and later)
iPad Air (third-gen and later)
12.9-inch iPad Pro (second-gen and later)
The iPadOS develoepr beta is currently available to install on supported iPads. As for the public beta, we can expect it to release around the third quarter of 2023. The official release date for iPadOS 17 is yet to be announced.
If you are interested in experiencing iPadOS 17, you can try through the beta, but keep in mind that the current versions are riddled with bugs, and if you want a bug-free experience, we would suggest waiting until the official release.
Also read: WWDC 23 recap: products and features announced.
Get Excited About iPadOS
With the introduction of iPadOS 17, Apple has brought some interesting features that can attract new buyers and make its current users not think of switching to other options. What's your favourite feature of iPadOS 17? Let us know in the comments.