When you're looking to purchase any Apple gadget, more often than not, you always know what to expect; especially if you're a loyal Apple consumer and own the entire range of products. But with growing technological advancements in Apple's gadgets and newer and newer iterations launching each year, it can be a little difficult to keep up with latest features and slightly overwhelming, to say the least. However, fret not. We're here to clear your confusion with a detailed breakdown and analysis of the iPad Air and the iPad Pro – the two most popular iPad models in 2020.

Here's a basic gist of what you need to know before you go ahead and make a purchase decision. The iPad Pro has Apple's extremely powerful A12X Bionic processor while the iPad Air has the A12 Bionic chip which is slightly slower than the newer processor. The Air has a 10.5-inch screen while on the other hand, the Pro comes with two options – 11-inch and 12.9-inch screen. So, if you're going by a set screen size in mind, you instantly know which tablet to pick to suit your preference. But before you rush into the investment, here's everything you need to know about the key differences between the iPad Air and the iPad Pro along with their features and specs.
iPad Air: Features, Specs and Price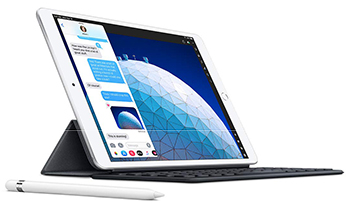 With its sleek design, 10.5-inch retina display and all-day long battery life, the iPad Air could easily become your preferred pick. It's thin, light and has advanced wireless connectivity options, which makes it easily portable and comfortable to use even during distant travels. The iPad's A12 Bionic chip processor with Neural Engine enables the device to function smoothly and can do everything you expect it to. It even has a magnetic support for Apple Pencil – which charges automatically when connected – and a Smart Keyboard for convenience at work.
You can access limitless and uninterrupted Internet browsing anywhere you go with WiFi speeds going up to 866 Mbps and Gigabit-class LTE. The Air even offers an eSIM with which you can easily access wireless data plans across the world. Put your multi-tasking skills to test and use multiple apps at once. You could be browsing the Internet while on a FaceTime video and even making a presentation at the same time with all these screens open on the screen.
Gamers can even enjoy an immersive experience with the advanced 4-core graphics engine with lightning fast speed for games and other apps. 3D games even have photo realistic effects. The Air's rear camera has 8 megapixels of resolution and the FaceTime camera lets you enjoy 7 MP of quality. The True Tone feature is easy on the eyes and adjusts white balance based on the light around you, so even if you're reading something, the light on the screen isn't harsh even if there's direct sunlight.
Tablets For Sale: Best Tablet and iPad Deals
iPad Pro: Features, Specs and Price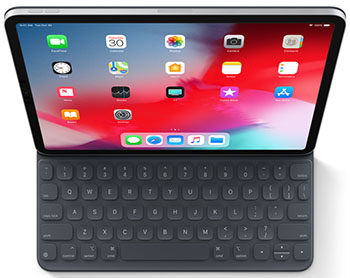 Unlike the Air, the iPad Pro comes with an all-screen glass design which lets you do anything no matter which way you're holding the device. Its intuitive gestures make navigation extremely easy and fun. The Liquid Retina display runs from edge-to-edge and makes everything much brighter on screen. The True-to-life color and ProMotion technology give 3D image clarity and enhance responsiveness.
The Pro also brings with it the popular face recognition technology, Face ID, to unlock the iPad. It's designed and engineered for secure unlocking and is seamless, whether you hold the device in portrait or landscape.
The A12X Bionic chip processor makes the iPad Pro faster than most PCs. It also has the Neural Engine, which runs five trillion operations per second along with enabling advanced machine learning. Similar to the Air, the Pro also has multi-swipe features wherein you can access multiple apps at the same time and get work done faster and with more efficiency. The A12X Bionic chip delivers graphics at twice the regular speed, which makes it the perfect device for gaming and AR for an immersive experience.
The Apple Pencil responds to touch – you can just double tap and make the eraser tool switch to the brush tool and more – without interrupting your creative flow. The Smart Keyboard gives you a great typing experience and also offers front and back protection. The Pro's USB-C enables quick and easy connection to accessories such as external display or camera. The Pro comes with two powerful cameras that have Smart HDR. The rear camera has 12 MP of resolution for maximum clarity, document scanning and AR experience. It also has 4K video and a TrueDepth camera that works wonders for Portrait selfies as well as Apple's FaceTime, Animoji and Memoji features.
Verdict
While there are multiple models of the iPad available out there, the best possible iPad you can purchase is clearly the iPad Pro in terms of advanced features and technology. However, if you're looking for a cheaper version with best possible performance, which offers the latest features, the Air is the ideal choice. It's comparatively less expensive than the Pro and at the same time offers most of the features that the Pro does.
iPad Air
iPad Pro
Chip
A12 Bionic Chip (Neural Engine)
A12X Bionic Chip (Neural Engine)
Display
10.5" Retina Display
(2224 x 1668)
264 PPI
11" (2388 x 1668) or 12.9" (2732 x 2048)
Liquid Retina Display
264 PPI

Storage
Up to 256GB
Up to 1TB
Camera
Rear: 8MP
Front: 7MP
Rear: 12MP
Front: 7MP
Dimensions (HxWxD)
9.8" x 6.8" x 0.24"
11-inch: 9.74" x 7.02" x 0.23"
12.9-inch: 11.04" x 8.46" x 0.23"
Weight
Wi-Fi: 1.0 lbs
Wi-Fi + Cellular: 1.02 lbs
11-inch: 1.03 lbs
12.9-inch: 1.4lbs
Battery
Up to 10 hours
Up to 10 hours
Operating System
iPadOS
iPadOS
Price (Starting at)
Wi-Fi: $499
Wi-Fi + Cellular: $629
Buy at Amazon
Wi-Fi: $799
Wi-Fi + Cellular: $999
Buy 11-inch | Buy 12.9-inch
The Pro is more useful if you're looking for an alternative to your laptop since it can do pretty much everything that a laptop can, with twice the speed (in some cases). The Pro offers better camera quality, a larger screen as well as up to 1TB of storage space, so the price is double as compared to the Air. For long term, the Pro is a great pick, but if you have budget constraints, the Air is a steal for the features it offers.