Well, after GAOMON and WACOM the number one choice among designers is HUION. This company came into existence in the year 2000 and hit the market with its cheap, efficient, and reliable graphics tablets in no time. Huion focused on delivering more user-friendly tablets that too at affordable prices so that buying a graphics tablet should not be a hassle for anybody. As today the demand for designers or artists is increasingly evolving, but to showcase their talent worldwide- the need for a digital platform have become a must in today's competitive world.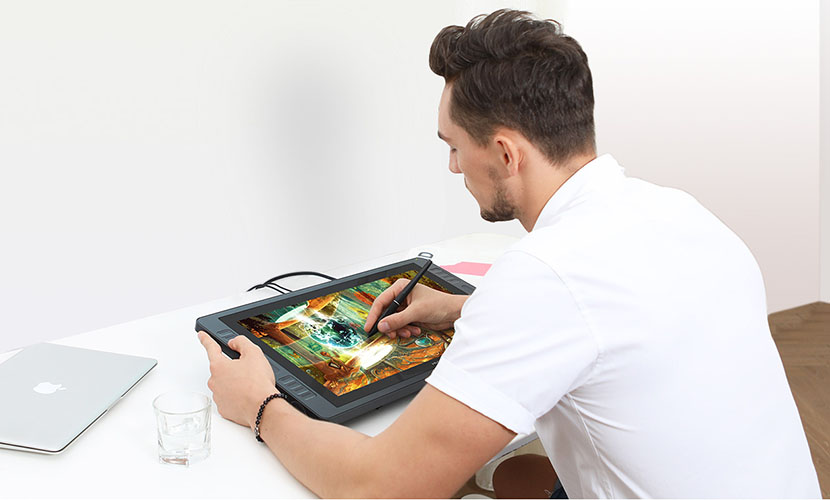 Keeping in mind all the aspects of digitalization, Huion released tremendous graphics tablets with great features and at an extremely low price. After the successful launch of Huion KAMVAS GT-221 Pro Drawing tablet, Huion released KAMVAS Pro 20 GT-192, which besides features, concentrates more on the price factor. KAMVAS GT-221 is quite expensive as compared to KAMVAS Pro 20 GT-192 with slight variation in the characteristics of the tablet.
Design and display quality
You will witness the true efforts of Huion when you glance over the tablet. They did an exceptional job this time! With the screen size of 19.5 inches, KAMVAS Pro 20 GT-192 is equipped with anti-glare etching glasses with multi-layer membrane technology for all the designers out there. You can quickly reduce glare reflection on the mirror screen without any hitches. As playing with colors, diagrams, and designs is not as easy as it seems.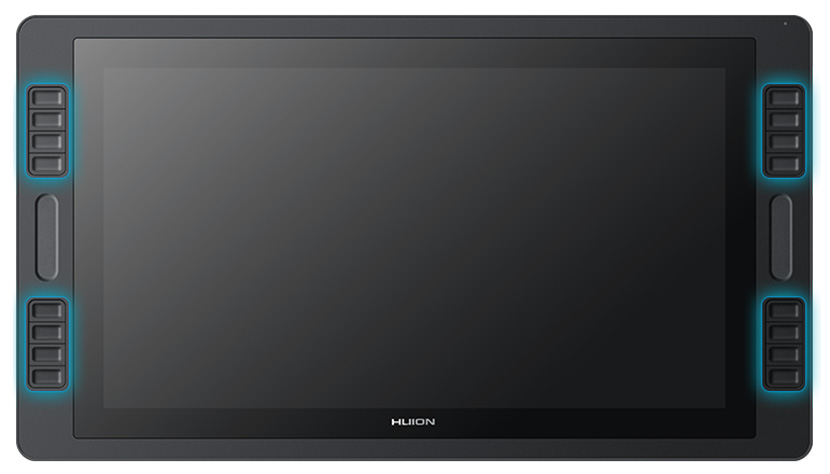 Huion has entirely understood this fact and put in their focus on delivering more secure rays out to users. It doesn't mean that anti-glare with hamper productivity by giving you dim lights. No, not at all! You'll be getting a full bright screen that releases 16.7 million colors as it has 100% sRGB wide gamut, which enables Huion KAMVAS Pro 20 to give splendid color effects and immensely trim down color differences.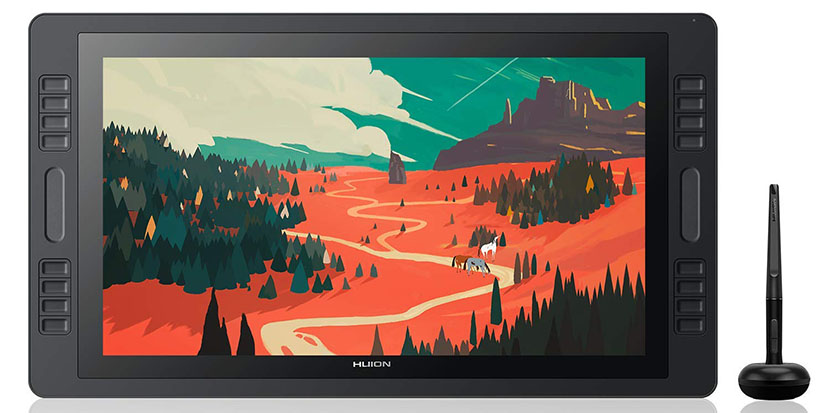 Besides display quality, the design is also appreciable of this new brightening tablet. Huion KAMVAS Pro 20 GT-192 is very extremely thick, just 21mm supported with a solid body. The overall dimension of the product is 25 x 17 x 6.3 inches, weighing 3.6 kg that makes this tablet quite handy. The roundly edges of the tablet gives a perfect grip while holding this graphics tablet.  Are you a right-handed artist or left-handed? No worries! The tablet offers eight express key and one touch-bar on both the sides of the tablet so that you can be your own leader and explore your profession in a very comfortable or cozy way. More so, the cursor of the tablet is very sensitive, responsive, and effective. You would not feel the need for a mouse or get stuck while using the tablet.
Magnificent Pen
Every designer, before buying a graphics tablet, always look for a flexible, responsive and efficient pen as it is the only tool that will help them to turn their thoughts into reality. The pen works like a magic wand that's the reason designers are more concern about pen whenever they purchase a graphics tablet. However, in Huion KAMVAS Pro 20 GT-192, you don't have to bother about the quality of pen because Huion primarily focused on pen quality. The pressure level of 8192 has become a new standard with regards to pen across the graphics tablets, and Huion has amazingly achieved this level. With ±60 tilt support and battery-free stylus-this make the pen stand apart from the market. The pen has 5080 LPI and is hugely lightweight just 14g, with the responsiveness of 266 PPS report rate. Now you can win any game or race with this pen!
The pen has been equipped with Electromagnetic resonance technology that enables designers to draw seamlessly on the tablet surface. More so, using a battery-free pen makes you stress-free of charging your pen every now and then.  Now you just have to focus on what you do best rather than charging your pen and facing obstacles while drawing or designing. You can be a designer in the field like games, animation, industrial designing, computer graphics, and a lot more.
Compatibility and accessories
Besides brighter screen and effective pen, Huion KAMVAS Pro 20 GT-192 also allows designers to use the top designing software that too without any aggravation. Designing software like PS, SAI, PI, Painter, GIMP, CLIP Studio, Krita, AI, CDR, etc., are the top-used software that designers prefer to showcase or explore their creativity worldwide and they can use all these on Huion KAMVAS Pro 20 GT-192 without any clinches. Furthermore, the tablet is highly-compatible with major operating systems that are Windows 7 or above and Mac OS- giving you a very user-friendly interface, evading all the complications for learning the features and usage of the tablet.

Well, the accessories might excite as you'll be getting Power Adapter and AC cable, HDMI cable, USB cable, pen holder with pen nibs x 10 and clips inside, and extra 10 pen nibs. More so, for keeping your tablet clean, you will get artist glove and quick start guide to quickly learn about the tablet features.
One more interesting thing you'll be getting with this tablet is a reliable and powerful solid, which is highly adjustable allowing you to make your own designing studio at the comfort of your home. You don't have to hold the tablet to design, just fix it on the stand and start portraying whatever you want!
In conclusion
Huion KAMVAS Pro 20 GT-192 is one the best tablets invented by Huion and is actually ruling the marketing. This graphic table will cost you around $600, and at this price you can excel in your profession worldwide without bothering about things much.
Don't just believe my words, purchase KAMVAS Pro 20 GT-192 and explore its features and see how much it can help you to make your designing experience adventurous and unforgettable. So what are you waiting for, order this tablet now and enjoy all the features flawlessly!