HUION was into the market in the year 2000, but its popularity skyrocket from the year 2010 when it formally entered the China market. HUION is dominating the gadget market with its groundbreaking products rapidly and soon it will top every tablet segment. However, it seems that their goal begins from capturing the market with their innovative drawing tablets.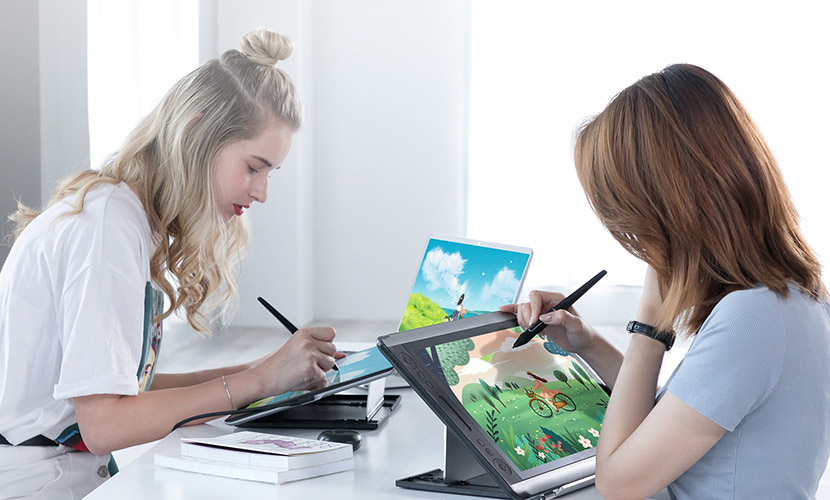 HUION Kamvas 16 has become revolutionary so far as its high tech features are allowing this company to gain an edge over competitors. Many beginners across the globe are purchasing HUION Kamvas 16 to begin their career as a digital artist on this tablet. It's highly affordable with maximum features that one require and can get in high end tablets as well.
HUION KAMVAS 16 Specs
Working Area
344.2 × 193.6 mm | 1920 x 1080 Resolution
Keys and Touch Bar
14 Express Keys (Programmable) | 1 Touch Bar
Pen
PW507 Battery Free Pen
±60°Tilt Support | 8192 Levels
OS Compatibility
Windows 7 or later
MacOS 10.12 or later
Price
Starting at $349 | Amazon
If you're a designer or an artist and planning to purchase a digital tablet to begin your career, then HUION Kamvas 16 could be an ideal choice. Below we've mentioned some fascinating features of this tablet that would help you make a better decision:
Display and Design
HUION Kamvas 16 seems to be perfect as it has been designed with right display size, which is 15.6" along with 14mm thickness and extremely lightweight design weighing just 3.3lbs. This means that the tablet is quite handy and has good display size, which not only provides you a large surface to draw on, but also is very flexible and pocket-friendly to carry.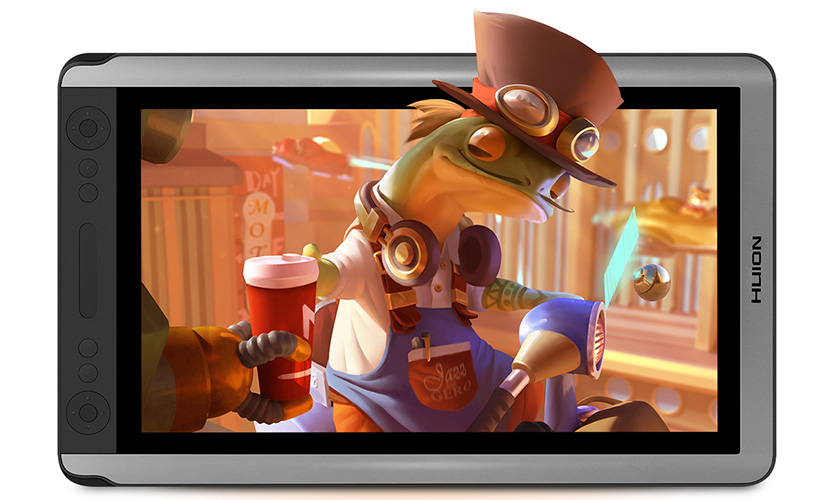 More so, KAMVAS 16 has been made in golden ratio 16:9, providing a viewing angle of 178 degree along with 1920 x 1080 of resolution, enabling you to draw every image with great details. Even though you're standing under the shiny sun, you can see everything on the screen.

Furthermore, the screen is protected with anti-glare that not only works as a shield, but also gives you a matte surface. With such a fantastic surface and ratio you can showcase your art in real time because you can achieve that level of clarity. You can also use both hands for drawing or painting as the express-keys is highly customizable, enabling you to be more proficient in your work, regardless of whether you're using your right hand or left hand.
Powerful Pen
Every designer or artist is mostly concerned about the pen of a drawing tablet as it plays a major role. Switching from paint-brushes to pen is not at all easy and HUION understands that, so providing a pen that comforts the designers is crucial. That's the reason HUION Kamvas 16 offer an excellent pen that provide a resolution of 5080 LPI, which ensures a clear and smooth lines, making every details visible. The pen is very comfortable to hold with a pressure level of 8192 that enable you to draw or paint with extreme easiness and accuracy.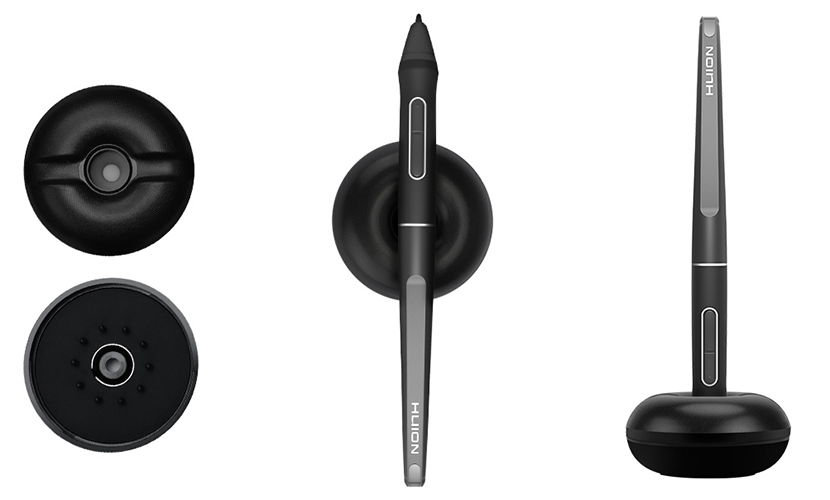 You would not feel like you're holding a pen as the sensitivity pressure greatly contributes in drawing clear lines and makes the strokes delicate. More so, this digital pen PW507 is battery-free that doesn't require any charging. So you can draw and carry this pen anywhere you want without worrying about the battery life. There's also a nib replacer that allow you to replace the nibs both vertically and horizontally, enhancing the overall flexibility of this high-tech pen.
A tidy desktop with better compatibility
When it comes to connecting your tablet with desktop, you might find it quite untidy as the numbers of wires you require create a complete mess on your tablet. But with HUION Kamvas 16, say bye bye to such struggle as it has three-in-cable for charging, HDMI, and USB connections altogether. You might feel relaxing reading this because HUION Kamvas 16 not only free up your time from wire mess, but it also makes your desktop clean and tidy.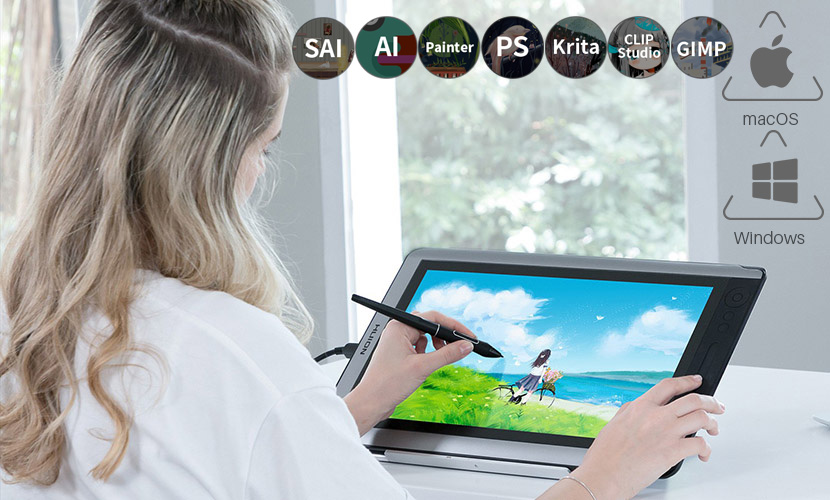 More so, HUION Kamvas 16, similar to other products is highly compatible with MacOS and Windows along with various drawing software. The list of popular drawing software includes:
PS
AI
Painter
SAI
GIMP
Krita
Clip Studio
Adobe Photoshop
Adobe Illustrator
With the above-mentioned software, designers can seamlessly give their best to the industry and keep on enhancing their creativity without any hassle.
What's in the box?
HUION Kamvas 16 not only aims to provide you a seamless drawing experience, but it also make sure that you enjoy maximum comfort with the tablet. Kamvas 16 provide users with replaceable nibs, which you might require after a while of using this tablet. You will also find a cable connector to enhance the connectivity of the tablet, eliminating any type of isolation. Besides this, you can place your tablet as a on the robust stand provided by the company. It seems like you're drawing or painting on the sheet. You will also find a pen holder and case.
Final Words
HUION has done a good job by introducing Kamavas 16, which is lightweight with a powerful pen and supreme compatibility. It's an all-in-one package available at an affordable price, enabling beginners to first try their abilities on this platform and then move further to another tablet loaded with more professional features. HUION Kamvas 16 is overall a good tablet and can be marked as 8 on the scale of 1-10. It lacks a bit in design and surface area as some may prefer more working space to draw or design.