Global giants like Apple and Samsung have always dominated the landscape when it comes to creating tablet computers for all. However, HUAWEI is making sure that this does not remain true for long with its new launch – MatePad Pro.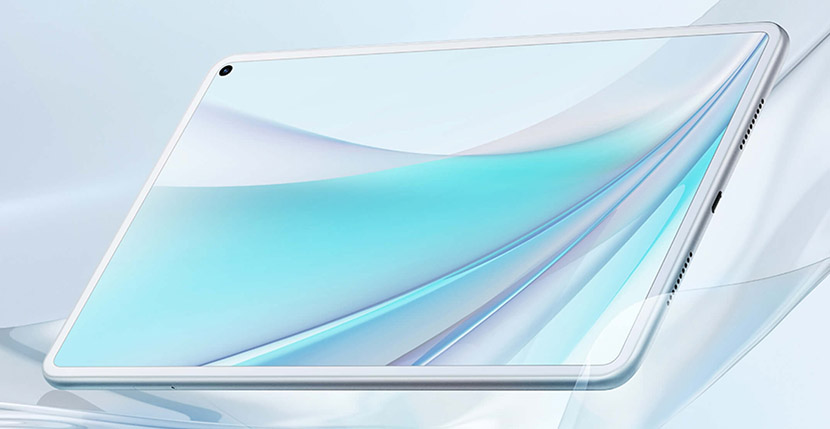 It was later in November 2019 that the Chinese Multinational tech giant Huawei launched its MatePad Pro in the international markets. And, adhering to the brand image of Huawei, this device too is equipped with top-end features available at affordable prices.
Specifications
As far as the features of the new MatePad Pro are concerned, its ultra comprehensive 10.8 inches full-screen deserves the first mention. Not only is the 16:10 widescreen designed well, but it also offers incredible 1600*2560p resolution, making it clearer. 90% of the front is covered by a fully-functional touch screen, bordered by a 4.9mm equidistant backdrop, enhancing the appearance of the tablet.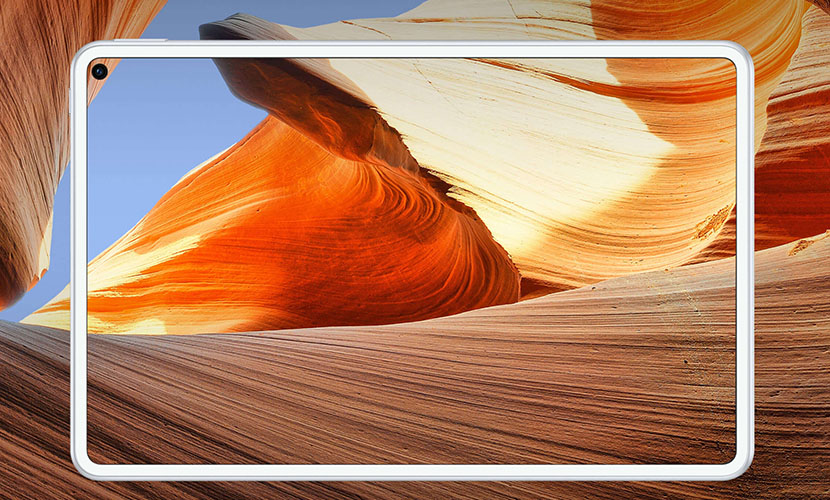 Speaking of the performance, MatePad Pro would never leave the gamer in you disappointed as it runs on the octa-core HiSilicon Kirin 990 Processor, backed by up to 8GBs of RAM. The Operating System is EMUI 10.0.1 which is based on Android 10. To power all the astonishing functions this tab can perform with the processor, Huawei has equipped it with a 7250mAh battery.
One feature which cannot be skipped in the modern day devices is the front and the rear camera and MatePad Pro has both. While the rear camera can get you high resolution, 13MP pictures, the front will allow you to click selfies in 8MP. Also, the rear camera has a flash which is absent in the front.
HUAWEI MatePad Pro Specs
Display
10.8" (2560x1600) QHD 280ppi 540nits
Processor
HUAWEI Kirin 990 Octa-Core
(2*2.86GHz + 2*2.09GHz + 4*1.86GHz)
RAM
6GB or 8GB
Storage
128GB, 256GB or 512GB
Camera
Front: 8MP
Rear: 13MP
Dimensions
246 x 159 x 7.2mm
Weight
460gm (with fiberglass back-cover)
492gm (with plain leather back-cover)
Battery
7250mAh
OS
EMUI 10.0.1 (Android 10.0 Based)
What can be called the most astonishing features of the tablet is the whopping up to 512GB internal storage which can be expanded by adding a MicroSD card of up to 256 GB. If you combine both, you can store as much as up to 768GBs of data in this tablet without any ado.
You can use any USB Type-C connector to the MatePad Pro and access it on the screen. Along with that, the tab offers Wi-Fi connectivity and inbuilt GPS for locating everything around the planet. And, the Bluetooth Version 5.1 will allow you to share data with devices in your vicinity. Apart from them, you can benefit from the ambient light sensors, accelerometer, gyroscope and the compass that the device has in store for you.
The USB connectivity can also be used to juice up other devices because of its ability to reverse charge.
Furthermore, for a tablet, MatePad Pro that weighs around 460 grams is quite heavy. However, the dimensions – 159*246*7.2 millimeters – make it perfect for holding while studying or working.
Features
Built and Design
As already discussed, the appearance of the MatePad Pro is appealing due to the 90% screen coverage. However, that is not all to the tablet; you can obtain one in 4 different shades ranging from the pristine Fritillary White, majestic Night Ash, elegant Danxia Orange, and the royal Aoyama Dai. The back cover, also, doesn't feel like plastic but is textured with a pleasant skin that feels calm and comforting. This will enable you to hold the tablet for hours while you work.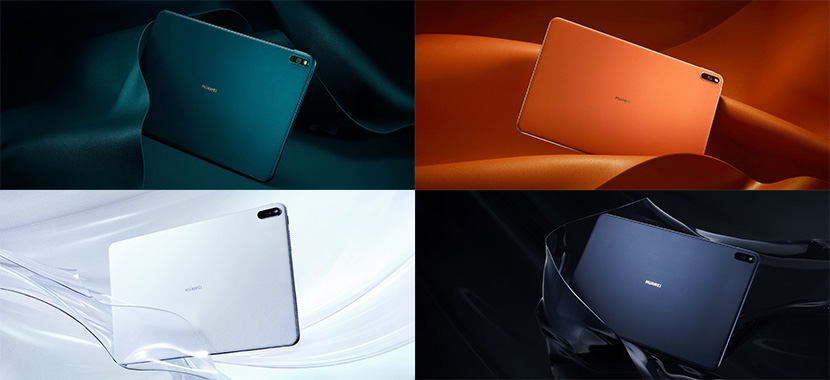 Moreover, the design is minimalist with no visible antennas, and a warm, well-integrated body. The ergonomic design of the tablet feels natural when holding, whether for minutes or hours.
Performance
The Kirin 990 Flagship Chip, combined with a 7 nanometer process technology and three-level energy efficiency allows the tab to perform big tasks in a flawless manner. Furthermore, the octa-core processor that will let you operate multiple apps simultaneously enhances the performance.
Plus, the intelligent power distribution operator manages app interface well enough to allow you to stream high-definition videos on the tablet while you have your favorite game on hold.
Mobile Phone and Tablet Screen Integration
Dual screen integration is not new in tablets as the Apple and Samsung releases have been doing this too. Then again, Huawei's MatePad Pro promises to do the same with more efficiency enabling you to use the mobile and tablet screen at the same time with its split screen feature. You can operate your mobile phone interface solely on the tablet too and perform functions such as answering phone calls, and receiving and replying to short messages.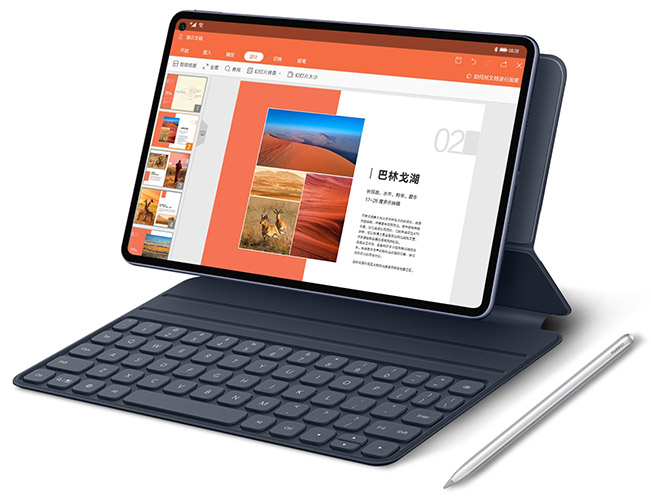 Moreover, two-way mutual transfer of files is possible through drag and drop feature in MatePad Pro. The mobile assistant can be used to perform functions such as enabling the keyboard and a more efficient editing. The seamless interaction between the two devices will make you want to use the two of them together for faster functioning.
Other than that, you can use the tablet as a desktop by attaching the keyboard case to it.
HUAWEI M-Pencil
For those who are interested in using the tablet for creating interactive graphic art, the M-pencil feature of the tab will allow them to draw and write. Also, this allows one to use the tablet more efficiently for tasks such as taking down notes, document processing and graffiti drawing.

The composite material pen that accompanies the MatePad Pro comes with skid-free writing with a moveable tip. Apart from writing, the pen can be tilted to draw shadows, paint portraits, and make sketches.
All you are required to do is, charge the M-pencil for an hour and use it for drawing for the next 10 hours without any ado.
Overview
Overall, the MatePad Pro is believed to be a smart and efficient tablet computer that can certainly bring the world to your palmtop. However, some believe that it is a mere knock-off of the iPads launched by Apple since decades now, only without Google services support. Then again, when individuals with a budget can get their hands upon similar features for a smaller price, HUAWEI has certainly put its best foot forward in terms of this tab.
MatePad Pro is soon to hit the Chinese markets and might cost around USD 470 when bought with the M-Pen stylus and the keyboard case. The LTE connectivity and memory expansion is an added price you can choose to pay for.