Today we are taking a look at the second generation of the Google Nest Hub. It is Google's latest release in their smart display line-up and costs $99 or 99€. That's 30 bucks less than the old model! For that price, it could be the perfect gadget for diving into the smart home world for the first time.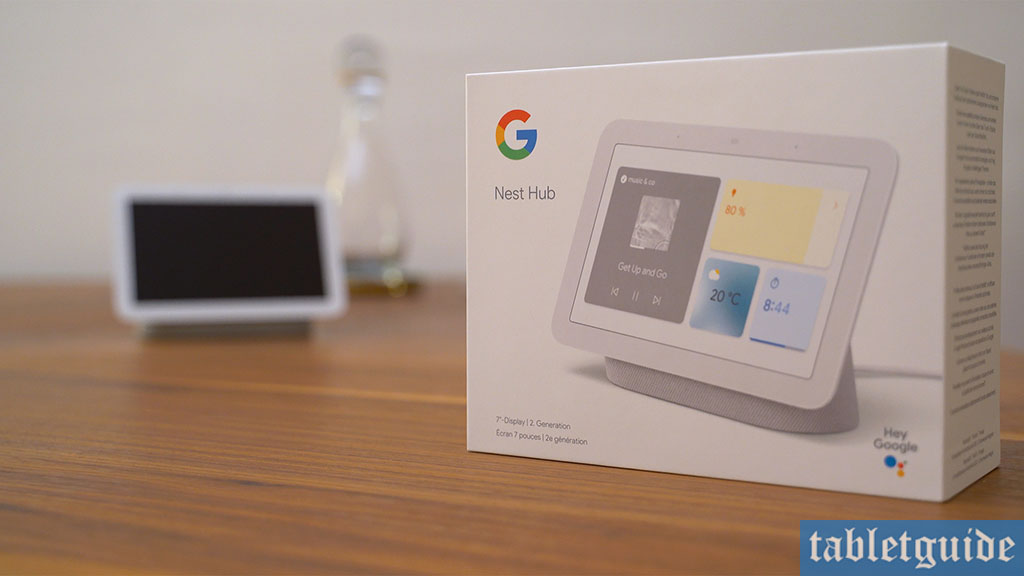 Also, the new Nest Hub is being promoted as the best smart device for your nightstand. So let's find out why that actually might be the truth and who the Nest Hub 2 is actually for.
Unboxing
Opening the box, you will find the Google Nest Hub 2 and a charging cable, as well as a quick starting guide. The charging cable is a barrel charger, and not a USB-C charger. The whole unboxing experience underlines the minimalistic approach of Google regarding the Nest line-up.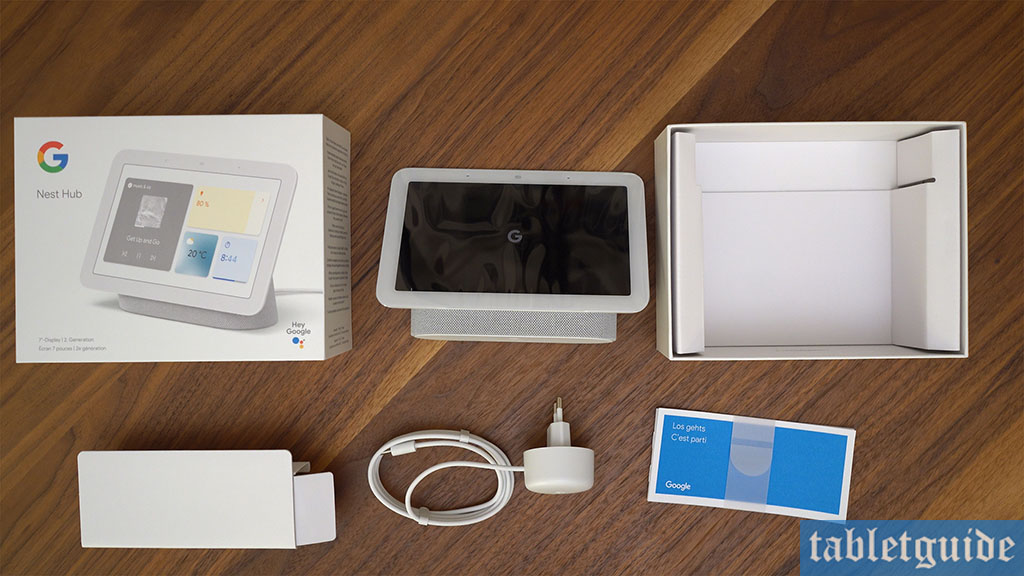 Setup process
The setup process is really straight forward. When you plug in your Nest Hub for the first time, it will display a handy QR code. By scanning this code with the Google Home App on your Smartphone or Tablet, you start the setup process. The app will guide you through each step to make sure that you only activate the features you really want to use. The setup process takes about five minutes and is easy to follow.
Design
Design-wise, the Google Nest Hub 2 looks very similar to the old version. Therefore, if you liked the first one, you are going to like this one as well. The base is covered in a nice feeling mesh. On the back you will find the only two buttons of the device, which can be used for changing the volume of the speakers.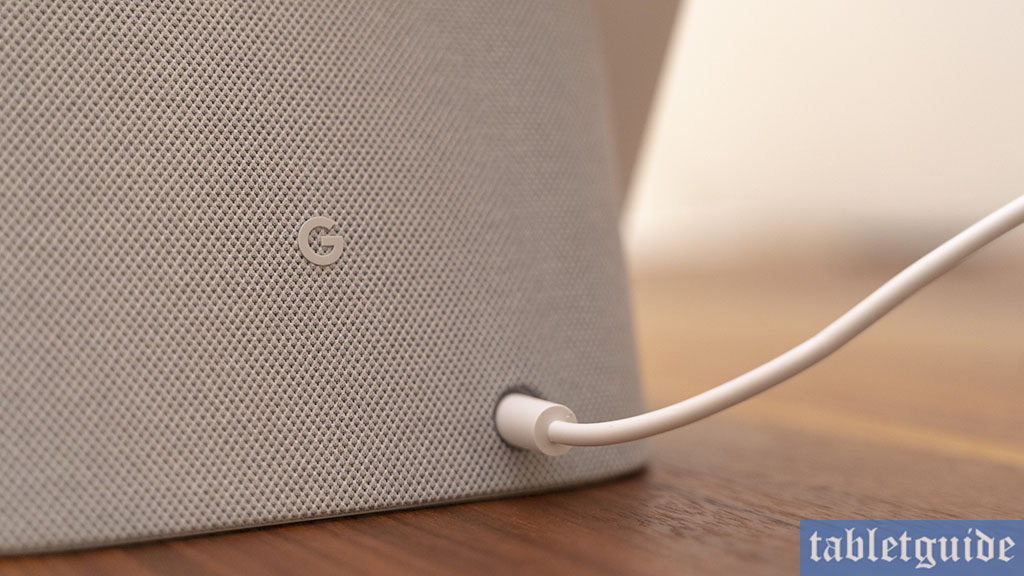 There is also a switch to turn off the microphone of the Nest Hub. A small LED on the front signals if the microphone is muted. Google says that the materials for the nest hub come from recycled plastic. Just like on the old model, you will find an anti-slip pad at the bottom of the device.
The new Nest hub comes in four different colors: Chalk, Charcoal, Sand and Mist. The minimalist design is very nice overall, but a USB Port at the back would have been great, for example to charge your phone without having to use a second socket.
Voice recognition
The voice recognition of the new Google Nest hub is really snappy. That is probably because this device offers a dedicated machine learning chip on board. When you have "continued conversation" activated, it's really fun to chat with the Nest Hub. The responses are so quick that the interaction feels quite natural.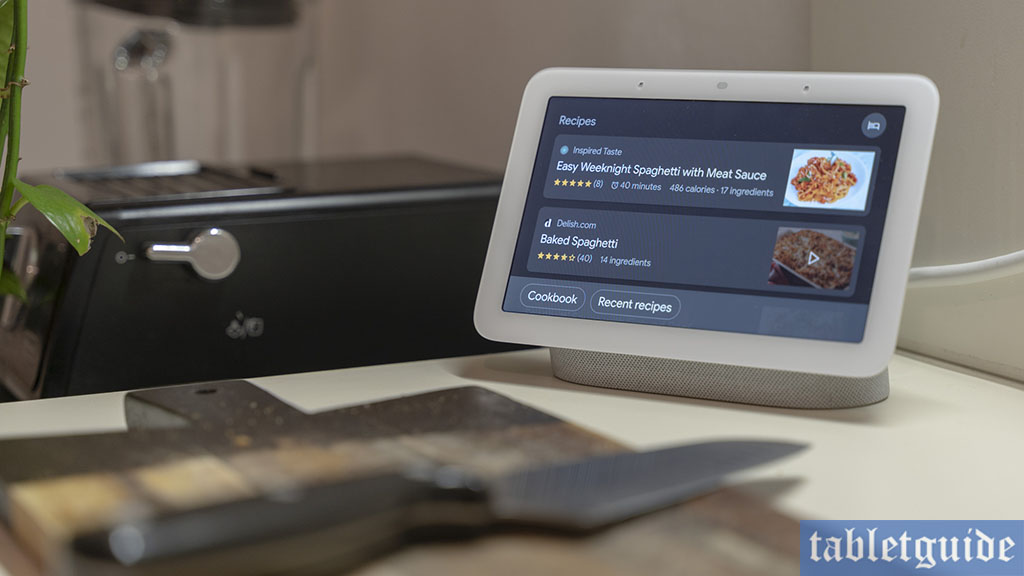 Sharing the nest hub with other household members is not a problem either, as it can detect who is talking. All you have to do is activate the Voice Match feature in the Google Home app on your smartphone or tablet. The Google Nest Hub can then detect up to six different people and can inform them about their individual schedules.
Due to the snappy responses, the Google Nest Hub really becomes a useful hands-free help at home. For example, cooking with the Google Nest Hub is really a joy. The Nest Hub not only guides you through all the different steps, but also can set timers or play music during the process.
Display
The 7-inch screen of the Nest Hub offers a resolution of 1024 x 600. That is very low compared to current phones or tablets, but most of the time you will be talking to the Nest hub from father away anyway, so it's not that much of an issue.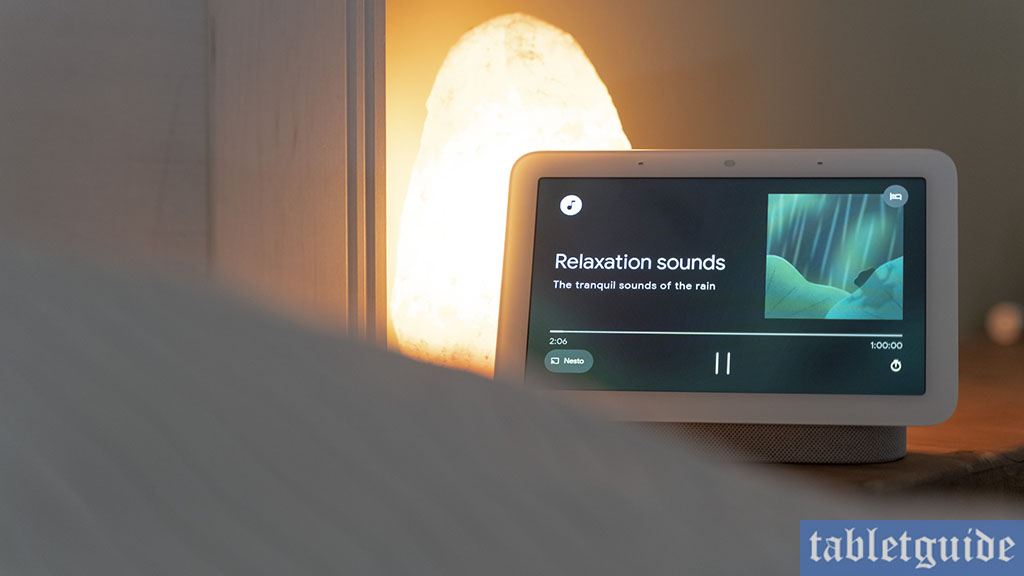 But don't expect the best image quality if you are watching Netflix or Disney plus while it is right next to you on your night stand. The screen offers an ambient light sensor, and adjusts the brightness accordingly.
The touchscreen of the Google Nest Hub feels kinda slow. Swipe gestures are sometimes not recognized or can be laggy. The system feels snappier if you control it via voice inputs, but that's probably Google's intention.
Audio quality
Google claims that the new Nest Hub offers a way better sound quality when it comes to bass compared to it's predecessor. After some testing, I can confirm that the bass sounds quite good for such a small device.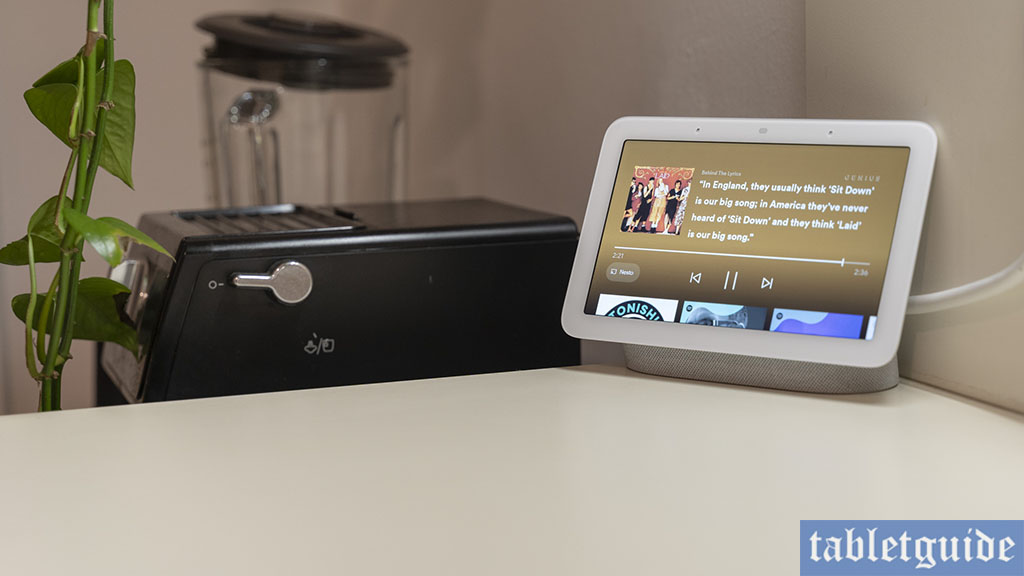 But, if you turn up the volume to 70% or even more, the quality falls a bit apart. The Nest Hub is surely enough for listening to some music in the kitchen or at your work desk, but wouldn't be enough for a party.
Sleep Tracking
The sleep tracking is one of the main new features that Google advertised with the new Nest hub. When activated, the device analyzes your sleep patterns and gives you tips on how you could improve your sleep quality. It uses the so-called Soli technology for that.
Thanks to that, it can not only detect big movements like turning over, but also small movements like how strong your breathing is. The nest hub doesn't just use the data about your movement and breathing, but also analyzes ambient light and temperature with it's built- in temperature sensor. In the morning, you can see an overview of your last night.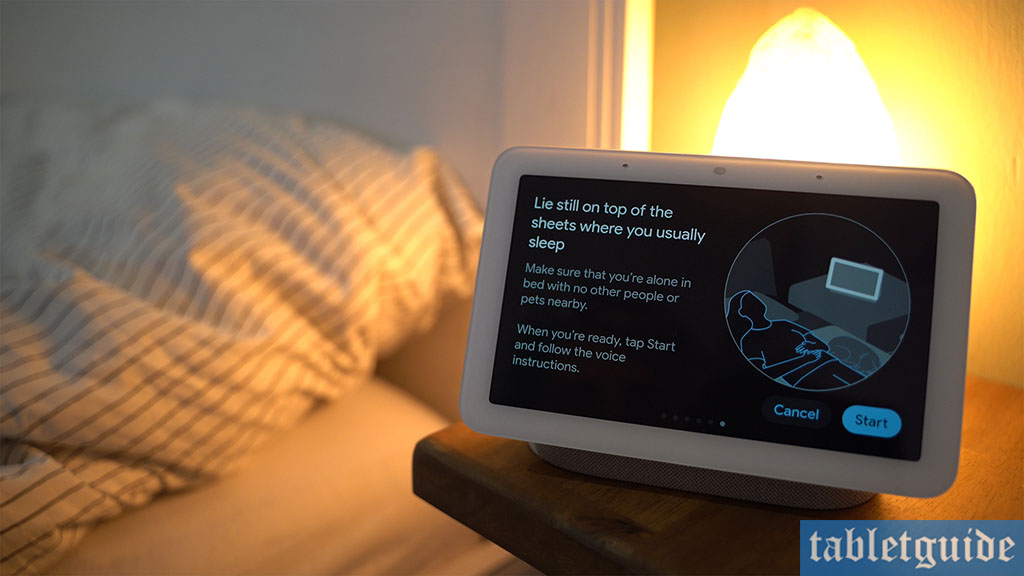 You will see the duration and quality of your sleep, as well as the schedule. That means it will tell you how long it took you to fall asleep and compares that to your pre-assigned bedtime. All this data is synced via your Google Fit App, which gives you an even better insight.
The sleep tracking feature is, by the way, deactivated by default for privacy concerns. That is also the reason why the Google Nest Hub doesn't offer a camera, as nobody would want a camera to be pointed at your bed.
The sleep tracking features unfortunately are not plug and play. Before you can activate it, you need to calibrate it's sensors, which takes a few seconds of you lying still in your bed. Overall, the placement of the Google Nest Hub plays a big role for this feature as well. The Nest Hub needs to be 30 or 60cms away from the bed, and should also be level with the top of the mattress.
Surely, not everyone has a night stand which is exactly that height. Also, the Google nest hub shouldn't be moved after the calibration process, otherwise you will have to do the calibration again. The sleep tracking is only going to be free till next year, then a paid subscription will be necessary. Google mentions that in their dedicated "Sleep Sensing FAQ".
They also mention another downside, which I didn't find anywhere in the setup process: The Nest Hub 2 can't identify you regarding sleep tracking. That's great for privacy reasons, but that also means if you are sharing your bed with somebody else, that the Nest Hub can be confused if you fall asleep cuddling.
Buy Nest Hub (2nd Gen) at Google Store
Also pets, that jump on your bed or sleep next to you can affect your data. So overall, you have to consider quite a lot of factors to make use of this feature in an optimal way.
For me personally, the results in the morning were more interesting than helpful. Sure, it's kind of cool to know when you fall asleep exactly, but it doesn't give you any meaningful insights. For example, you don't get any information about your REM cycle.
Overall, the personal results that the Nest Hub showed for my nights feel in line with my subjective impression. But as my girlfriend moves about a lot in her sleep, I also have no idea if the Nest Hub gets falsely triggered, or that he registered a cough of her.
The concept of sleep tracking is neat, but it still feels like it needs to be improved. As for right now, I could not imagine myself paying a monthly description for this feature.
Gestures
Other than using your voice or the touch screen, it's also possible to use certain hand gestures to interact with the Nest hub. For example, to pause a song or video, you can simply move your hand quickly towards the device.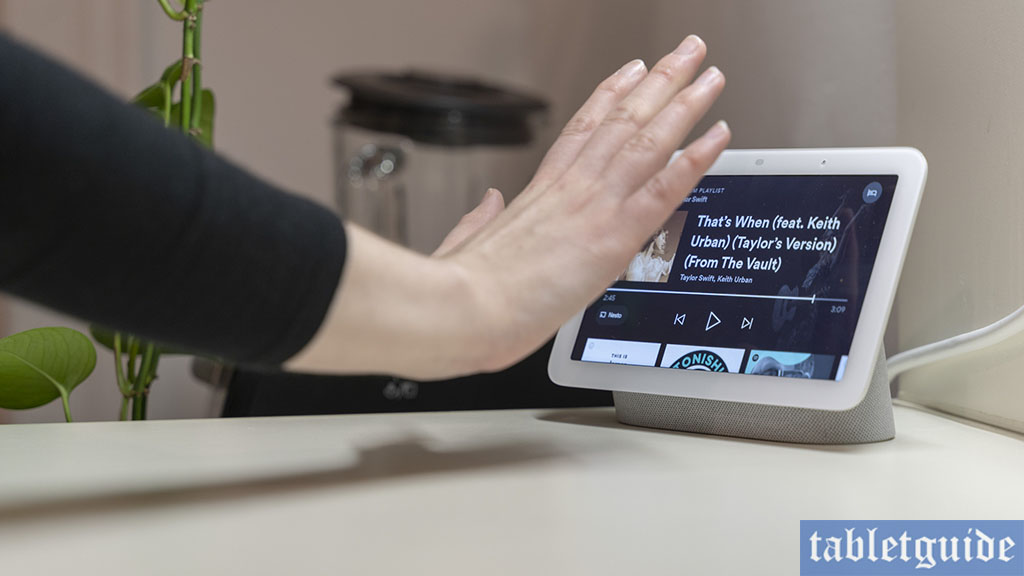 You can also do a swipe motion to snooze your alarm in the morning. Oddly enough, you can't use the same gesture to jump to the next song or YouTube video. So there is still room for improvement in that field.
Technical Specifications
Google Nest Hub (2nd Gen) Specifications

Dimensions (H x W x D)
4.7 x 7.0 x 2.7 inch
Weight
558 g
Processor
1.9GHz 64-bit Quad-core ARM CPU
Display
7-inch 1024 x 600 touchscreen
Speaker
43.5mm driver full-range speaker
Mics
3 far-field microphones (mic off switch)
Technology
Built-in Google Assistant

Ultrasound sensing

Voice Match technology

Sensors
Motion sensor: Soli sensor

Light sensor: Ambient EQ

Temperature sensor

Ports
DC power jack
Wireless Connectivity
2.4GHz/5GHz 802.11b/g/n/ac Wi-Fi

Bluetooth 5.0

Built-in Chromecast
Summary
The Google Nest Hub 2 offers some nice improvements over the last model, and is even cheaper. For only $99/€99 you get a Smart Display, that offers amazing voice recognition and smart home functionalities. It will, as the name suggests, be your hub to control and check everything in your home.
Thanks to Voice chat it is also quite easy to share it with other household members. As it doesn't offer a camera, and has a dedicated microphone button, privacy concerns are not that big of an issue. You can also let it track your sleep and give you personalized insights on that.
So far, that feature seems nice, but still has a long way to go. As Google is planning to make sleep tracking a paid feature in the future, it will probably introduce some improvements down the line. Overall, for that price, you probably won't find a better smart display out there.
As long as you don't buy the Nest Hub 2 exclusive for sleep tracking you are good to go. Especially for people, who aren't familiar with the smart home devices yet, will get a perfect starting point with the Google Nest Hub 2.