On 28th June 2021, the announcement about the launch of next generation Getac F110 was made by the company. Meant to meet the needs and requirements of all the mobile professionals based in sectors like defense, automobile, public safety, utilities, manufacturing, transportation, F110 deliver the best performance.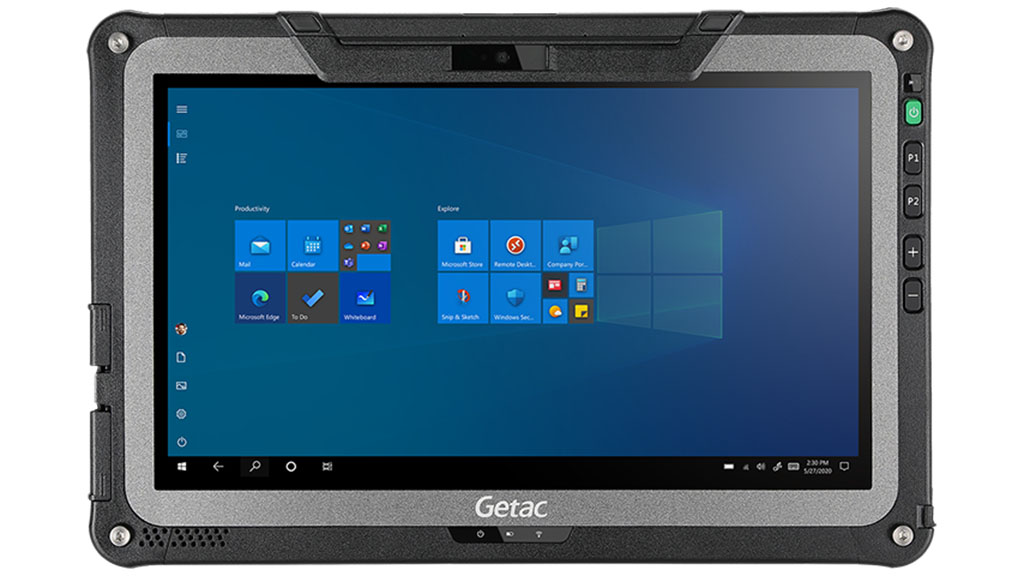 Durability and Strength
It is very rugged and compact, ideal for the working force uncertain of their working environment and conditions. It has the qualities to perform under testing weather conditions. F110 will come with MIL-STD-810H and MIL-STD-461G certifications, which will be enough to trust its durability and strength.
It is also the only rugged tablet in its category that is IP66 rated. This indicates that, unlike the previous generation model, Getac F110 will be better protected against dust and water damages.
You no longer need to worry about the safety and protection of this wonderfully performing tablet and can concentrate on what you are doing. It is also drop-resistance up to 6 feet while you are using it. And it is built to work smoothly under temperatures ranging between -29°C to +63°C (-20°F to 145°F).
Rugged and Powerful Performance
It is powered by a quad-core 11th Generation Intel Core i5/i7 processor, that allows this tablet to perform flawlessly and also prepares it to carry out multitasking without any difficulty.
This incredible is codenamed as "Tiger Lake". Its integrated Intel Iris Xe Graphics guarantees high-quality visuals in all types of situations. To remain true to its spirit of facilitating high-level productivity for all the field-based workers and professionals, it supports multiple connectivity options like Bluetooth 5.2, WWAN 4GE LTE/GPS, and WLAN Wi-Fi 6.
The additional provision of integrated Thunderbolt 4 port enables 40 Gb/s connection helps in enhanced "end-to-end solutions". It is based on Windows 10 Pro.
Some other Interesting Features and Specifications
On the appearance part, F110 will feature an enhanced 11.6-inch LumiBond 2.0 touchscreen with about 1000 nits of brightness. The screen can be operated by finger, stylus, and digitizer. It can also sense gloves.
The brightness and contrast aspect are perfect and also allows flawless readability even when exposed to sunlight. You will be amazed by certain changes in the designing aspect that were made to ensure better user experiences. Some of the mention-worthy improvements are;
Dual-hot swappable battery system to assist in quick battery changing without the need to power down the device
Relocation of the expansion and sim card slots. These slots are relocated to the side from the rear.
Additional camera shutter
User-removable SSD
Some useful and compatible accessories will also come with this robust tablet from Getac. They are;
Detachable backlit keyboard, which is a completely new addition
Shoulder Strap
Rotating Hand Strap and kickstand
Hard Handle
Office/vehicle Lock
Sustained benefits across varying workplaces and sectors
Please remember that this next–generation Getac F110 belongs to the Getac Select range, and hence will come with proven benefits across varying workplaces and sectors. Like, for use in the warehousing sector, F110 helps tremendously owing to its versatility and ease of handling and operations.
It can be easily mounted on a forklift with the help of a dock to facilitate easy handling. The optional barcode reader allows quick scanning of products from a different range. It will be easier for the businesses in Logistics and transport to transfer data fast and securely with the help of inbuilt connectivity options.
Also, you need not worry about the device with Getac's Driving Safety Utility1 locks in place. Similarly, features land functions like Getac's Device Monitoring System (GDMS), Getac's KeyWedge Barcode Reader Utility1, optional RFID reader coupled with reliability, compactness, and mobility to facilitate other important sectors like automotive and manufacturing and make day-to-day work manageable.
It is said that Getac F110 will be available from September 2021.
Source: Getac