GAOMON is a front-runner in the high-tech industry that is recognized for its independent research work in core technology that includes handwritten input digitization and animation products. However, its product line of graphic tablets is the most popular one internationally.
GAOMON has recently launched a groundbreaking drawing tablet, namely GAOMON PD1161 that has become huge success as soon as it entered the market. GAOMON is quite affordable as it rules the cheap market after popular brands like HUION and a lot more. If you're a beginner or indulge in some training for enhancing your creativity skills in animation and drawing, then picking GAOMON PD1161 drawing tablet is an ideal option.
With time when you will achieve experience in drawing tablets, you can upgrade the tablet and move into the expensive one as per your requirement.
| | GAOMON PD1161 Drawing Tablet Specs |
| --- | --- |
| Dimensions | 361.6 x 200 x 13 mm |
| Working Area | 256.32 x 144.18 mm |
| Display Resolution | 1920 x 1080 |
| Keys | 8 Express Keys |
| Pen | ArtPaint AP50 |
| Pen Resolution | 5080 LPI |
| Pressure Sensitivity | 8192 Levels |
| Report Rate | 266PPS |
| OS Compatibility | Windows 7 or macOS 10.12 or above |
| Availability | AliExpress |
Now let's take a look at the features of GAOMON PD1161 drawing tablet:
Spectacular Design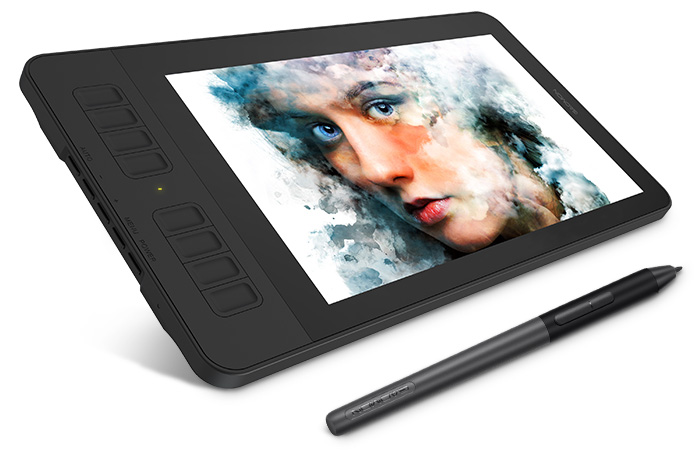 The inspired design of GAOMON PD1161 is absolutely mesmerizing with great compactness and sleekness. This tablet is revolutionary, breaking outdated drawing tablet models of large screen as the minimal screen size of 11.6" also provide a carefree space of 256.32 x 144.18mm where one can create some amazing designs. The tablet is very easy breezy with round curves, making robust and pleasant to hands at the same time. More so, GAOMON PD1161 drawing tablet boasts the 8 express keys, which are programmable and facilitates seamless operations, boosting your overall productivity.
Vivid Display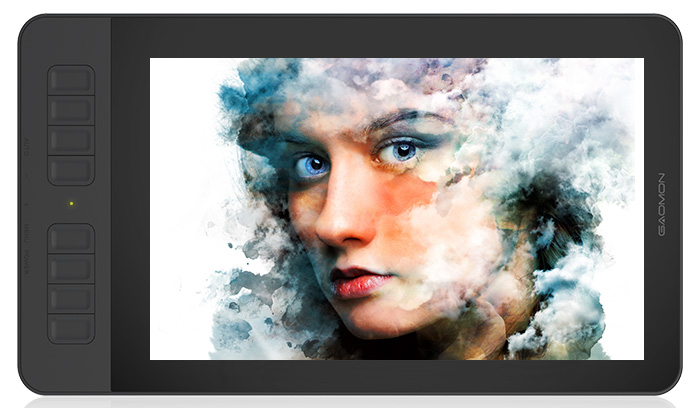 Having a compact design doesn't mean you have to compromise on your creativity while adding colors to your designs. IPS display that boasts a resolution of 1920 x 1080 enable GAOMON PD1161 to deliver sharp, crisp, and bright images. You will forget your papers and tangible canvas colors forever as GAOMON PD1161 makes your painting experience more natural and exquisite. You could see the details of every image or design with great precision and accuracy.
ArtPaint AP50 Pen
For every digital designer or artist, pen plays a major role. It is the magic wand for them that allow designing and creating something outstanding. As the pen replaces brushes, pencil, and erasers, GAOMON PD1161 has introduced an innovative pen. With pressure level of 8192, GAOMON PD1161 pen AP50 allow users to draw seamlessly on the screen, making you feel as if you're drawing on a paper.
Beginners, who switch from tangible tools to digital platforms, using a pen is often difficult. However, with the pen AP50 things are quite different. With 5080LPI you can draw detail lines of different shapes on the tablet and the ergonomic design provides a perfect grip over the pen. And the exciting fact is pen AP50 is battery-free, supporting your long-work.
Compatibility
The tablet is highly compatible with major operating systems in the market that is Windows and iOS. You just have to place your tablet correctly as per your desktop and enjoy drawing on this innovative tablet. There is USB and Video connector option in GAOMON PD1161 enables you to stay connected with your desktop, providing other peripherals as well, which you may require while working. With such a great compatibility and speedy connectivity options, you can easily exceed in your work and creativity without any hassle.

This tablet also support many mainstream designing software that include Paint, SAI, Adobe Photoshop and Illustrator, AI, CDR, and a lot more. Now you can amplify your creativity skills with so many creative software and design something extra unique and exquisite images or paintings. Thereafter, share your creativity wherever you want with just one click.
Final Words
GAOMON PD1161 is expected to earn better profits as per the rising demand of this tablet. Undoubtedly, GAOMON has delivered extraordinary drawing tablets in the past, but GAOMON PD1161 is revolutionary as the design is quite compact. Many designers don't prefer small screen graphic tablets, yet seek for the same when they're on the go. This is where GAOMON PD1161 can be your ideal partner! This tablet aims the beginner those are hesitating to switch to digital platforms for showcasing their creativity. As the tablet is quite cheap and equipped with powerful pen, it makes designers a bit comfortable while using this digital tablet.
GAOMON PD1161 should be your number choice for sure with so many positive reviews and responses towards this tablet. GAOMON PD1161 is available on different shopping sites and to explore the features of the tablet, you can visit the official of this company.