Whenever you want instant access to creating like never before, just like instant smartphone calls and video chats, GAOMON M10K Drawing Pen Tablet is just your device to have if you want to instantly create art out of intuition or even at home when you want digitally scribble. Technically, it has amazing specs that one can speak off, and it easily feeds your creative pangs that can find satisfaction with this device letting you function your best. These drawing pen tablets help you to create when you touch your creative desire, and you walk by innovative concepts that you want to digitally feed into your system. We see these drawing tablets being frequently used by graphic designers that help them draw or illustrate like a pen on paper. They have become the new canvas that you should totally check out.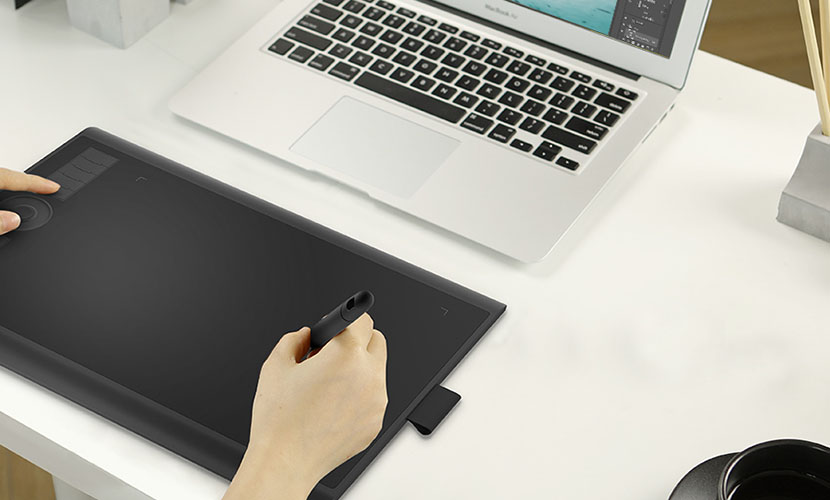 The GAOMON M10K Drawing Pen Tablet has the best of all specs. Keeping in mind all the great specs offered by a graphic or drawing tablets that are in the market, it is easy to lose grip on the best of devices. This tablet is designed perfectly to suit any kind of user and this harvests on maximum efficiency a user or artist can derive out of using the special features included in this drawing pen tablet. In this tablet, you get special features that can be availed under a special price and still give you a premium feel.
Design
As you see it, GAOMON M10K Drawing Pen Tablet has a curved and matte finished look and feel. It is slim and sleek because obviously, there is no special reason to provide a fat drawing pen tablet. This stylish drawing pen tablet also has an extension on one of the horizontal end to hold it. Its curved edges give an ergonomic feel while you pick it up or use your hands on it while creating. It is slim and sleek. It weighs 695g which leans on bit heavy category of drawing pen tablet. However, you always don't necessarily have to carry around the tablet in your backpack. Once it is set up with a PC, it can be kept there and used only when you hit the creative chord. The body design is premium and industry grade.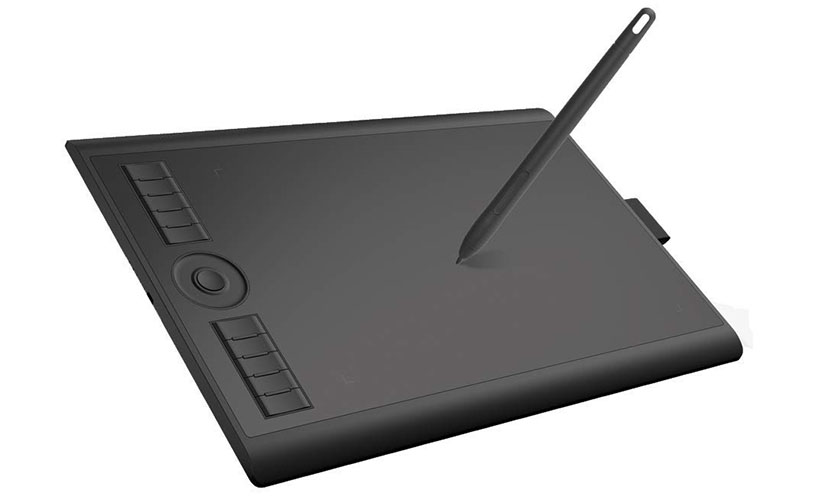 The dimension of this tablet is 360*240*10.5mm. You get 255.06*159.84mm workspace to create your illustrations. It is wide and gives ample workspace to let your pen talk fluently. It has a large workspace and reads well. The hotkeys available for shortcuts (which we will talk about in the next section) does not eat up too much space, so you get an edge over it. I also thought whether or not if in case you could make this tablet portable. It can be portable and easily kept in your bag, but then it is a bit heavy compared to other portable graphics drawing tablets.  Also, the workspace is smooth and rough enough; a perfect balance is achieved for you to get the pen on paper drawing experience.
Press keys
By the side of the drawing tablet, you will find ten express keys and one round key. These hotkeys are built as shortcuts to get the task going without following long steps. It is fitted on top of the panel and does not consume a lot of the drawing area of the tablet. It does not have an independent section which almost works like a thick bezel. The shortcuts are provided to notch up your drawing process to the final illustration you reach.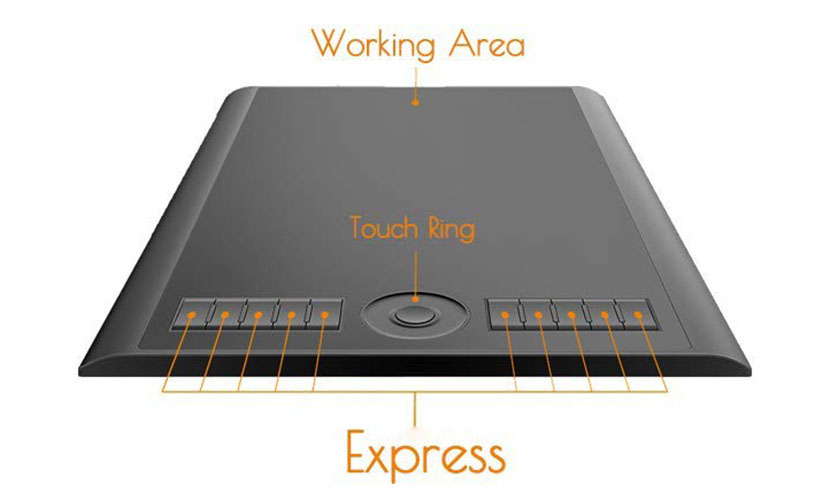 Along the horizontal end of this device, you will find ten hotkeys. You will find two keys on the digital pen too. The manufacturers have kept in mind that your journey of making art with this drawing pen tablet can be an easy and hassle-free one. So your these ten hotkeys serve as shortcuts for the best part. These hotkeys are responsible for setting up, However, for your tablet. One more interesting feature of this tablet is that it has a Touch Ring. It is located in the centre of hotkeys, and you can use it for page scrolling, canvas zooming, or brush adjusting. This is a really nice feature of this device.

Compatibility and software specifications
The best part about this tablet is that it allows compatibility on both OS. But the minimum version of both the OS is Win 7 or macOS 10.12. This device requires you to install pen pressure software and then further on you can start using the device with the pen. It supports each and every software that has integrated support for pen pressure. This fantastic drawing tablet can take up to 8192 Level Pen Pressure. It also has 5080LPI giving you a smooth and fluid translation of the pen on to the system. It helps you to create art exactly the way you visualised. The pen and tablet precision is ±0.3mm. It also has a report rate of 233 PPS. All this amazing combination of specs deliver impressive accuracy that totally translates into the system and gives you the smooth edge any designer or illustrator needs.
Battery-free Pen
Like every other drawing tablet offers, this device gives you battery-free stylus. This Passive Pen uses no battery and thus does not require endless charging. It is also designed in a way that it has firmer and tighter grip for you to hold the pen. It works superbly on the plastic matte finish surface of the tablet.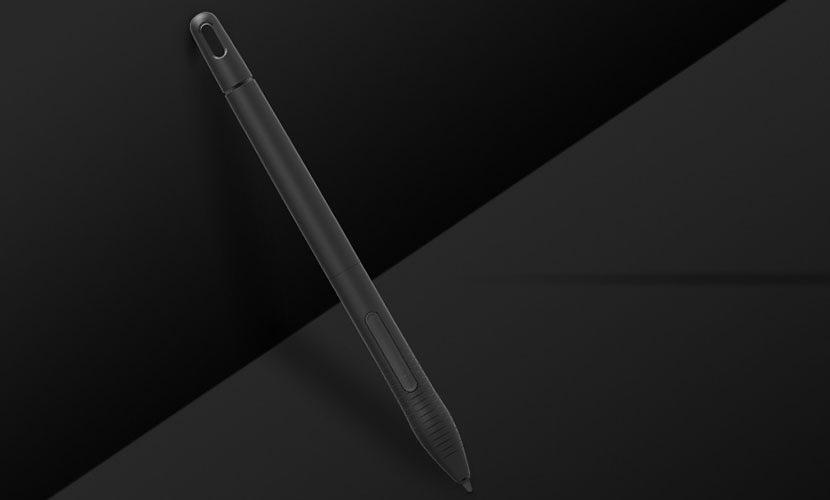 Verdict
The GAOMON M10K Drawing Pen Tablet packs together some fantastic features that give you the accuracy you need. It is definitely user-friendly and can suit the best of your needs.