GAOMON PD1560 tablet is the brightest star in the low budget tablet market. This product has been designed with great innovation keeping in mind the cost factor. It is the first drawing tablet offering basic features of a tablet as well that too in both Windows and Mac. I know you might be surprised to read this, but this factor is what allows the tablet to stand apart from the crowd in the active market. This device has gained a positive response in the market soon after its launch, and the reason behind this popularity or good reviews are numerous. Let's first explore the primary factor behind the growing demand for this tablet that's its features:
Full HD display with attractive shortcut buttons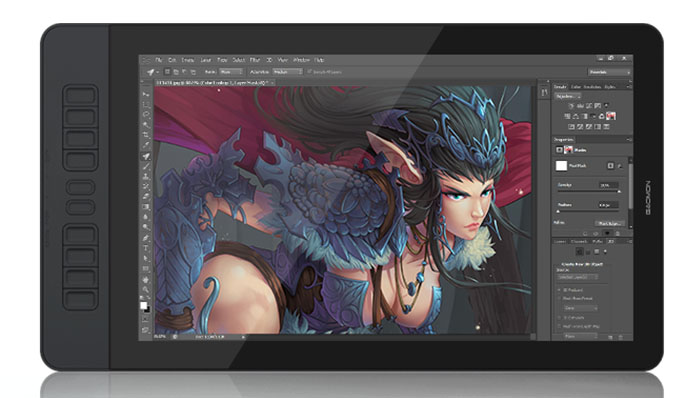 The display of the tablet is highly appreciable. It has 15.6 inch IPS Full HD display that carries the resolution of 1920 x 1080, which end up to the exact ratio of 16:9. With a viewing angle of 178°, the display area is 344.16 x 193.59mm, i.e., 13.5*7.6 inch. The tablet actually makes your watching experience more pleasurable and enhances your internal capabilities. The image quality and color contrast offer your perfectness, accuracy and crystal clear picture that you will admire for years. It enables you to enjoy every aspect of the tablet excitingly; be it drawing, painting, or you are watching your favorite show.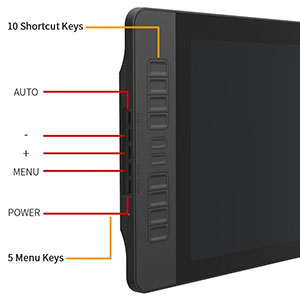 If we talk about design, the tablet is in black color weighing just 8.05 pounds that give you a very chic look. And the shortcut buttons are highly customizable according to your habits. 10 key buttons perfectly get pressed even with a slight touch enabling you to keep the use smoother. More so, behind the shortcut keys, there are placed 5 buttons for Auto, volume high and low, menu and power button. The tablet has adjustable at the backside that gives you great comfort and viewing experience. It also has 3 in one cable capability that eliminates the cable mess completely.
Magical Pen
GAOMON PD1560 Drawing tablet has a magic pen! I don't mean that you will draw and it will become real, from magical I mean it is very easy-to-use giving you the experience of an ordinary pen. The pen has 8192 pressure level sensitivity with a resolution of 5080LPI and reporting rate 223PPS. Featuring all these aspects, the pen is highly responsive on the screen with regards to a pen-cursor movement that gives you overall accuracy. You can draw seamless lines naturally like you are drawing on a piece of paper. The design of the grip is ultimately giving you very ultimate grip over the pen with a customizable button option. You can use the pen as a brush well just by switching the button another way. You can paint, draw and erase anything easily that motivate your creativity passion more and helps you to come out with your real creativity.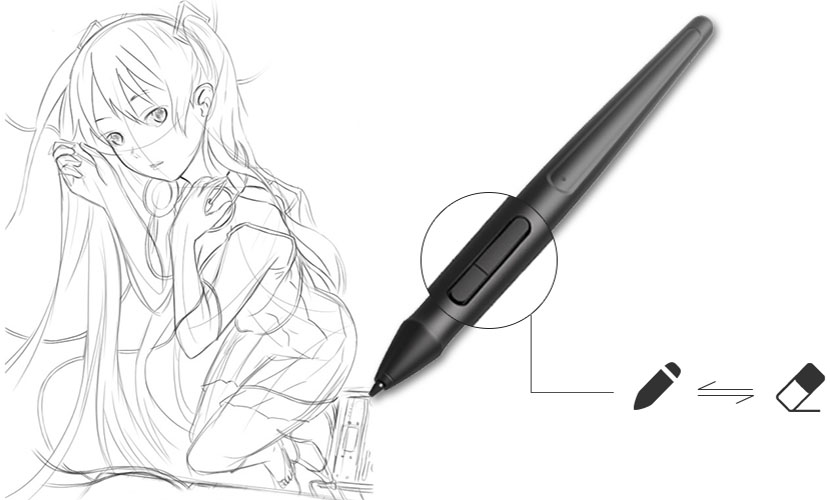 The pen model of this tablet includes is ArtPaint AP40, which is one of the best pens in the market till date. The technology electromagnet resonance is ultimate that makes it enhances the potential of the pen more and make it truly magical. But only one factor hurts about the pen, i.e., it doesn't have an eraser at the back, and you need to plug in a charger to charge the pen as well. However, the pen battery lasts for a long time, so you don't have to worry much about charging the pen.
Beast is way too powerful
GAOMON PD1560 Drawing tablet is powerful as it is highly compatible with Windows and Mac without any hassle. More so, it is compatible with leading drawing software such as Photoshop, SAI2, SketchBook Pro, Illustrator, MediaBang Paint Pro, etc. Now let's come to how you can connect it with these operating systems. Well, it has an excellent HDMI port, so in case, if you want to connect it with Mac, you can make use of Type-C-HDMI adapter/ DP-HDMI depending upon your Mac. And you can connect it to upgrading Mac or Windows 7 or Windows 10 seamlessly.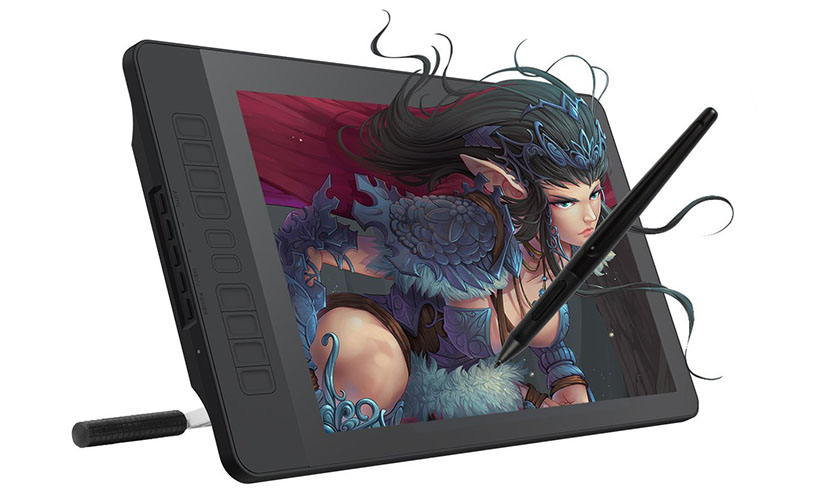 For connecting the tablet with your computer, you need to plug in there cables:
Use the USB cable to connect it with your computer
Then connect the tablet with HDMI cable with your computer
Lastly, connect GAOMON PD1560 to your power supply
After that you will see a dialogue box, choose Windows+P, then 4 options will be enlisted on the screen choose extended mode there and don't forget to set your screen resolution. Now enjoy your drawing or painting or browsing without any glitch!
And the battery life of the tablet is tremendous. It lasts up to a high amount of time that you might have not ever imagined. If you switch off the internet or home Wi-Fi, it will last for more hours comparatively. So what else you want in a tablet? A battery is a primary concern for everyone and if it is giving you so extended battery grab it today!
Final Word
The tablet is pretty cheap but is integrated with innovative features. Mainly the compatible potential of the tablet is highly admired amongst people in the market. Everyone is considering this tablet "cheap and best," and I would highly recommend it to people who have forgotten their creativity in school days. In the race of life, they have forgotten themselves and running behind growth, success, money, better livelihood, etc., even though they are not happy with their current situations.
Why not give a chance to your inner child that has been lost years back? Buy this tablet, remove the pen, start painting on the best software and see whether you can still do some art magic's and if not, then after working whole day 8 am to 5 pm, give wings to your creativity and spend some time with things that provide you with happiness! This tablet is actually meant for you.
If you find the features quite impressive, don't wait a second and buy it today! And please share your experience with us.