A big name in the world of rugged computing devices, Durabook, has introduced the U11I fully-rugged tablet with a detachable keyboard. It's good news for working professionals who often have to switch working between the office and the on-field.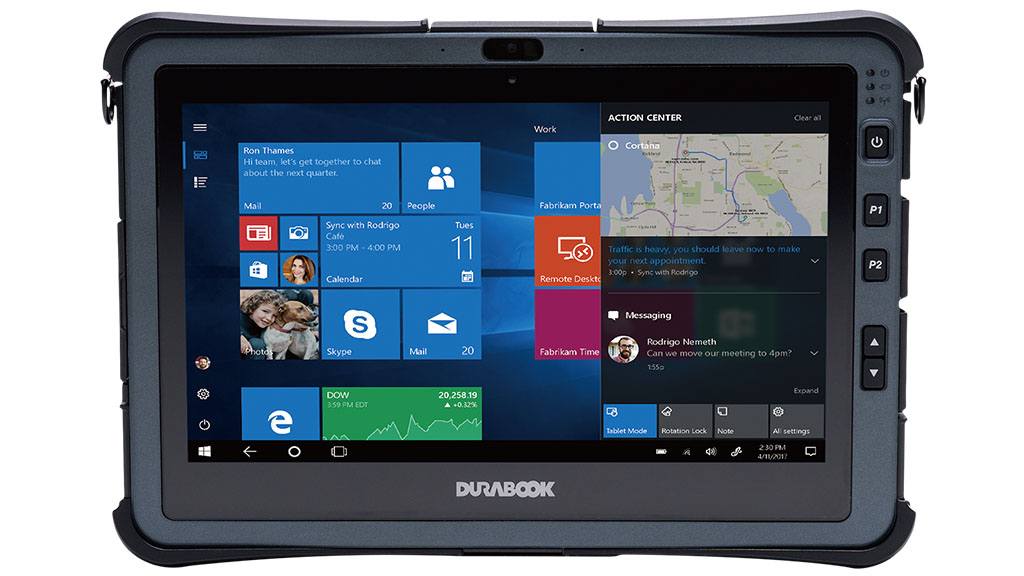 Earlier this year, Durabook launched S14I semi-rugged laptop and now, with this 2-in-1 solution, they've brought the flexibility to their value-driven product. The tablet is most suitable for working professionals in the fields of automotive, oil and gas, logistics, transportation, utility, public safety, manufacturing, and field services.
Let's have a quick look at its technical specifications to understand how robust it is and what you can expect from the U11I Durabook with a detachable rugged keyboard.
It works on an Intel 10th gen processor and Windows 10 Pro operating system. It's quick release SSD RAM of 16 GB offers lighting speed in processing data so that your work will never be slowed down.
It has DOD-level security and improved readability outdoors during the day. In addition to that, the U11I Durabook is certified as MIL-STD-810G for the protection against shocks, rain, vibrations, freeze/thaw, sand, 6-feet drop, and dust. The tablet can operate between -4°F to 140°F without any malfunction.
The tablet has a touchscreen that also works when it's wet. The other MIL-STD-461G standard certifies the U11I tablet for ANSI 12.12.01 Class 1, Division 2 hazardous locations and electromagnetic interference. Its 10-point multi-touch screen measures 11.6 inches with 1920 x 1080 resolution.
Durabook U11I tablet and the rugged keyboard it comes with has IP65 rating. Moreover, hot swappable-batteries can be a savior when there's no facility available to charge the device and allows it to operate for 24 hours non-stop.
Durabook has added more flexibility to their tab as it's a crucial factor as far as productivity is concerned. No matter how good the technical specifications of a tablet are, the device with flexibility always wins.
With the new rugged keyboard, you can use it as a laptop as well. It's power-packed combination of RAM and the Intel 10th gen processor with a keyboard eliminates the requirement of having a separate computer.
Also, switching from working from the office to working from the field and vice versa becomes quite easier and convenient because of its rugged keyboard. Talking about its connectivity, it has three USB 3.2 generation 1 interfaces, one LAN port (USB type A), and one HDMI port; a good combination for input output operations.
Durabook U11I 2-in-1 tablet has a full size 88 key membrane and three different levels of brightness backlit keys for working efficiently in low-light conditions. If you want, you can get an optional backlit rubber keyboard as well.
For ease of carrying, it has a stout handle too. What makes this computing solution truly flexible, rugged, and versatile is its protection against tough conditions and functioning ability outdoors. You can operate the touchscreen with wet fingers, stylus, or with the rubber gloves on, and read in low-light or in direct bright sunlight falling on the screen. And when you want to use your laptop, simply attaching a keyboard will do.
If you have a Durabook U11I already, but want a separate computer device for office settings, you can choose from their rugged computers. One more thing about the U11I Durabook that's intriguing is that it allows you to have a second card reader via expansion module, which makes U11I the only device to be able to do so. Not to mention, its different expansion options for better functionalities or added security layers.
The Durabook U11I 2-in-1 is now available for purchase on their official website. Check out their website for detailed specifications and features.