Durabook has just launched its U11, the only fanless, high-end, and rugged tablet of its class. This new tablet of Durabook has been said to have increased performance by 260% than its previous tablets R11 and R11L with 10th Generation Intel Core processor, new U11 chip, and quick-removable SSD. Not to mention, the new Durabook tablet is TAA compliant.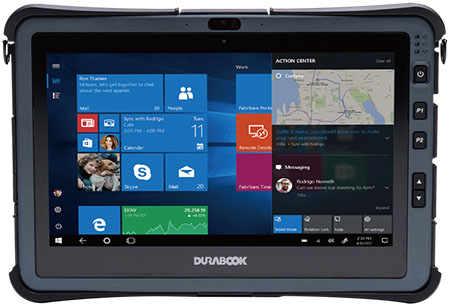 Easy to clean and sanitize, U11 is now one of the best rugged tablets that can withstand extreme conditions.
The president of Durabook has said that they wanted to develop a tablet that can interface with modern devices as well as the older ones, even 20 years old devices.
It comes with an 11.6 inches Full HD display with its flagship LCD display, DynaVue. U11 has the sunlight readable screen that allows you to read even in the direct sunlight falling on the screen.
Moreover, it has1000 nit brightness for better viewing in sunlight. The display features 10 point multi-touch and the touchscreen allows you to work in 4 different modes; finger, glove, stylus, and water for using the device conveniently and efficiently on the field.
U11 also is one of the most efficient and high-capacity tabs. It comes with the main battery having the capacity of 4800 mAh which will last for 13.5 hours. In addition, it has a 7.6 volt 9600 mAh battery which will last about almost 24 hours. And while you swap the batteries, the bridge power supply will last about 5 minutes. All in all, you can use this tab for straight 24 hours without worrying about charging the device.
Its rugged design makes it resilient to accidental drops. Some of the certifications of this tablet include MIL-STD-810G, ANSI 12.12.01 C1D2, IP65 for water resistance, shock assurance, ability to work in different ranges of temperatures, and 6 feet drop and vibration protection. And as mentioned earlier, it has no fan inside making it a quite operational device.
U11 tablet comes with Windows 10 Pro operating system installed. The processors are Intel 10th Generation i5 and i7. Talking about the storage, it has 128GB SSD and also gives you to choose from 256GB, 512GB, and 1TB SSD. The wireless and Bluetooth connections make allows you to transfer the data very fast.
The front-facing cam is 2MP and the rear-facing cam is 8MP along with auto-focus feature and flash. All in all, this tablet from Durabook is a high-end rugged tablet that can work super-fast, can run in extreme weather conditions, is strong, and can run 24 hours on a single charge. The security systems are a plus for confidentiality and theft of the tab.