DT Research has been a pioneer in introducing solid and durable tablets since a long time. And recently it has published the features and specification of its all new DT301X-TR GNSS tablet that will be available very soon.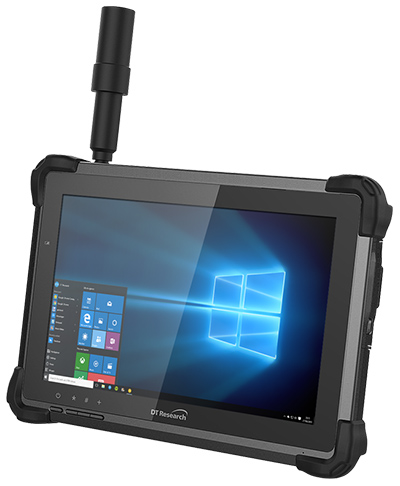 Looking at the appearance of the tablet it seems to be hard-core with bang on surface that is above of drops and spills. With an average screen of 10.1 inch, DT301X-TR offer sunlight-readable capacity to the users with a resolution of 1920 x 1200 that clearly means your experience with the display will be amazing.
Find all details at DT Research
The tablets is equipped with Intel Core processor that with the latest version i.e. 8th gen, which enables this tablet to be very productivity and seamless while using. Along with hard-core body, DT301X-TR GNSS tablet has an extremely powerful CPU. Featuring Microsoft Windows 10, your experience with this tablet will surely be one-of-a-kind as you're not at coming out of your comfort zone because professionals have better hands on this operating system. The tablet will be available in 8GB or 16GB RAM, depending on your usage as well as 128GB and 2TB storage, which enables DT301X-TR GNSS tablet stand out of the market. Power like PC to a tablet is unimaginable!
The tablet is not much occupied with buttons it provides users with 4 buttons probably, focusing more on screen touch. It is built-in speakers that enable you to work as well as utilize the tablet for watching movies or your favorite show. Besides these, the basic connectivity is available on DT301X-TR GNSS tablet that includes Wi-Fi, 4G LTE and Bluetooth, which are always included in the list of must-have.
Though the tablet is rugged, it seems to be a bit heavy than other tablets-3.1lbs, but the corner rubber bumps protects your tablet in every aspect. So neglecting the weight would be no loss for you as in return you're getting so much exciting features. DT301X-TR GNSS tablet introduces you with swappable battery choices that will help you stay recharged all the time as the battery life is very durable and can be swapped once it gets heated. Being a professional tablet, it also offer amazing camera to the users so this tablet can entertain you on any business journey if you need a break for a while.
According to the specifications and features, it seems that DT Research has done a tremendous job by delivering solid, powerful and rugged tablet for professionals. However, the release date is not yet shared by the company, but it is expected to be available soon- maybe in the coming month. So we would advise you to stay tuned with the company page on social media platforms or visit their website often to be the first customers for booking the product!