Tablets have time and again proved to be the future of technology; they are no more just enlarged versions of your smartphone. There are rugged tablets for all kinds of industrial professions, tablets with enhanced features for artists, compact and super portable tablets for working on-the-go and even GPS tablets for the smart traveler. As this evolution continues, we've rounded up some of the coolest GPS tablets for navigation in 2020.
There are tons of tablets with in-built GPS to help you navigate even in offline mode. If your tablet has cellular function, it's bound to have GPS pre-installed, as most cellular networks use GPS signals for timing. External GPS receivers are also available for purchase such as the Garmin GLO, enabling you to connect via USB or Bluetooth.
Instead of investing separately on a GPS device and paying extra for map updates each year, you can get an Android tablet with in-built GPS for the same price. What's more? The large screen display will help you view the map better while on the road, you can minimize the screen and watch movies, browse the Internet with Wi-Fi or cellular data connection and even sync your trip calendar to the device for ease of access. But before you purchase a GPS tablet, here are all the pre-requisites to watch out for.
What to look for in a GPS tablet?
If you already have an Android tablet with 3G connection and Wi-Fi, you can easily discover whether it has in-built GPS. Download 'GPS Test', an app that automatically detects your device's signal strength. If the 'GPS Status' pane has a green icon, it is turned on and if it's red and says 'No GPS', tapping on it will direct you to your tablet's geo-location options, where you can enable the GPS satellite. Ensure the 'GPS Status' in the app's main screen shows a green icon that says 'GPS On'.
Once your GPS has been activated, you need to install a GPS browser (such as Navfree) and download the maps of your choice. Set your default address as your home address (or whichever address you use most) to avoid repeatedly entering the source of your destination whenever you wish to travel. The GPS browser app has tons of options to explore.
For instance, you can switch to 'My Route', which will show you an actual representation of the route you'll be taking. You can choose to take detours, set up 'Safe Mode' etc. You can also download maps of international countries or purchase additional features on the app such as radar detector and download celebrity voices to guide you during your travels. Furthermore, you can also set 'Walking Mode' if you want to use the GPS navigator during your daily walks. On the other hand, the 'Night Mode' on the map will let you view it but ensure the lights are dim.
10 Best GPS Tablets For Navigation Guide 2020
Now that you know everything to expect from a GPS tablet, here are the ten best devices to help navigate your way better.
1. Garmin RV 785 & Traffic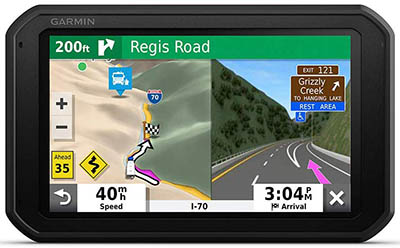 If you're someone who loves the outdoors, this device is best suited for you. This advanced GPS Navigator comes with an in-built dash camera for the RV and camping lover. The camera can record your drive, which can then be viewed in max clarity with its hi-res 7-inch touch display.
You can also experience enhanced features such as forward collision and lane departure warnings – keeping you aware of sharp curves. Before you get on your RV, choose custom routing which takes into account the size and weight of your vehicle, before selecting a best route for it. The tablet also comes with a directory of RV parking services and traveler ratings on popular travel sites. You can also completely control navigation with your voice and use the device hands-free for video calling as well as use the Wi-Fi to easily connect to the map of your choice.
The Garmin RV 785 & Traffic will cost you approximately $499 on Amazon.com.
2. Garmin DriveSmart 55/65 & Traffic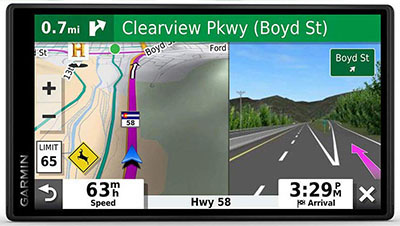 The Garmin DriveSmart 5.5-inch GPS Navigator comes with smart features and edge-to-edge display with a resolution of 1280 X 720 pixels. It's lightweight (5.31 oz or 150.5 grams) and easy to use with simple menus and accessible maps. The Garmin Traffic even suggests alternate routes to avoid delays.
The device can be voice-activated and is compatible with select smartphones for hands-free calling. For art and culture enthusiasts, the tablet includes a directory with history database of notable sites and U.S national parks. You can experience software updates without a computer and the built-in Wi-Fi connection makes accessing maps extremely easy and fuss-free.
DriveSmart 55 & Traffic      DRIVESMART 65 & TRAFFIC
The map updates include preloaded street maps for North America with coverage of Mexico, Canada, U.S Virgin Islands, Bahamas and more. The 6.5-inch iteration of the same device includes all the major features that the 5.5-inch one does, barring a slightly advanced display resolution clarity of 1024 X 600 pixels and weighs about 8.45 oz or 239.6 grams.
The price of the Garmin DriveSmart 55 & Traffic is approximately $171, while the Garmin DriveSmart 65 & Traffic will cost you about $198 on Amazon.com.
3. TomTom Go Comfort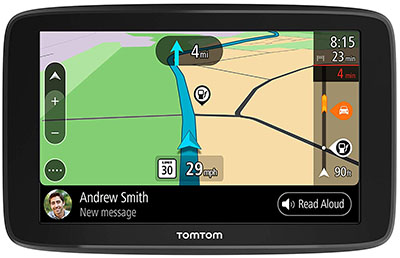 The TomTom Go Comfort is ideal for your long road trips. It can easily personalize the best routes around the globe for a relaxed and safely guided trip. You can download maps with the most recently updated routes and road changes as well update it via the built-in Wi-Fi. When you're driving, the tablet can also read aloud messages from your smartphone so you can focus on the road.
The device also has a special feature which gives you three months of safety camera alerts on the road, so when you're speeding, it will give you an advance warning/notify you of safety cameras approaching ahead. Apart from keeping a track on your speed in average speed camera zones, the TomTom GO Comfort will also send you alerts, if you go above the limit. The GPS tablet also observes your driving habits and routes and predicts destinations in future to save time. Furthermore, it gives you live traffic updates in case you need to get to your destination quicker. All you need to do is connect the device to your smartphone via the TomTom MyDrive app, and you're all set.
The TomTom GO Comfort GPS Tablet will cost you approximately $183 on Amazon.com.
4. Garmin zumo 396 LMT-S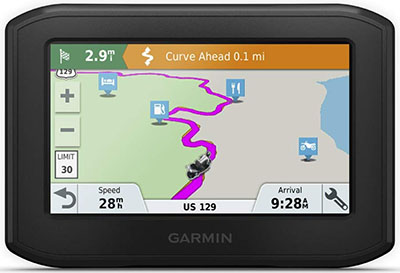 Adventure sports lovers and motorcycle riders, rejoice! From guiding you right on twisty lanes and by-lanes to keeping you put on rugged surfaces, this GPS tablet has everything you've been looking for and more. It has a 4.3-inch display, which is readable in sunlight and glove-friendly.
Since you'll be using it outdoors, it is not only rugged in built but is also resistant to fuel vapors, UV rays and extreme climate. If you plan group rides, you can use its easy and effective GPX file sharing, control music and playlists from your smartphone and stay connected with hands-free calling. What's more? You'll get free live updates for traffic and weather if you link the device to your smartphone using the Smartphone Link app. The navigation is pre-set to avoid highways and take riders through curvy or hilly routes. It also has a built-in Wi-Fi for software updates.
The Garmin zumo 396 LMT-S will cost you approximately $299 on Amazon.com.
5. Garmin Drive 52 & Traffic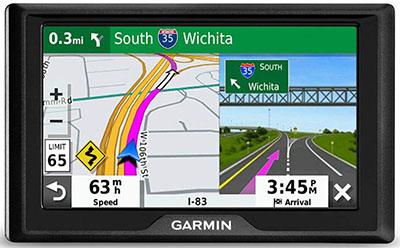 The Garmin Drive 52 & Traffic has a 5-inch display with 480 X 272 pixels of resolution. It's an easy-to-use navigator with traffic alerts, simple menus and bright maps that can easily be viewed on-the-go. It has a database of historic sites and U.S national parks, useful driver alerts and updated maps including pre-loaded street maps for U.S and Canada.
Some of its navigation features include 'Garmin Real Directions' which give you guidance according to the most popular landmark, 'Millions of Foursquare' which are points of interest for the rider in that particular location, traveler ratings from 'Tripadvisor' and suggested routes through preferred streets or cities. It also displays junction signs on the map well in advance to avoid sudden turns or jerks. The speed limit indicator displays the acceptable speed limit for major roads in the U.S and across Europe. In case of sharp curves, school zones, red lights and speed camera warnings, the device will ensure to give you driver alerts well in advance.
The Garmin Drive 52 & Traffic will cost you approximately $149 on Amazon.com.
6. TomTom Rider 550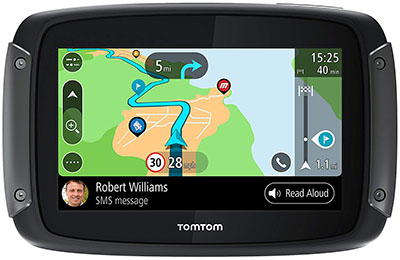 The TomTom Rider 550 comes with a screen size of 4.3-inches, is completely touch screen and waterproof (the IPX7 protects the tablet against any wet weather condition) which makes it suitable for rainy weather. It has an internal rechargeable lithium Ion battery and an internal memory of 16 GB, which lets you store massive data.
Coming to its features, if you're an adventure-lover, the device will let you select the level of winding and hilly roads on which you'd like to travel ranging from low, mid and high. The device has the best curated routes across the globe which are easily accessible to sync to your Rider 550. You can download the MyDrive app on your smartphone to customize and plan your preferred route and even share it instantly with your motorcycle GPS using Wi-Fi or Bluetooth. Your smartphone can be synced to the device in case you'd like to receive alerts, SMS notifications or have messages read out to you via your headset. You can even connect to Siri and Google Now for unlimited access to music, calling, weather updates and more.
The TomTom Rider 550 will cost you approximately $299 on Amazon.com.
7. Garmin dezl 580 and 780 LMT-S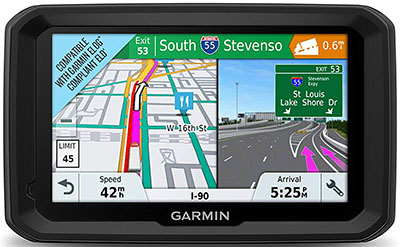 The Garmin dezl 780 LMT-S is a large-screen GPS truck navigator with a 7-inch screen display of resolution 1024 X 600 pixels. It also has a 5-inch display model – the Garmin dezl 580 LMT-S. Both these devices come with a powered magnetic mount and free map updates.
If you download the Smartphone Link app on your smartphone and sync it with either of these GPS tablets, it will automatically give you free live services such as traffic updates and weather conditions to look out for during your drive.
Garmin dezl 580 LMT-S     Garmin dezl 780 LMT-S
The devices also give you custom truck routing according to the size and weight of your truck, as well as alerts for upcoming sharp curves, bridges, heights and more. You can experience hands-free calling with Bluetooth and in-built Wi-Fi for easy software updates sans a computer. They also have a truck and trailer services directory, which you can easily search for by brand or amenity such as 'Flying J' or 'Showers'.
The Garmin dezl 580 LMT-S will cost you about $299 and Garmin dezl 780 LMT-S is available for $354 on Amazon.com.
8. TruckWay GPS Pro Series Model 720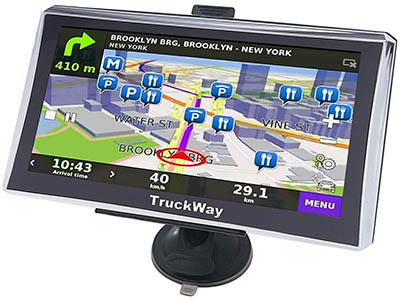 TruckWay GPS is a North American company manufacturing GPS tablets that provide free lifetime maps for U.S, Canada and Mexico. With their premium navigation features, TruckWay provide easy and accurate access to the maps of your choice with 3D views of building structures and reliefs. They also have 2D maps available on their database.
The device comes with a storage size of 256MB RAM and 8GB ROM. You can customize maps and routes according to your requirements and preferences with their curated GPS specialized in truck driving. It takes into consideration the vehicle size, height, weight and the products/goods you will be transporting in the trucks before it suggests a route on the map. It warns you of signs such as 'Low Bridge', 'No Trucks Allowed' etc.and other useful road signs. It has a high quality 7-inch LCD touch screen with HD resolution of 800 X 480 pixels.
The TruckWay GPS Pro Series Model 720 is available for around $119 at Amazon.com.
9. LTTRBX 7″ GPS Navigation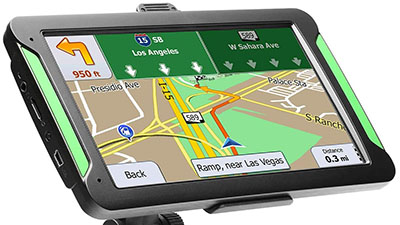 Similar to other GPS tablets, the LTTRBX 7" has tons of useful navigation features to make your travels better and safer. Its limited free map update gives you access to pre-installed maps that are up-to-date with 101 regions in North America and are available in 58 languages.
Its 7-inch TFT (Thin Film Transistor) LCD touch screen has a clear resolution of 800 X 480 pixels and is touch-sensitive. Its tempered glass screen and high quality sensors will ensure you have the best viewing experience and high brightness setting (500cd) for viewing in harsh sunlight too. The maps display complicated intersections for detailed viewing, voice announcements for gas stations, stores, school zones etc. as well as speed limit and safety camera warnings. It has a large built-in storage capacity of 8GB ROM with 256GB RAM that supports up to 32GB extended memory for storing plenty of downloaded maps.
The LTTRBX 7″ GPS Navigation is available for approximately $59 on Amazon.com.
10. XGODY 9″ Trucking GPS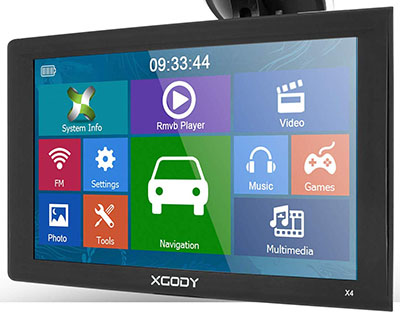 The XGODY 9" Trucking GPS is an excellent GPS tablet for truck drivers for multiple reasons. Firstly, it has a large 9-inch screen with high resolution for enhanced viewing and a bright and clear display with resolution of 800 X 480 pixels. The device lets you customize your preferred route according to the vehicle's height, weight and width so you can avoid roads that restrict large vehicles etc.
The in-built Bluetooth leaves you hands-free to make calls on-the-go. The pre-installed maps have tons of points of interest including gas station stops, hotels, restrooms etc. with easy access to local information of the particular place. Additionally, you can also choose from a wide range of voices for navigation. Other navigation features include security alerts such as average speed, safety camera, red light, railway crossing, high accident prone zone, school zone, city entry point, dangerous zone etc. to ensure road safety during your travels.
The XGODY 9″ Trucking GPS is available for approximately $88 on Amazon.com.
Verdict
With an array of GPS tablets to choose from, you can pick one that's most suited for your requirement or preference. This way, road safety is ensured at all times when you're traveling and you can also multi-task and have a hands-free experience with the help of in-built Wi-Fi and Bluetooth for calling, messaging etc. Your hands stay on the wheel, eyes on the road, ears listening to the navigation voice controls while you're mind can be relaxed and stress-free!