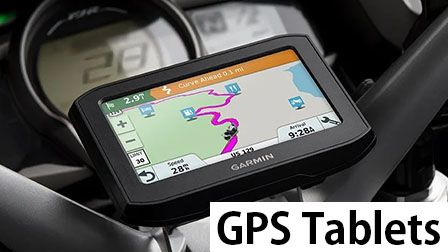 Tablets are mainstream in the market due to their compact and convenient size and usage. Not only have they transformed the future of technology, the best GPS tablets also make a great companion for users who are continually on the go.
But what if you were to visit a remote place for work? Carrying a laptop is not always a convenient choice and for the right reasons.
You have to carry a separate carry-on case, or a backpack just to accommodate your laptop. With a GPS tablet integrated into your car, navigation becomes a lot easier and hassle-free.
GPS-enabled tablets aren't folklore anymore. They have now become a reality, one that many futuristic tech brands are getting into. But what distinguishes a GPS tablet from a smartphone? In hindsight, isn't carrying a smartphone a more convenient option?
Well, that's true but a smartphone needs constant network connection to be able to guide you on the road. With a tablet, you can have access to an offline navigation option too. This comes in handy when you are stuck in the middle of nowhere with little to no network connectivity.
The great thing about Android tablets is that they come with the GPS feature integrated into the device. However, with so many different brands and variety of options available, finalizing a purchase can be a challenge.
Don't worry though because we have done the hard work for you. This article will explore the best GPS tablets for navigation that you can consider buying in 2023.
What to look for in a GPS tablet?
If you already have an Android tablet with cellular connection and Wi-Fi, you can easily discover whether it has in-built GPS. Download 'GPS Test', an app that automatically detects your device's signal strength.
If the 'GPS Status' pane has a green icon, it is turned on and if it's red and says 'No GPS', tapping on it will direct you to your tablet's geo-location options, where you can enable the GPS satellite. Ensure the 'GPS Status' in the app's main screen shows a green icon that says 'GPS On'.
Once your GPS has been activated, you need to install a GPS browser (such as Navfree) and download the maps of your choice.
Set your default address as your home address (or whichever address you use most) to avoid repeatedly entering the source of your destination whenever you wish to travel. The GPS browser app has tons of options to explore.
For instance, you can switch to 'My Route', which will show you an actual representation of the route you'll be taking. You can choose to take detours, set up 'Safe Mode' etc.
You can also download maps of international countries or purchase additional features on the app such as radar detector and download celebrity voices to guide you during your travels.
Furthermore, you can also set 'Walking Mode' if you want to use the GPS navigator during your daily walks. On the other hand, the 'Night Mode' on the map will let you view it but ensure the lights are dim.
Best GPS Tablets 2023
When choosing the best GPS tablet for navigation, there are two factors you have to prioritize- the display size and battery life. The latter holds more prominence since you want the tablet to remain functional even after hours of usage and no charging.
As for the display size, opt for the options that aren't too big. The main purpose of carrying a tablet is the convenience. So, if it is extremely large, chances are that you will end up needing to carry extra components just to lug the tablet around. That's potentially the last thing you need.
That aside, following are the top 10 GPS-enabled tablets that we think are worth looking into:
1. Garmin Tread XL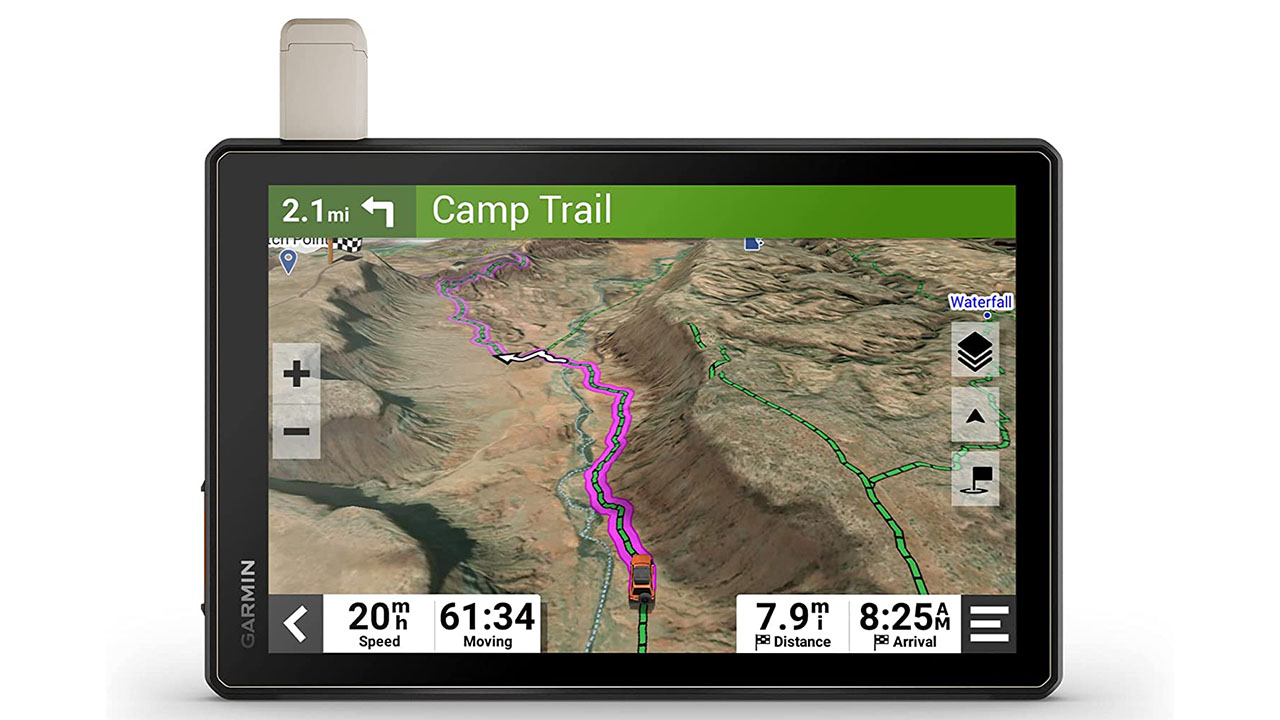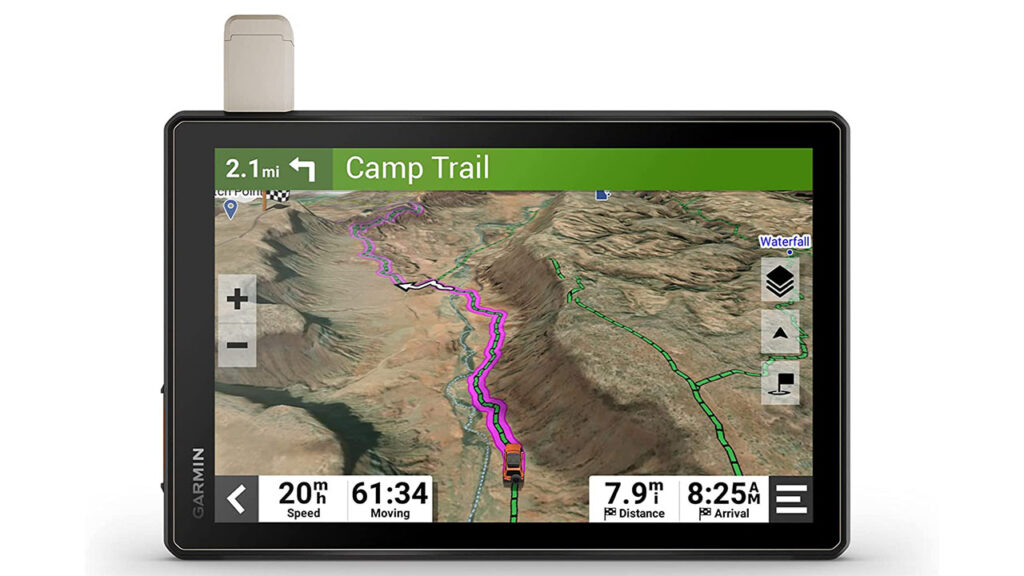 The Garmin Tread XL is available in three different size variants of 5.5", 8" and 10" and features a starting price of $599.99.
If you are one of those adventurers who take the offbeat path and don't want to get lost in the mayhem, this tablet should take care of all your needs.
Featuring topographic mapping of public and private localities and areas, the Tread XL is a well-equipped GPS tablet that should be able to get you out of anywhere in a matter of minutes. The tablet is IPX7 weather resistant and comes with a glove-friendly touchscreen display.
Additionally, if you want to transfer the data, same can be done using the exclusive Tread app. Also, the BirdsEye Satellite Imagery is easy to download using the app, enabling you to have a record of all the data without any hassle.
Even the installation process is simple, especially with the backward mount that's integrated into the tablet. Not once will your navigation experience will be hampered.
Reasons to buy:
Durable and sleek design
Easy navigation of private and public areas
Easy data syncing
Reasons to avoid:
Quite pricey
Weather-resistance could be better
2. Garmin DriveSmart 66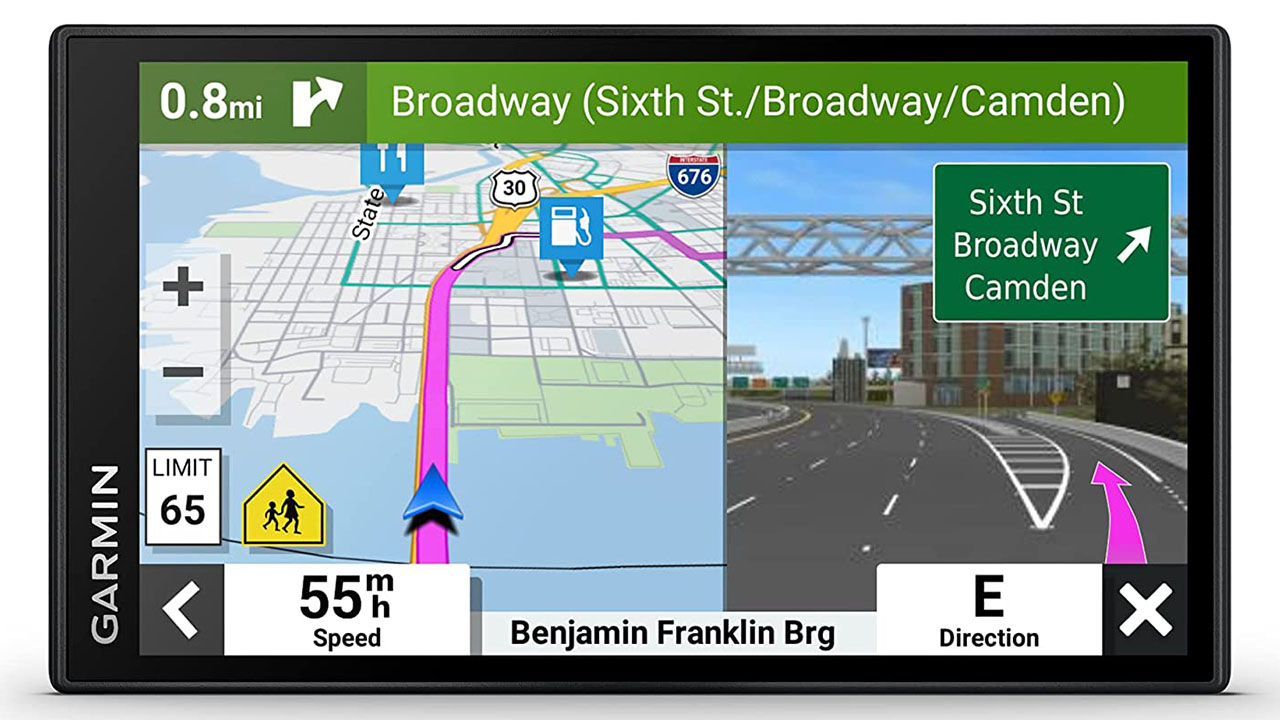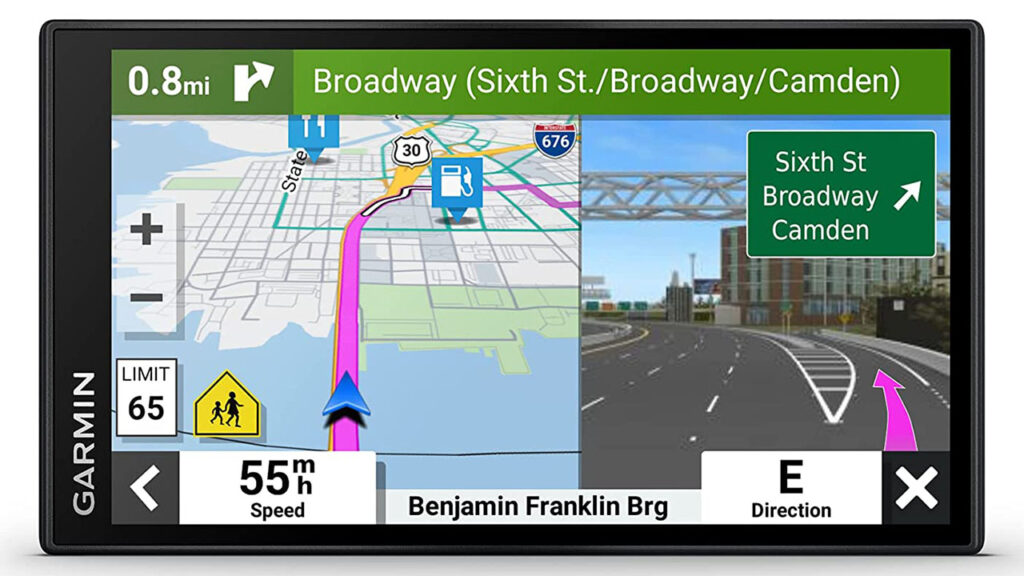 While we are on the topic of the best GPS-enabled navigation tablet, the Garmin DriveSmart 66 deserves a special mention.
This one is a more reasonably priced option and is available in four size variants – 5", 6", 7" and 8" display.
Ideal for any kinds of navigation, be it while you are on a vacation or when you want to scour through the remote areas of your hiking trail. The crisp and high-resolution display ensures easy visibility of the map with pinch to zoom feature.
Backed with Garmin voice assist, the users can enjoy convenience when it comes to listening to the navigation while traveling. Also, there is an exclusive HISTORY database of all the nearby notable sites, further making your travel plans smoother.
Users also get access to hands-free calling feature and access to live weather and traffic update to make navigation even smoother.
Reasons to buy:
Crisp and stunning touchscreen display
Access to live traffic and weather updates
Voice assist feature
Reasons to avoid:
Setting it up can be a little challenging
Voice output isn't very clear at times
3. Garmin RV 1090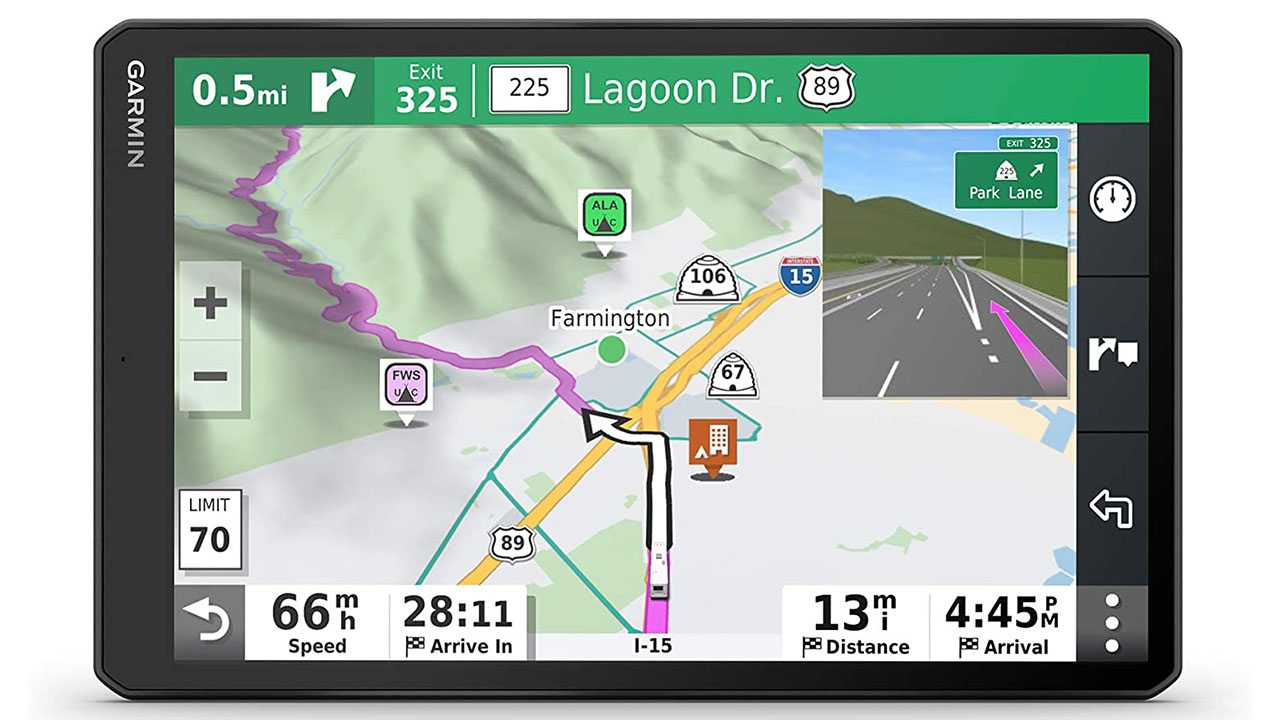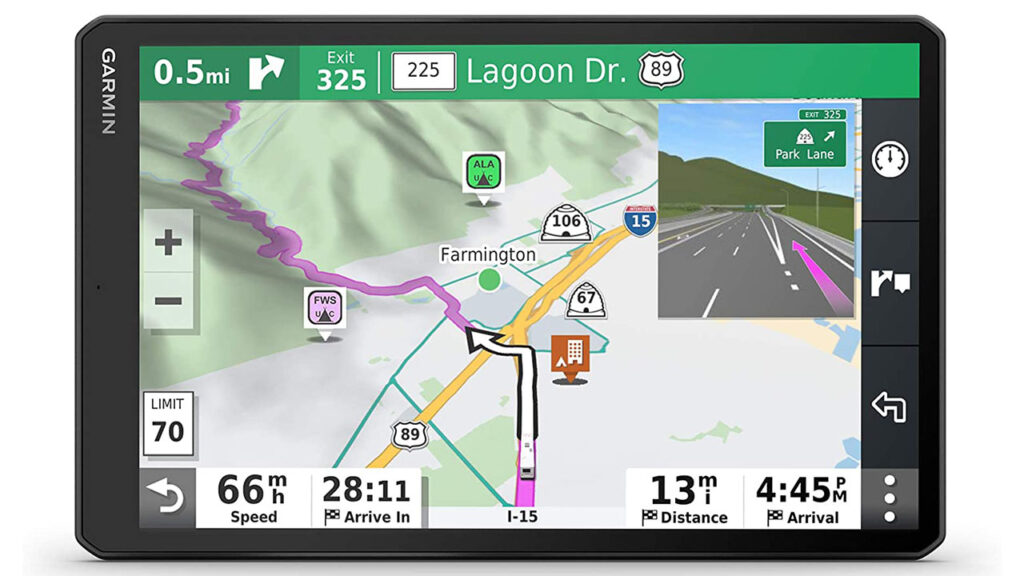 Suited for your larger vehicles, the Garmin RV 1090 is another popular GPS tablet that's available in four size variants – 6.95", 7", 8" and 10".
Users have the complete autonomy to choose the one that best aligns with the size of their vehicle.
The highlight of this GPS tablet is the larger navigation screen with a bright and high-resolution display that makes it easier for you to zoom into the maps and find your way through.
Ideal for RVs, the tablet comes with a custom RV routing feature that accounts for the size and weight of your RV or truck before suggesting the best route for the journey.
It doesn't stop there because the Garmin RV 1090 also provides road warnings that allow the drivers to be aware of steep curves, weight limits, dead end roads, etc. ahead of time. Paired with the Garmin Drive app, planning your trips will never be difficult anymore.
Reasons to buy:
Larger and responsive display
Custom RV routing feature
Easy data syncing
Reasons to avoid:
Not suitable for smaller cars
Lacks voice assist feature
4. TomTom Rider 550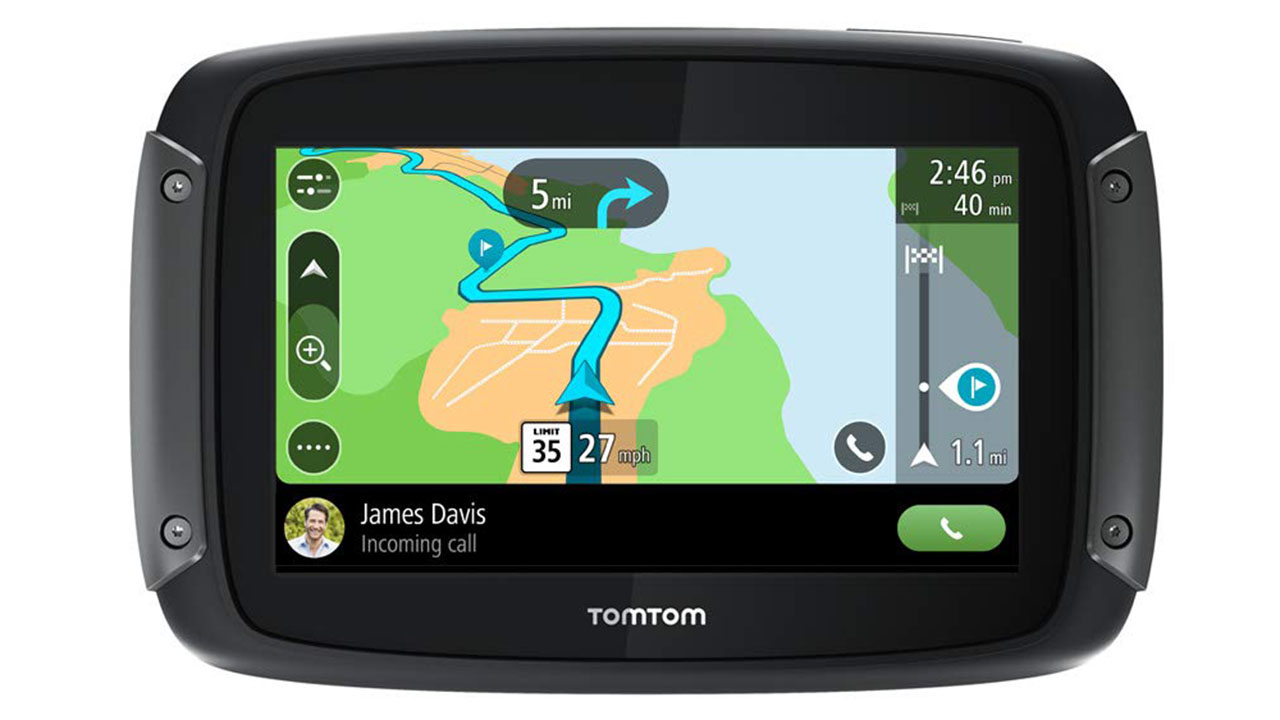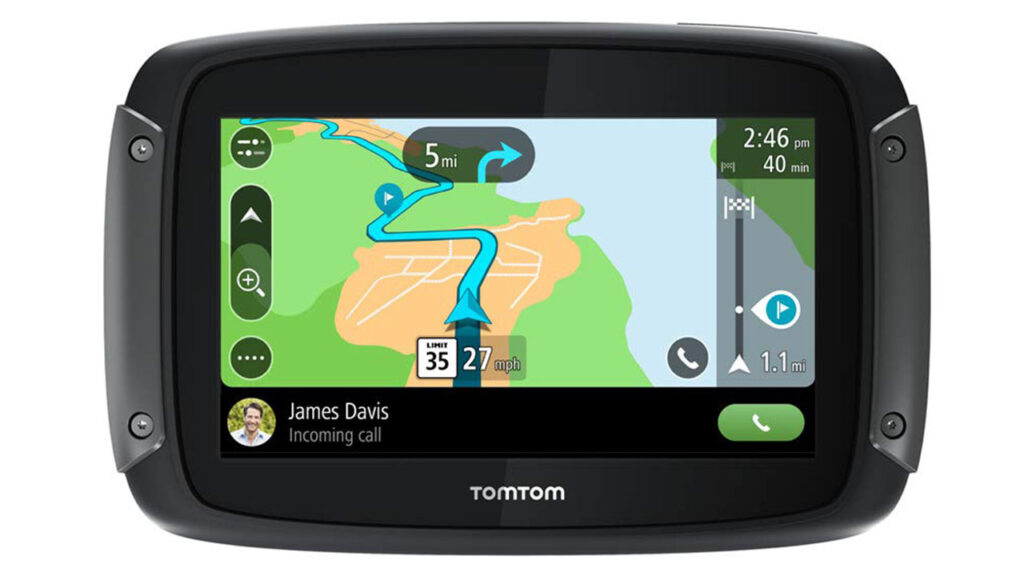 While are discussing about Garmin as a great brand for GPS tablets, we can't miss out on TomTom.
The brand has been around for quite some time now, offering high-quality and premium GPS tablets, including the TomTom Rider 550.
Unlike other tablets, this one has a unique design with ridges and curved edges for a more refined look. If you are into taking some of the most offbeat tracks, windy traits and uphill paths, the Rider 550 should be the one for you.
The great thing about this tablet is that it updates automatically via Wi-Fi. So, you won't have to manually do anything to get access to the latest maps and navigation without any compromise.
If you want to plan your trip ahead of time, connecting to the TomTom Road trips should sort things out for you.
Reasons to buy:
Premium and curved design
Covers offbeat tracks
Automatic updates via Wi-Fi
Reasons to avoid:
A little bulky
Installation in the car can be a little hassle
5. TomTom Go Comfort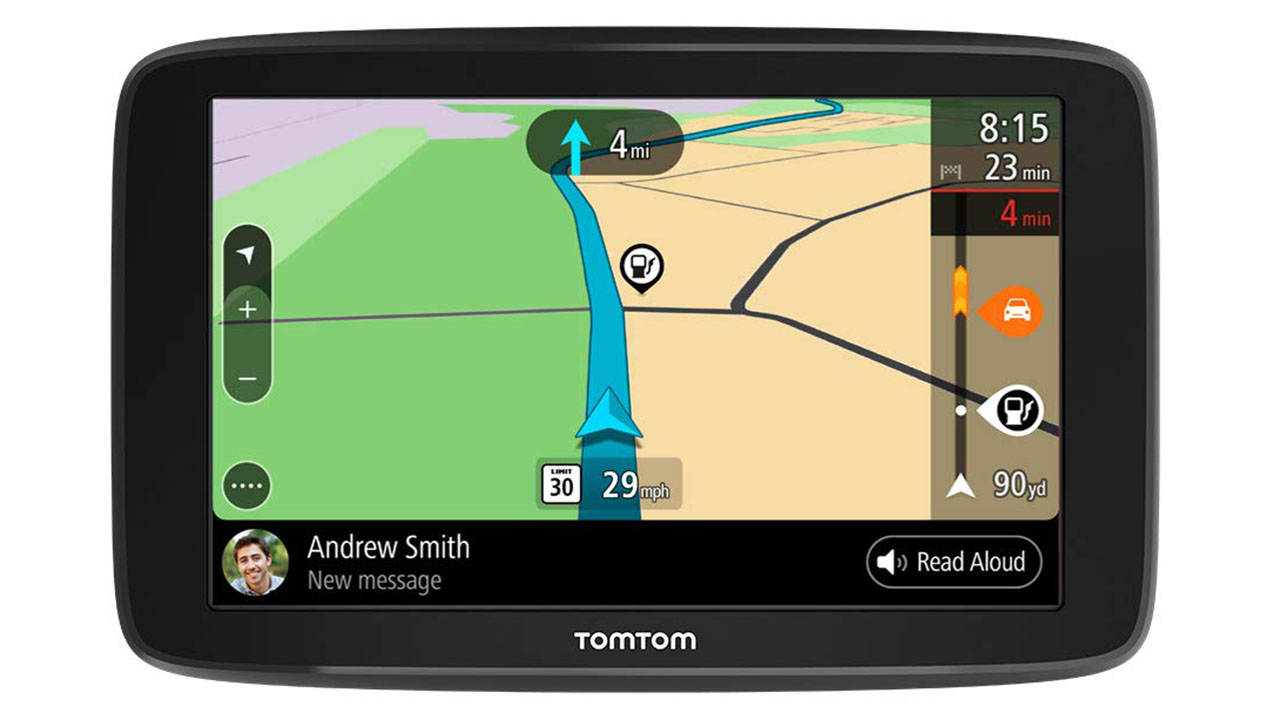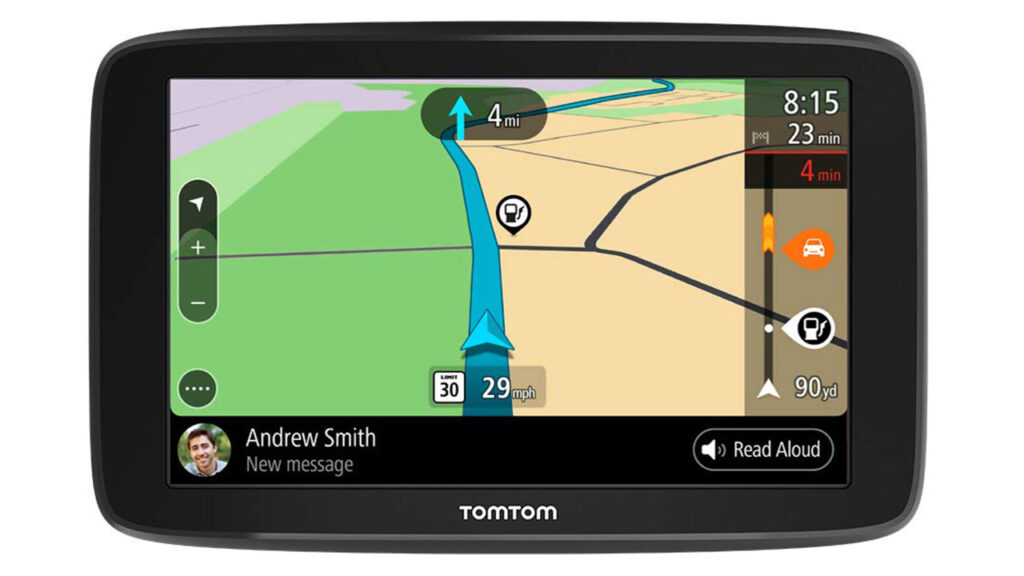 If you are on a budget and want a GPS tablet under $200, the TomTom Go Comfort is a great place to start.
Featuring a very similar and curved design like the previous mention, the TomTom Go Comfort allows you to personalize your road trips using TomTom Road trips feature.
Not just that, the tablet also auto-updates its features, apps and maps when connected to a Wi-Fi so you can access the latest navigation tools without being stuck in the middle of nothing.
The TomTom maps feature is an additional bonus and comes with a barrage of new updates and functionalities to make your life a lot easier.
The biggest downside to this tablet is the battery life. It lasts for an hour only when it's disconnected to a power source. So, you'd need to keep it connected when you are driving for easy and uninterrupted navigation.
Reasons to buy:
Affordable pricing
Sleek design
Auto-updates via Wi-Fi
Reasons to avoid:
Battery life is poor
Internal memory is quite less
6. Rand McNally OverDryve 8 Pro II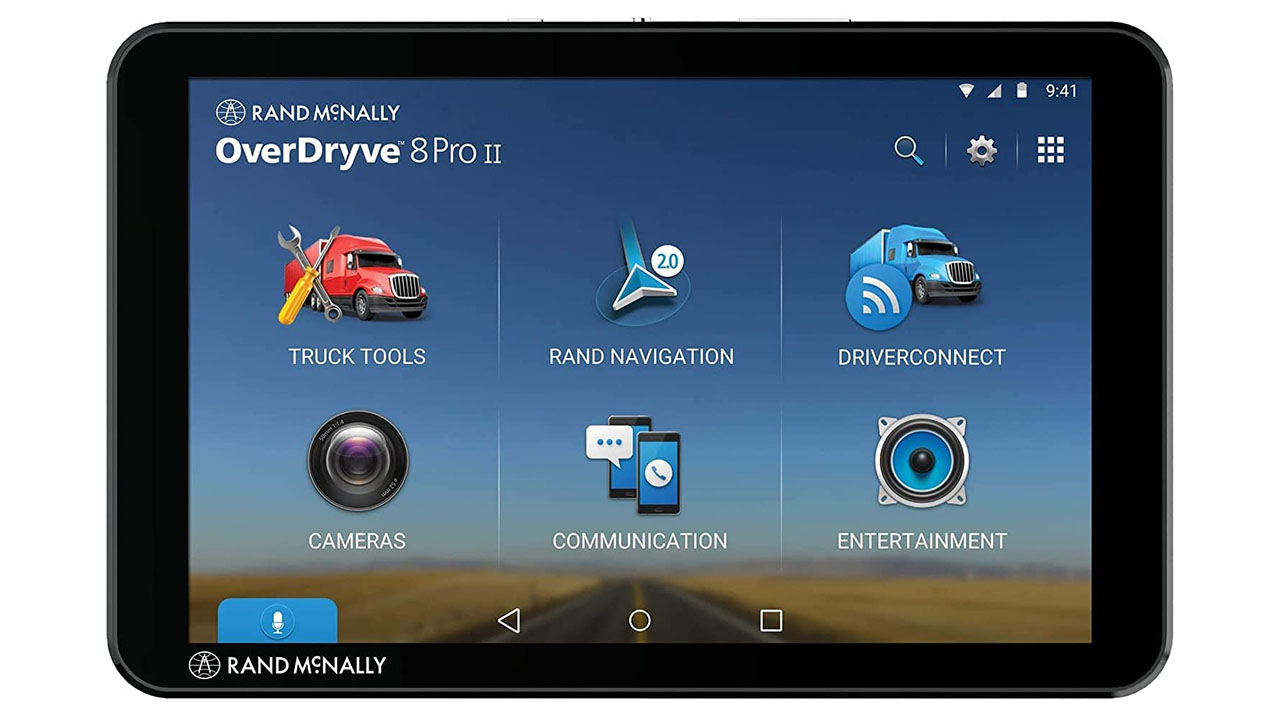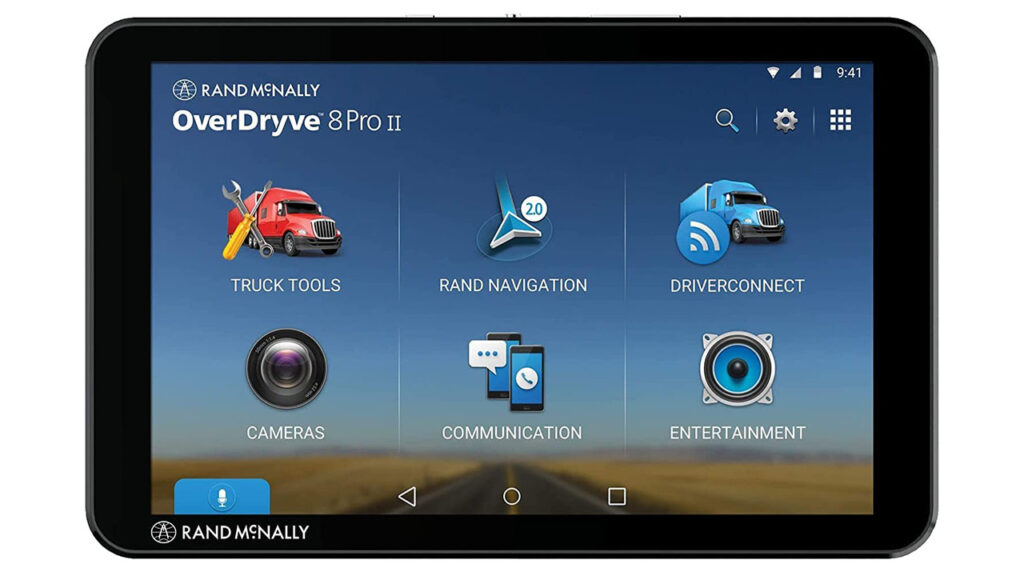 Ideal for longer road trips and moving, the Rand McNally OverDryve 8 Pro II is there to support your navigation for the long haul.
The GPS tablet features an 8" display with multiple functionalities as a dash cam, and satellite radio – all in one.
The best thing about trusting Rand McNally as a brand is due to their amazing features. From real-time traffic updates to the dynamic weather overlays, you can more or less keep an eye out on all the factors to make a safe trip.
The map in the OverDryve 8 Pro II is very realistic with 3D buildings and landmarks for easy identification when you are driving around. Also, if you want to keep yourself informed about the present fuel prices, the tablet takes care of that too.
Reasons to buy:
Ideal for longer trips
Easy navigation with 3D maps
On-screen alerts
Reasons to avoid
A little pricey
Lacks voice assist
7. TomTom Go Discover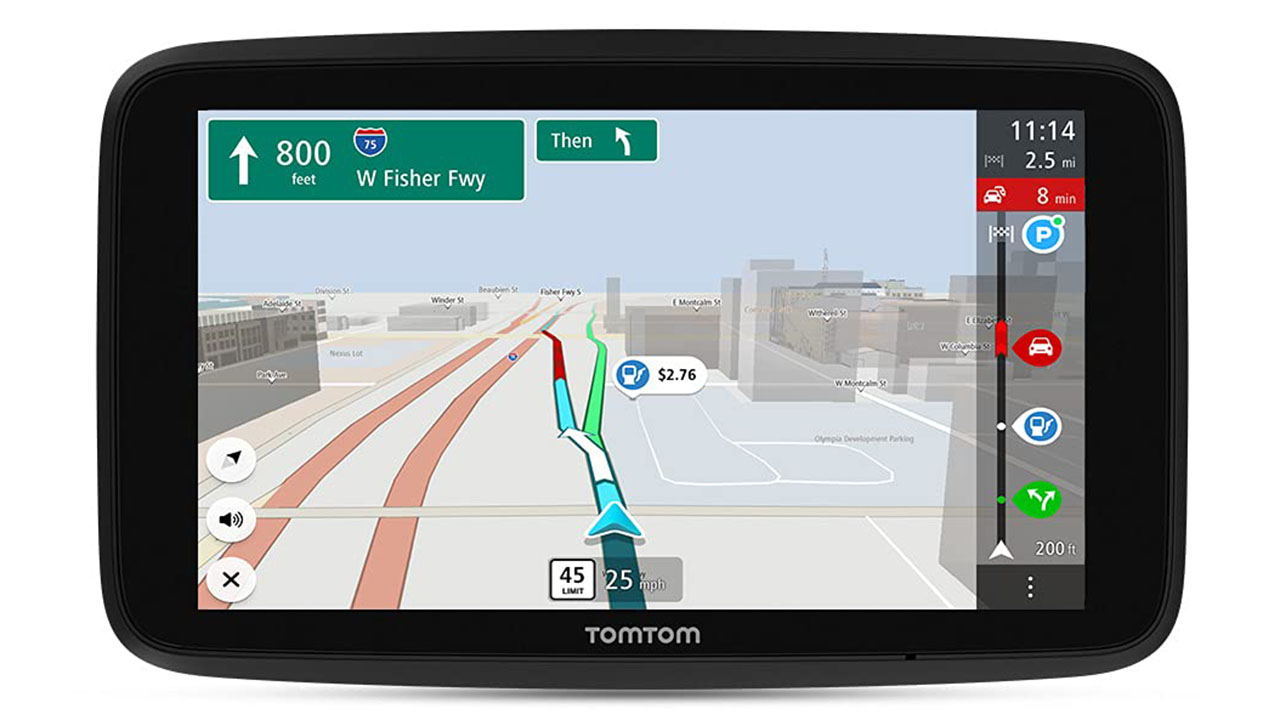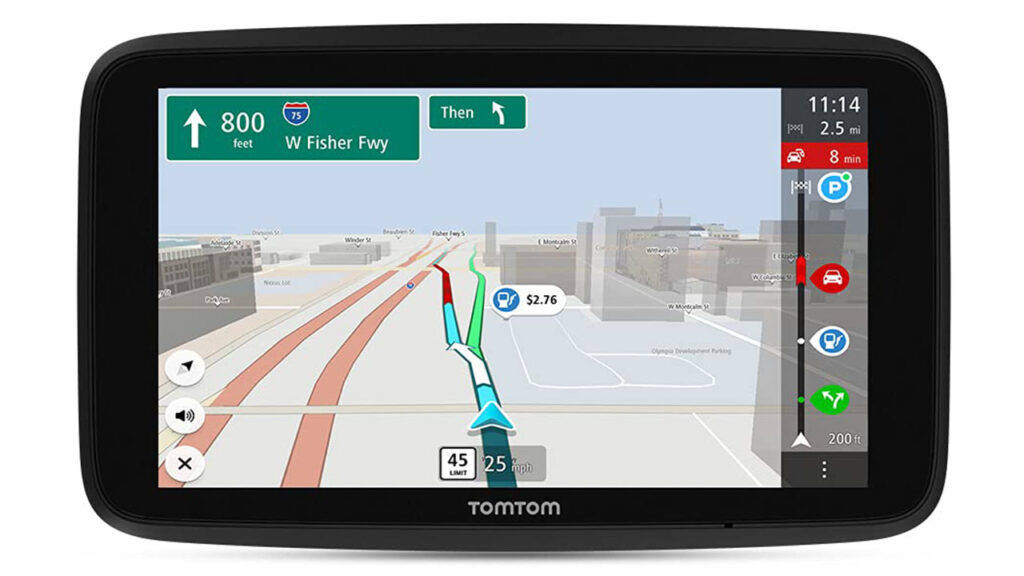 A lot similar to Go Comfort, TomTom Go Discover is a slightly better and more advanced version with easy access to the most updated TomTom world maps without any hassle.
Real-time alerts mean that you will get immediate alerts on the screen about heavy traffic, road closures so you can plan ahead.
The auto-updates via Wi-Fi are 3x faster compared to the other models, allowing you to have a latest version of the maps with all the features you need to streamline your navigation. The built-in 5GHz Wi-Fi band in the device is what makes it stand out.
If you are one of those drivers that hates staying stuck in traffic, having access to TomTom Traffic should give you an idea of which lanes to divert to avoid the rush in traffic effortlessly.
It is available in three display sizes – 5", 6" and 7". Also, the internet memory is 32GB, which is pretty decent, especially for downloading all the latest updates for smoother navigation.
Reasons to buy:
Real-time alerts on the screen
Track through heavy traffic
3x faster auto-updates download
Reasons to avoid:
Display size isn't that large
RAM is less
8. Garmin DriveSmart 65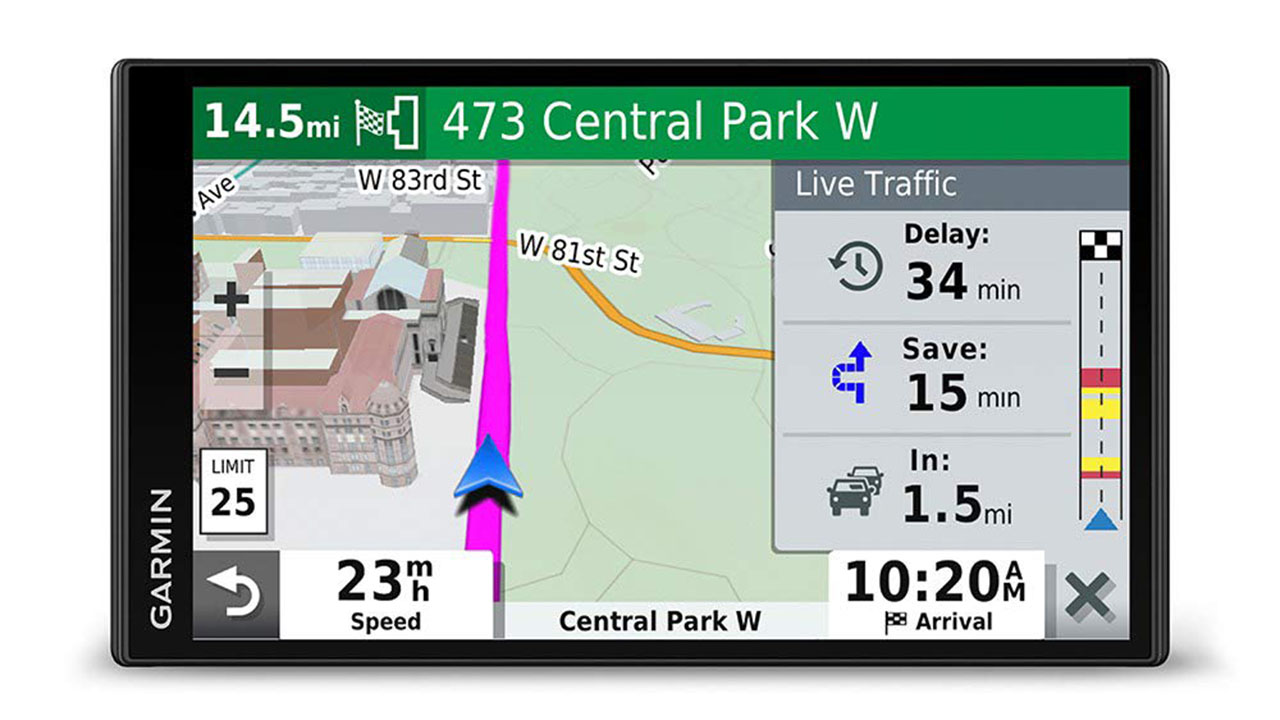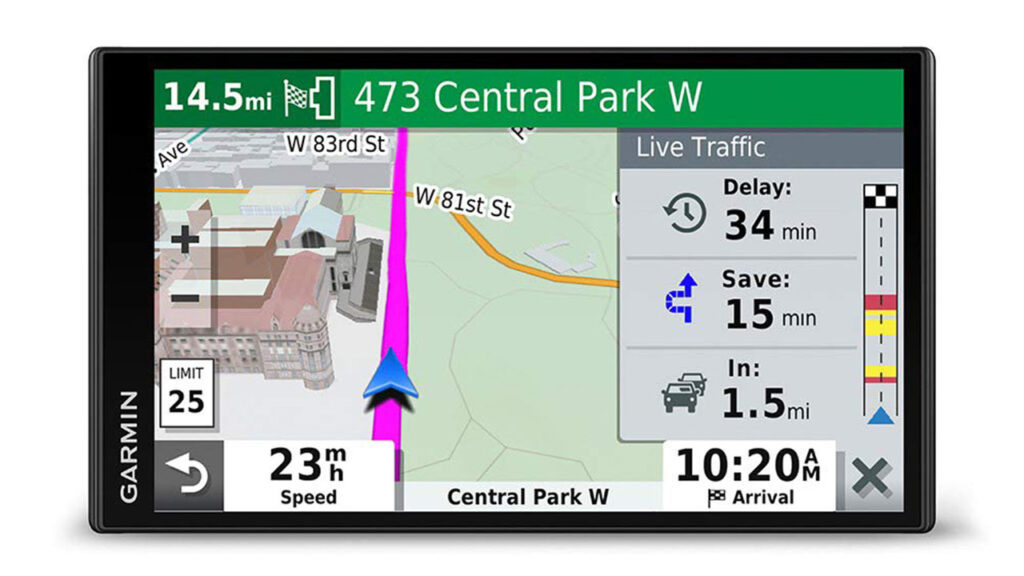 Its not every day that you come across an affordable GPS tablet from Garmin.
With the Garmin DriveSmart 65, users can have easy access to the functionalities and trust of Garmin without paying a high price for it.
Available with a 6.95" display, the tablet is perfect for regular-sized SUVs or family cars that you drive around the block. The highlight of this tablet is the voice assist feature that allows you to have hands-free navigation.
The built-in Wi-Fi connectivity support easy and wireless auto updates to keep the device's maps and software up to date without any hassle. You also get access to a live weather and traffic update, further adding to the benefits.
Additionally, the traffic cam and parking feature in this GPS tablet allows you to safely park in confined spaces without backing up into a wall.
Reasons to buy:
Supports hands-free calling
Equipped with smart notifications
Wireless updates
Reasons to avoid:
Only available in one size
Mount strength is not that great
9. TomTom Go Expert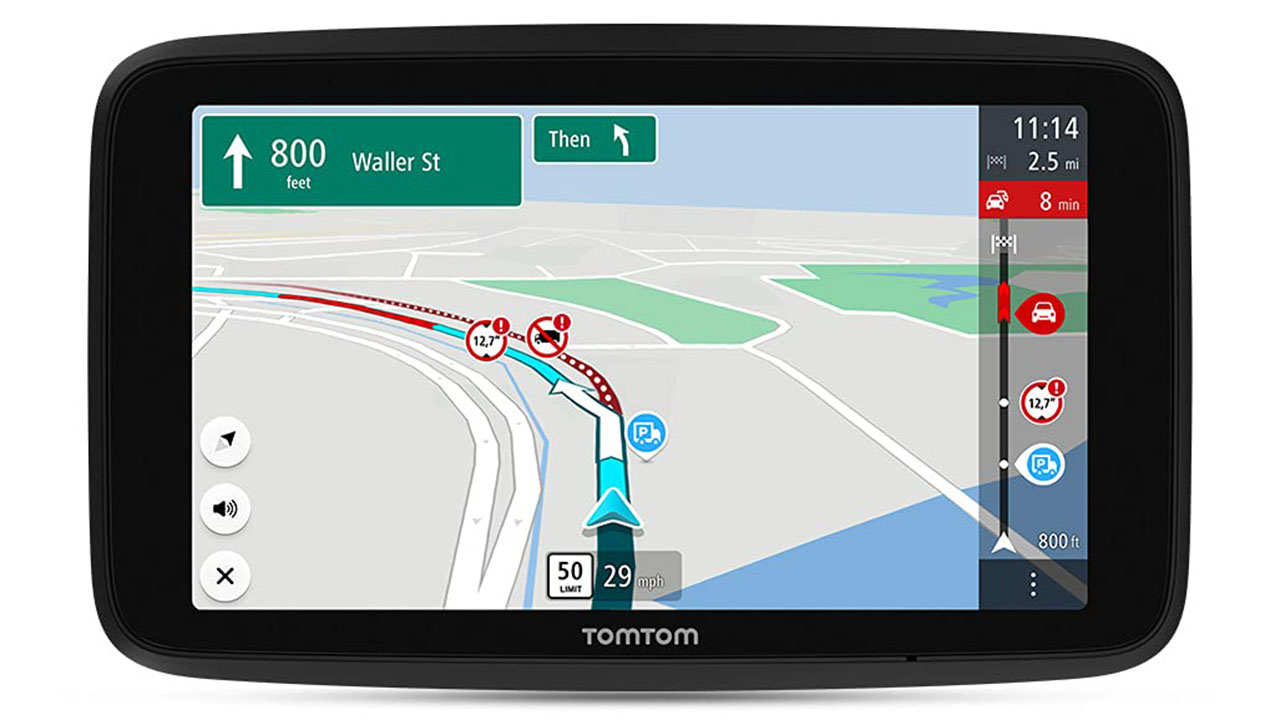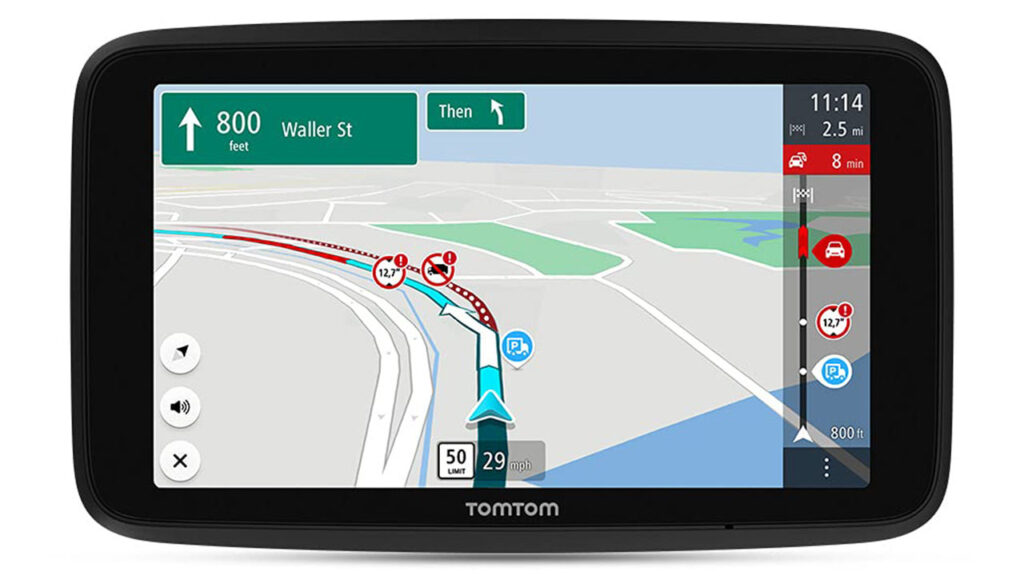 With a mid-range price point, the TomTom Go Expert is a pretty great at helping you navigate through the area without any restrictions.
The tablet is available in two different size variants – 6" and 7", along with a high-definition display.
One of the unique features of this tablet is the custom large vehicle routing, so as to ensure safe navigation, especially when you are driving through steep and rough routes. The real-time restriction alerts on this tablet are also quite functional.
Like most of the other TomTom GPS tablets, even this is integrated with 32GB internal storage and 2GB RAM. Additionally, it comes with a 5GHz Wi-Fi band for easy network connectivity when needed.
Reasons to buy:
Premium and durable construction
Custom large vehicle routing
Optimal storage configuration
Reasons to avoid:
Lacks voice assist
Lacks hands-free calling
10. Garmin zūmo 396 LMT-S 4.3″ Motorcycle Navigator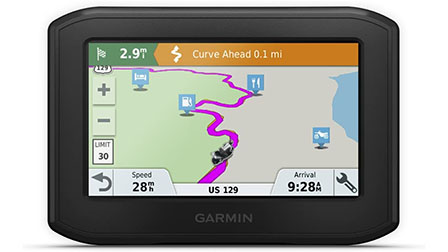 When you are on the road, braving through an adventure on your motorcycle, the last thing you want is to get lost.
The Garmin zūmo 396 LMT-S 4.3″ Motorcycle Navigator makes your life a lot easier and ensures that you are on track, especially when in rocky roads and trails.
Besides the reliability of Garmin, this 4.3" GPS tablet is glove-friendly and is equipped with a high-quality and durable display that isn't going to give up on you mid-way. Furthermore, users get to indulge in hands-free calling for safe communication, especially when you are driving.
Thanks to the zūmo display, changing the music or navigating through the area has never been easier. Also, if you are on a rocky, hilly area, the navigation alerts you of peaks, curves and rough roads ahead, so you can travel safely.
For the users up in North America, the map updates are built in, making things a lot easier and manageable for you to check through. Also, it comes with built-in Wi-Fi connectivity, if you want to stay connected to the internet.
Reasons to buy:
Durable and hardy display panel
Glove-friendly display
Supports hands-free calling
Reasons to avoid:
Slightly pricier for the features
Set-up is a little complex
Verdict
Now, that's a wrap. We have shared a list of all the best GPS tablets in the market. Now, which one you purchase depends on your requirements. Always ensure that you cross-check all the individual features and specifications of the tablet before finalizing an option that best fits your needs.
Adding a GPS navigation tablet in your car will not just streamline your driving experience but also keep track of the safety and precautions needed while on the road. All of these tablets are from high-end and reliable brands and are catered towards varying user base.
If you are considering buying a GPS tablet, we hope this article gives you all the basic information that you possibly need to get started.