Artisul D16 is an amazing digital graphic tablet that will transform the way you highlight your artistic skills. No matter whether you're a graphic designer or writer or love drawing, Artisul will immensely help you simplify the process. Artisul deeply respect creativity of every individual and so they introduced Artisul D16, which is a perfect blend of flexibility and productivity booster.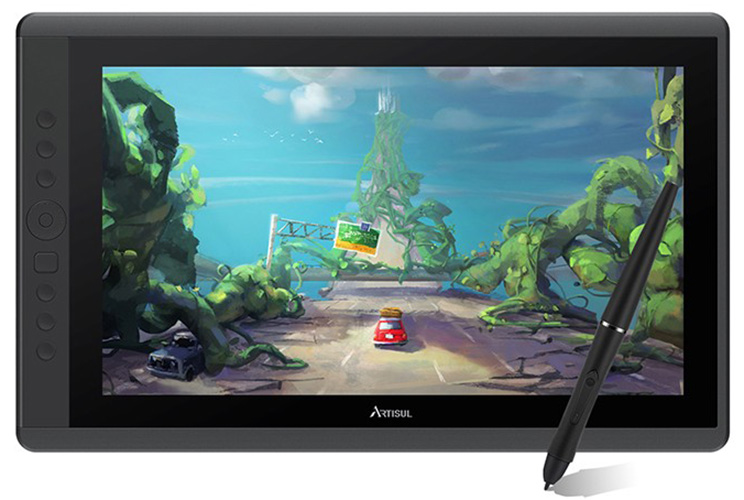 This can be a great deal for beginners, because Artisul is very easy-to-use and available at an affordable rate. That's the reason designers can invest in this mid-range tablet and enhance their skills on digital platform before plunging into a high-end graphic tablet. You can make your habit on the graphic tablets, which will further help you stay consistent with your tasks.
Artisul D16 is one of the finest inventions of this brand that highly aims to assist creative artist to showcase their soul through modern art. Here in this article, we'll be discussing interesting features of this tablet.
Splendid Display Quality
The 15.6" full HD display of Artisul D16 is appreciable. Every artist seeks the best and quality display because switching from papers to digital screen seems uncomfortable. And if one end up buying poor quality display, then they consider every tablet terrible because first impression is the last impression. But with Artisul D16, things are quite different.

If you're a cartoonist or designer or CG artist, then D16 is the right tablet for you. You will enjoy working on its smooth surface that has 1920 x 1080 resolutions, releasing a gamut of 76% Adobe RGB along with 178 degree viewing angle. This makes Artisul 16 a perfect choice.
Moreover, the tablet is very sleek and light in weight that makes it highly portable and the right partner for on-the-go artists. The tablet is equipped with 7 express keys, which are customizable and can be programmed for right-hand users as well as left-hand users. You can easily make changes in your work, undo, adjust sizes, scroll the page and a lot more. Artisul D16 tablet boasts anti-glare covering to the screen in order to make the screen scratch free, highly transparent and resistant to fingerprint. It also has the ability to protect your eyes.
Powerful Digital Pen
The second aspect of which designers are often considered is the digital pen. Replacing brushes, pencil, and eraser with a pen is not a cakewalk, which is why choosing the right tablet that has an efficient and sensitive pen is crucial.
Artisul D16 has a pressure sensitive pen without battery as it is designed ergonomically with a weight of 14g, providing you a perfect grip. You will also find a few buttons on the pen that too are programmable. This digital pen provide you with 8192 pressure level, which can be used to draw lines with diverse levels of pressure.
You can very accurate and precise lines with immense pleasure that without any mistake, enhancing the overall experience of the designers and artists.
Powerful Connectivity
You can get ready with your Artisul D16 instantly by just connecting it with your computer via USB 3.0. As long as your computer is working, Artisul D16 will stay along with you seamlessly. Typically, Artisul D16 is compatible with Windows and MacOS so that the level of flexibility is maintained throughout the process.

The tablet is also compatible with drawing software, which includes Adobe Illustrator, Photoshop, SAI, Corel Painter, and a lot more. Another benefit of using Artisul D16 is it provides you with a robust and flexible foldable stand, which allows you to adjust the tablet as per your convenience.
Now using a digital graphic tablet is not more a hassle as you can easily adjust its viewing angle. You can also enjoy the benefit of customizable express keys the way you want.
Verdict
If you're a beginner or an experienced designer or cartoonist, selecting Artisul D16 can be an ideal choice. This switch will not make you feel regrettable later on for sure. More so, the tablet is budget-friendly, which is why giving it chance will not harm you anyway, you will only understand the way digital tablets are utilized by expert designers.