AOSON R102 10-Inch Tablet: Here we jump to the specs and discuss what it brings to the table that you can take home. It might be a surprise, but you can avail this tablet at just $75.99 (Amazon). This tablet has an impressive build quality and looks of a premium tablet. To be honest, this premium looking tablet does not offer premium features or specifications, but it surely does meet your optimum needs. You can call this the mega laptop for little kids because featuring wider display; any kid might be able to use this for his/her gaming or cartoon watching needs. Not to pin down this as a tablet specifically for kids, it can be used by adults too with minimum expectations and average daily use for a tablet.
Features and Specifications
The AOSON R102 10-inch Tablet gives you useful features at a meager price. Low price and premium look sound good! But does it provide the kind of performance normally expected from a tablet? Jump down to the specs below to know how this tablet works.
RAM and Storage
It offers you 1 GB RAM which will fuel your essential programs of data and multimedia. It is also suitable for basic gaming but definitely not for heavy and intense gaming. Under this price range, this is too good for anyone who wants a decent run through the day. For storage, it gives you a fair 16 GB of storage which can be further expanded to 32 GB using a micro SD which can be inserted into the SD card slot on the back of the tablet. It is optimum for storing large documents that you can use while working on-the-go. Along with capacity, the storage needs to be efficient too! This tablet deduces any chances of lagging while storing large files.
Processor and OS
It is geared with MTK8163 Quad Core 64 bit processor, clocked in a speed of 1.3 GHz which gives a speedy performance. The Quad core is highly regarded when it comes to processing. So you can rely on the performance of this tablet. It runs applications fluently without any technical hitches. The tab is also powered with Mali T720 GPU which is reasonable in this price range and can be useful for light gaming.
(Although, popular opinion speaks low of Mali graphics because no matter how much RAM is provided along with it, the performance of gaming applications remains glitchy because it is manufactured at very cheap rates. It does not necessarily apply to this product. It is the best graphics you can get at such affordable prices.)
It runs on the latest Android 6.0 Marshmallow OS with its power-saving features and assistive technology. The only lack here is it can't be updated to further versions.
Design and Display
It has good build quality, and as said before, it has a premium look and feel. With dimensions ranging to 10.3 x 0.4 x 6.3 inches, this tablet is not that slim to be sleek. Do not mistake its body size because it weighs 2.05 pounds (500g) which is light enough to be carried around easily. The 10-inch display deserves to be lauded because it gives more screen size to work and greater the screen space, the more you can view/work on it! It also has impressive display properties. It gives you excellent brightness and an IPS display for you to watch videos, read E-books or edit natural images in 178 degree viewing angles without losing the natural crispness of the pixels or colors. It gives you dynamic pixel quality with a resolution of 1280 x 800 that offers HD quality. Apart from that, it features 10 point multi-touch screen which makes it efficient and smooth for user interaction. The touch points and the response are swift and do not give you glitches.
Battery and Camera
It has a built-in battery of 5000 maH. Depending on the use, the duration of battery it gives you a range from 6-8 hours. It is excellent for anyone who is aiming for working while traveling or carrying the tablet for the whole day for occasional use. It does not die out quickly. The camera can be considered one of the cons of this tablet. The rear camera is just 1.02 MP, which is lower than average pixel quality. It is not nearly average as other tablets, but as you know, you don't just walk around taking pictures with your tablet. So that's fine! Also, the front camera is placed on the side which makes the streaming or capture angle improper and difficult to set.
Audio and other supports
Compared to the video quality the sound quality stoops down. It gets a bit grainy when the music or audio gets high pitched. It has Bluetooth 4.0 which enables you to connect to Bluetooth pairing devices and play heavy music via external speakers. You just have to pair and boom….. Your music problem is solved too. Also, it supports 802.11 b/g 2.4 GHz WI-Fi connection which is, in simple terms known as wider and stronger connectivity. The connectors available in this tablet are one Micro SD card slot, one Earphone Jack, and one Micro USB Interface.
What's in the box
It comes with one charger, one USB cable, one English user guidance manual to assist booting and usage, and the product of course!
Final verdict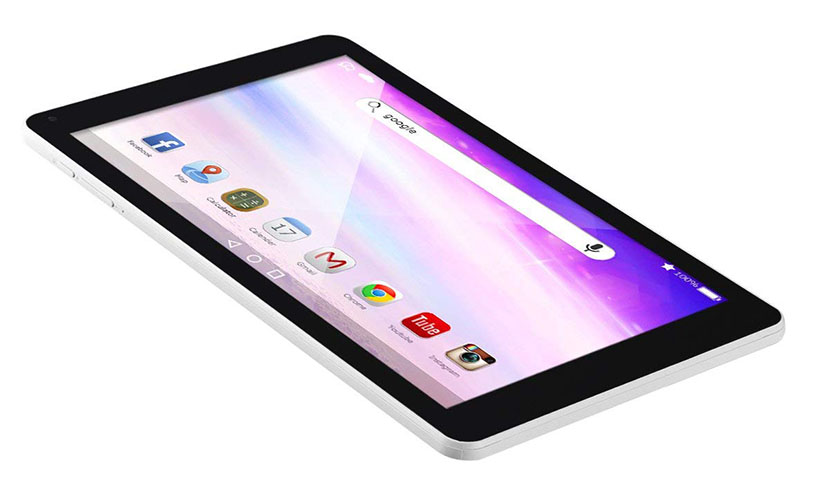 The AOSON R102 10-Inch tablet is very, I mean extremely, cheap. Charging just $75.99 (Amazon) the tablet gives fresh tablet users a hope to use a proper tablet without the need to spend a huge amount. Not claiming that it is an epitome of a tablet; apparently, it has its cons. But boy if it charges so less and gives good features, you got to try using it at least once.