Tablets are the new style statement to set and indeed technology at its best. With such comfort and ease to carry, who doesn't need a tablet that fists their preferences? Also, with tech firms rolling out new products in market every now and then, we have Alldocube KNote Go, a tablet that has hit the market to give a tough competition to its rivals. And, we bet it is capable enough to do so. The Chinese firm, Alldocube launched its flagship model with specifications at par with to notch tablets.
ALLDOCUBE KNote Go Specifications

Processor
Dual-Core Intel Apollo Lake N3350 1.10GHz
Graphics
Intel HD Graphics 500
RAM
4GB LPDDR3
Storage
128GB SSD
Display
11.6" FHD (1920*1080)
Camera
Rear: 5.0MP | Front: 2.0MP
Battery
4000mAh
Weight & Dimensions
766 gram | 289*180*8.6 mm
Operating System
Windows 10
Let's have a quick look at some of the specifications and features of Alldocube KNote Go to have a clear perspective of this newly launched tablet:
Adjustable Keyboard
The fun of working multiplies folds when it is within our comfort. That is what Alldocube has ensured to embed in its KNote Go. The keyboard has an exquisite workmanship, simple in design and the adjustable facility is just what they got it right. Also, the surface of the keyboard is scratch resistant and 270 degree adjustable (open-close angle).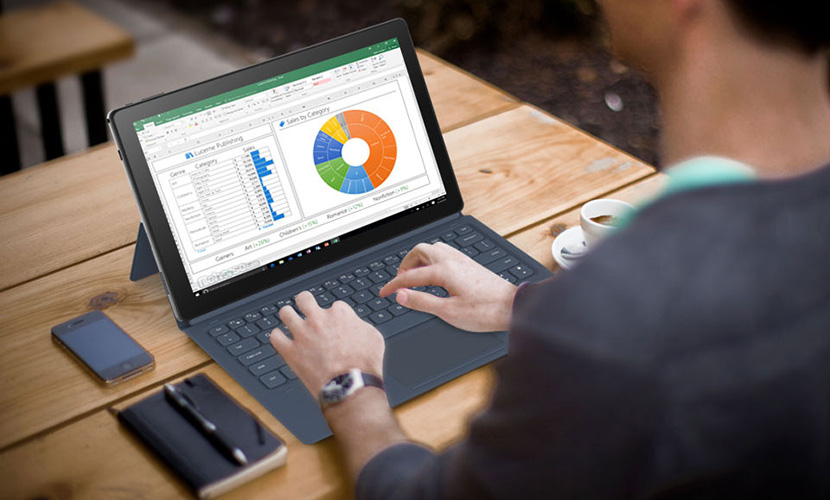 Intel Apollo Lake
Alldocube KNote Go has an Intel Apollo Lake processor with maximum 2.4GHz frequency that in turn provides an explicit fast task running performance. Since work is vital, so is some time off it. The tab plays a crucial role for any business or work user, the performance and storage is amazing. In addition, Intel Apollo Lake has excellence on FHD videos and playing games.
Impressive Storage
One of the vital things that we look for in a tab or a laptop is the storage and RAM. Alldocube KNote Go is inclusive of 4GB RAM that helps in fast processing and an impressive user experience. Also, with 128GB hard disk storage capacity, the tab will be able to store much data that'll help you in ease of your experience. Being a business user, you can easily store multiple files and also some games/ movies to help you ease the work stress. Sounds quite amazing to me, isn't it?
MagicColor Panel Display
It is a unique feature that is sure to redefine your visual and touch experience. The Chinese firm has innovatively combined grass and touch panel into a all touch display. Hence, extending you an increased respond speed without any undesired delay.
Night Light Mode
The work is never ending, hence, for a professional, day and night is hardly of any matter when it's about work. Hence, when night sets in and you still ought to work with lights off, Fret not! Alldocube's KNote Go has an excellent feature to protect your eyes, Night Light Mode. The colour of the display is formulated with amalgamation of three colours, red, green and blue. During night hours, the tone of the display is turned down to cool blue to protect your eyes from direct warm rays.

Since the tablet has some amazing features and is pocket friendly. Does anything sound better than this? We bet nothing. Hence, what do you await? Decision is all your to make, go check out the new Alldocube KNote Go now.