XP-Pen Launches Artist 24 Pro drawing tablet to offer 2K QHD digital canvas to the artists to make all their dreams come true. XP-Pen has introduced this magical tablet intending to expand the horizon of creativity and imagination. Artist 24 Pro is the very first XP-Pen tablet to offer a 23.8-inch 2K QHD graphics display.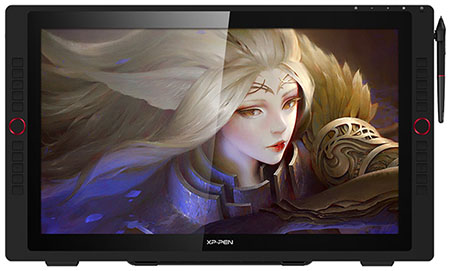 Such a high-resolution screen display allows every depiction to come across in complete clarity and with immense accuracy.
The vibrancy of images is unthinkable that leads to a dynamic presentation. Artist 24 Pro, with its incredible 2560×1440 pixels, promises the best creative experience for its users that knows no boundaries.
Artists will fall in love with the large size high-resolution screen that is perfect for immersive display. Creativity gets a new meaning when artists use this amazingly advanced tablet for drawing, creating, and designing.
Functional Keys: It features "two easy-to-control red dial wheels" along with 20 other shortcut keys that are customizable. To aid left-handed and right-handed users, the keys are placed on both sides of the product
The Stylus: The magical creator is the thoughtfully designed PA2 Battery-Free Stylus that brings to life all creations. The Stylus is meant to deliver superior line performance, making the finest lines and drawings a reality. Its 60 degrees of tilt function makes masterly maneuvering possible.
Comfort and Convenience: The overall designing and styling of the tablet have been done by giving maximum attention to convenience and comfort. The users have the benefit of changing the viewing angle with the help of the adjustable stand. The product also houses a pen slot to enable better storage and quick access to the stylus.
This intelligently designed next-generation tablet comes with useful USB Hub and non-sticky touch-sensitive display keys. Matching advancement with convenience, this tablet supports USB-C to USB-C connection so that it can be easily connected to MacBook Pro, iMac or Windows Computer without the need of an adapter.
Compatibility and Effectiveness: This latest and trendy XP-Pen wonder tablet has been designed and launched to aid artists achieves the impossible. Thus, very logically, Artist 24 Pro is compatible with all the majorly popular digital art software like Adobe Photoshop, Fire Alpaca, SAI, CDR, Illustrator, GIMP, Krita, Blender 3D, and Medibang. It supports Windows 10/8/7 and Mac OS X 10.10.
Priced at $899.99, Artist 24 Pro is now available for pre-sale with 15% discounted price of $764.99 at the company's website. Shipments are likely to begin from 15th of June, 2020.