According to sources, Walmart gave hints about its new category of tablets recently in the month of March under the brand name "Onn". And now Walmart launched its two new Android tablets with a slight difference in the size and price. The price is highly affordable that means Walmart has strategically targeted the cheap tablet market first.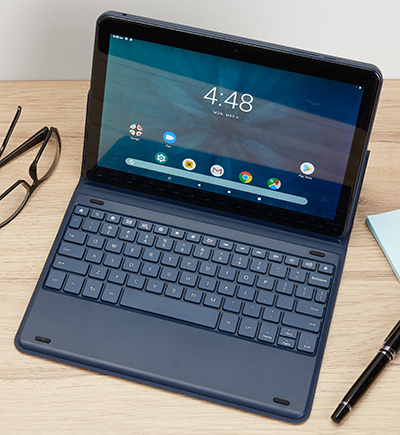 Onn 10.1″ Android tablet with detachable keyboard costs $99 and $79 without keyboard, which is unexpectedly very low as compared to its tempting features. Besides 10.1 inch display, the tablet provides a resolution of 800 x1200 with the mesmerizing design.
The tablet is extremely lightweight, which makes it quite portable and flexible. The tablet also offer detachable keyboard that categorize this tablet under "2-in-1" list of tablets as you can convert it into tablet and laptop anytime anywhere.
Featuring Android 9 along with 1.3GHz quad-core processor, the tablet aims to make your experience intuitive and seamless. The tablet provides the user with 2GB RAM and 16GB ROM, which is acceptable in this budget.
More so, the tablet enable you to stay connected with your loved ones via 0.3MP front-facing and 2MP rear camera or you can capture amazing pictures with it. As far as the battery life is concerned, the tablet offers 5 hours of battery backup, which is where you may dislike the product. But if you're purchasing for daily use, battery shouldn't be the problem.
Onn 8" Android tablet obviously has the display size of 8 inch with same resolution as Onn 10.1". However, the cost varies here in, so Onn 8" is of $64, $15 less than Onn 10.1". But as far as the features are concerned, everything is same. So the difference is in size and cost as well as it is not a "2-in-1" tablet. Walmart has not introduced any detachable keyboard with Onn 8"
With same processor, camera pixel, battery life, RAM and ROM, Onn 8" is the shadow of Onn 10.1 as it is following its footsteps in all terms. More so, the design of the tablet is also same- extremely lightweight and alluring to eyes.
You can find in-depth details of both the tablets on the official website of Walmart along with the prices. It is expected that the tablet will be loved by audience as the price is minimal plus it is providing utmost flexibility to the users, which is the top most priority of this modern age. As the tablet is now officially available, the company is overflowing with heavy orders, but yet reviews have not been released.
You can explore the website of Walmart and learn more about this tablet or if you're planning to purchase at a cheap prices, then you should try Onn 10.1" or Onn 8". The appearance of the tablet is quite exciting and the most important aspect is pricing, which is a bit tempting. However, many won't be satisfied with the battery back-up, but for daily use of entertainment purpose you can give these two a try!