Wacom is a leading brand when it comes to drawing tablets serving the users for the past 35 years. The recently launched Wacom Intuos Pro Small (PTH460K0A) tablet has shaken the market tremendously. This time Wacom has been more focused on the portability of the tablet, so you can see Wacom Intuos Pro in a very compact size. It has proven to be a limelight for many artists and designers who are always on the go and require a platform that enables them to jot down their ideas instantly.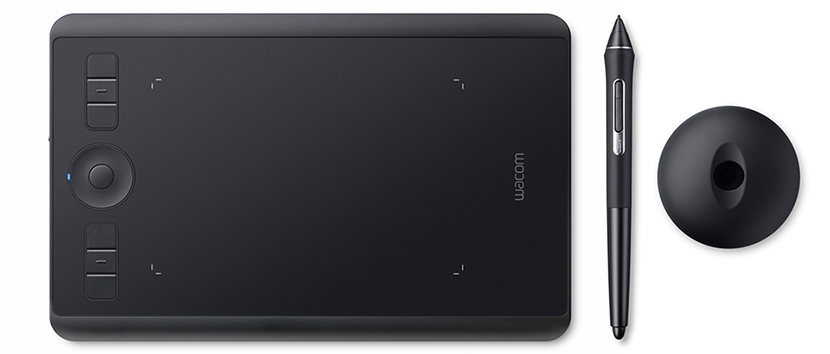 Besides the size factor, Wacom Intuos Pro Small differs in price as well. We all are aware that Wacom deliver amazing, quality and beyond the expectation tablets every time, but with high prices. Wacom Intuos Pro Small is comparatively affordable than other Wacom drawing tablets, which has actually increased the curiosity of the users, since its announcement in the market.
| | Wacom Intuos Pro Small (PTH460K0A) Specs |
| --- | --- |
| Dimensions | 10.6 x 6.7 x 0.3 inch |
| Working Area | 6.3 x 3.9 inch |
| Keys | 6 Customizable Express Keys + Touch Ring |
| Pen | Wacom Pro Pen 2 (Battery-free) |
| Pressure Sensitivity | 8192 levels |
| Tilt | ±60 levels |
| Compatibility | Windows and Mac |
| Price | Starting at $249.95 | Amazon |
Do you want to know the reason behind for such less cost? Let's find out by diving into the features of the all new Wacom Intuos Pro Small and why it differs from others in the competitive market:
Design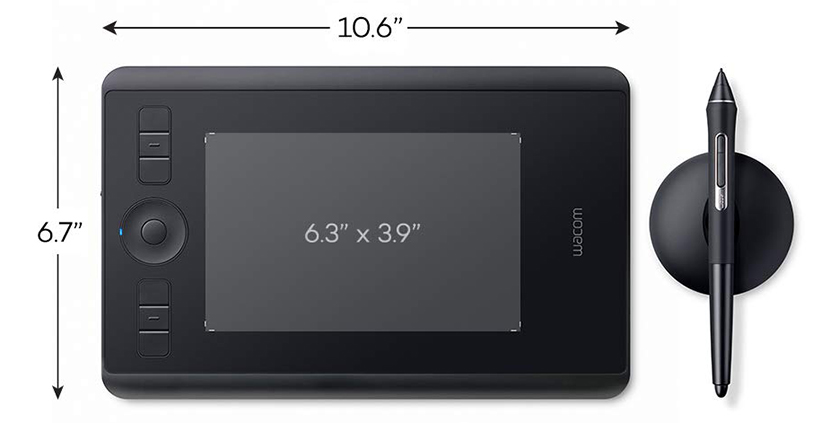 The design of the tablet is aesthetic with curvy edges and minimal bezels so that you could put your tablet in the bag and travel wherever you want. The appearance of the tablet is eye-catchy and stunning with 10.6 x 6.7" in which you get an active area of 6.3 x 3.9 inch. So you can draw, write or paint on this amazing tablet, but if you're beginner working on such a platform in the initial years could be challenging. So the only drawback of using Intuos Pro Small is less space for creators to show their creativity and innovation in designs.
Wacom Pro Pen 2
A digital artist is nothing without its pen. It is their magic wand that helps them to represent their thoughts and ideas in digital forms. Wacom Intuos Pro Small provide with Wacom's Trusted Professional Pro Pen 2 equipped with the latest technology. The precision provided by this pen is unmatchable and you can optimize it for hours for image editing or illustration or for any sort of design work. The Pro Pen 2 also offers 8,192 levels of pressure sensitivity, seamless tilt response and practically a hassle-free tracking for amazing accuracy and control.

This pen, in true senses, redefines the meaning of digital pen as it includes Bluetooth option and is extremely slim built with materials, such as black anodized aluminum and fiberglass composite resin. All these things make Pro Pen 2 irresistible and delivering better quality to professionals by giving them the feel like they are using their paint brush or pen. Pro Pen 2 also offers express keys to create shortcut ways for you so that one could accomplish work in no time.
Boosts Workflow
Wacom Intuos Pro not only delivers better design and pen, but this small tablet has the ability to enhance your workflow. Wacom Intuos Pro Small also supports surface multi-touch that alleviates your burden efficiently. And the amazing six express keys and one radial is an added advantage in maintaining positive workflow. With express keys you can instantly zoom in and zoom out images, scroll up and down, without much bothering about which hand you use the most- be it left or right- customize the keys as per your needs.
The tablet also has a pen supporter so the fear of losing your pen in the hustle is completely eliminated. Now you can travel the globe, observe and jot down everything same time on your Wacom Intuos Pro Small.
Compatibility
Wacom Intous Pro, similar to other versions, is highly compatible with different operating systems in the market by just connecting the USB cable or without a wire as well, be it Windows of MacOS, of any latest version. So connect your tablet with your desktop to see your creativity on a large screen and create the backup. The battery life of the tablet is impeccable; you can utilize it for days without charging.
Conclusion
Looking at the above-mentioned features, it seems that Wacom Intuos Pro Small does not compromise on the quality or any features. The company has just cut down the screen size of the tablet to make accessible for the designers who are always on the go and has been seeking for flexibility since years.
As well as know that every creative artist want a large screen to showcase their creativity through digitalization. But many are there who have become pro in their work and can adjust on small screen size as well, they want portability or a platform where they can draw, write or paint their immediate ideas.
Wacom Intuos Pro mainly targets the professional artists not the beginners, but that doesn't mean beginners cannot give a try to small screen tablets.