Teclast is all set to bombard the market with its new Teclast X4 Windows 10 2-in-1 tablet. Recently, Teclast has revealed all the specifications of Teclast X4 tablet online on its official website. Teclast is a growing company that hits the market with efficient and amazing tablets, but X4 Windows 2-in-1 tablet seems to be more professional, aiming businesspersons or employees. As per the images on the official website of the company, the tablet gives a very professional look and is very handy.  The thickness of the tablet is 8.9mm and weighs around 840g, which makes it extremely easy to carry the tablet.

The company also offers a pearl blue docking keyboard that allows you to convert your handy tablet into a laptop within seconds. You can edit, draw and retouch images with the stylus with the flexibility of rotating the tablet at 135 degrees. It also offers a multi-positioning kickstand, enabling the tablet to stand strong with its dock keyboard. Coming to the screen size of Teclast X4 tablet, it offers 11.6 inch full HD IPS display with a resolution of 1900*1080, giving you brighter and sharper picture quality while watching your favorite movie or videos. You can notice the details in every image as the pixels are crystal clear.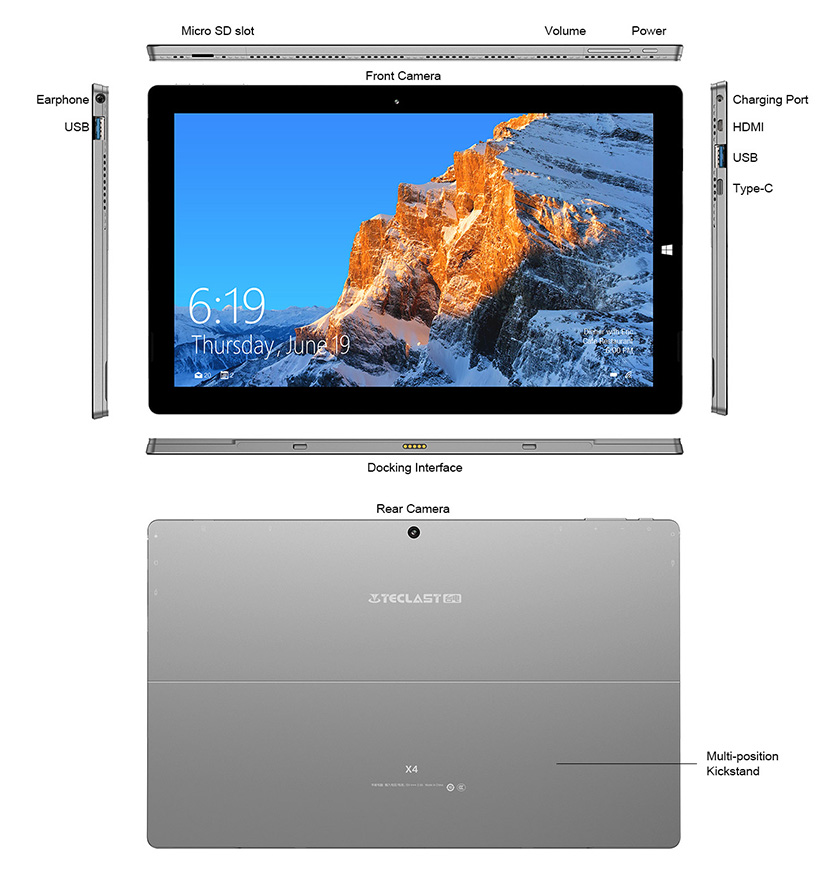 Moving onto the processor and performance of this tablet, then let me tell that Teclast always provide seamless speed to the users while using their tablet. And in the new Teclast X4, they equipped the tablet with 8th Intel Gemini lake processor with an unbelievable burst frequency of 2.4 GHz, which is comparatively improved the performance of the tablet by 30% with the 4MB cache as well. The 9th Gen. UHD graphics offered by Teclast X4 allow users to watch 4K UHD video with its great video decoding potential.
Furthermore, Teclast X4 2-in-1 tablet offers a RAM of 8GB and storage of 128GB, which is like heaven! This tablet is indeed alleviating the burden of users of storage full. You can store all your files or data amazingly. The tablet also has a 2MP front facing and 5MP rear camera that keeps you connected with all your dear ones. With Windows 10 as your operating system, you can play and work on your tablet according to your state of mind by touch or PC mode. Teclast X4 also has Type-C USB port that benefits you with charging, data transmission, and HD video output.
The battery life of this tablet is the most attractive part. Teclast X4 offers an incredible battery life of 26600 mWh battery, enabling users to optimize their tablet for 7hours without any glitches. Teclast X4 comes with basic connectivity options like Dual-band Wi-Fi, HDMI, Display Wi-Fi, and Bluetooth 4.2.
Looking at overall features of the tablet, Teclast X4 will be a big hit in the market that too at a pocket-friendly price!