The traditional smiles and partnership that laptops brought us are heavily challenged by tablets these days. And why not? Take a look at Teclast X6 Pro tablet that is a standing example of how a high-end tablet can almost replace a laptop. Maybe I might have overpressed on this. But it cannot change the fact that tablets today do provide what the computer does. The best part about tablets is that they are portable and does not question your fear of breaking it apart in the spartan race and muck of traveling to your workplace or wherever.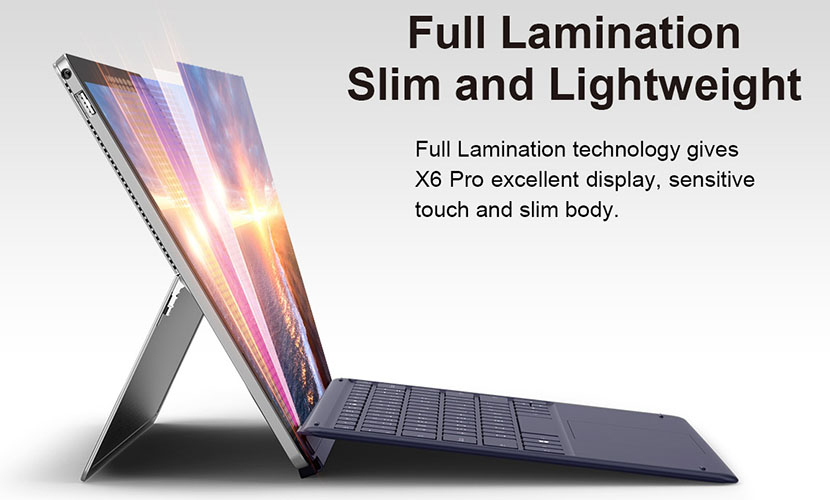 These tablets have a whole range of market where they have excellent features that seem to outdo each other everytime a new tablet is a launch. Of course the variety changes with the category, but let's put this tablet to the test and check out its features and specifications.
Teclast X6 Pro can be your creative, work, or entertainment partner however you please. It has its own set of features that the manufacturers have included baffling you and your senses to provide a greater tablet experience. It has a large display and equally heavy configurations that can support all kinds of activities, not just support but passionately render your facility. Let's go into details of the tablet and see what type of device are we looking at over here.
RAM and Storage
Teclast X6 Pro has a freaking 8GB RAM and 256GB ROM which makes this a Zeus of a tablet. It has lightning fast capacities that have the best foundation for performing all kinds of heavy duty on a tablet. Just like the brand says, "Tablet outside, Laptop inside." This huge specification of this device enables the individual even to play heavy games and store massive amounts of data which eliminates the need for an external hard disk for your day to day work.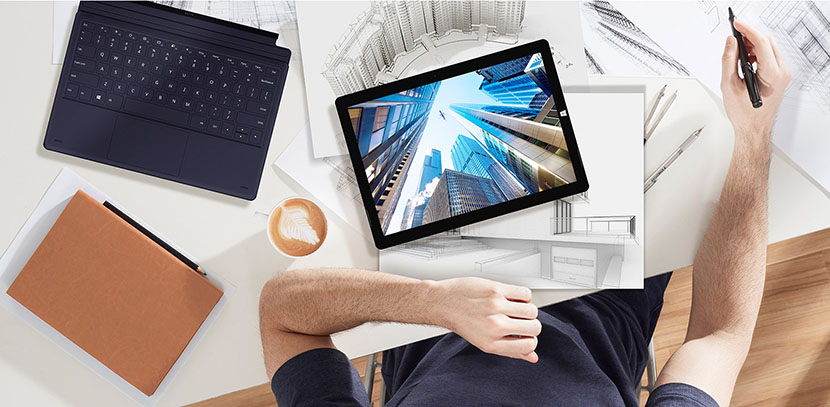 The tablet is quick and very responsive while functioning without dumbing down on its speed, even while you multitask. Speaking of which, multitasking in this tablet is super easy because of its RAM and high-grade storage system. RAM is as necessary as the motherboard of the device. It needs to be efficient to let your efficiency out. And this device gets you efficiency just like that!
Processor and OS
This tablet is geared with Intel Core M processor which is comparatively a stronger and faster processor than other processors. It has 2-3 times better processing which is mechanically proven with all the specifications and details outlined in the website of the product.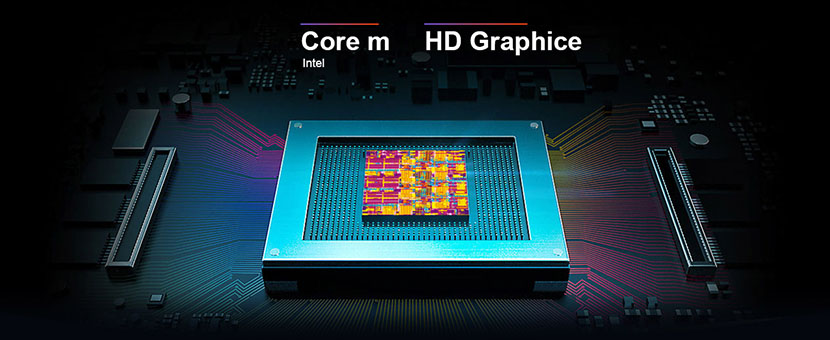 With such strong processing, it can work at blazing fast capacities to process any work you throw at it. It won't leave you disappointed as it cannot let down its  and workability. In a nutshell, what you get is a premium powerhouse, which is all you can ask for in a tablet. It comes with Windows 10 with latest updates and features that are built to enhance the usage of this tablet. For better assistance, you get Cortana to navigate you through the functions of the tablet.
Display and Design
This tablet is one of the largest and premium devices I have laid my eyes on. Coming out with a series of such tablets, they have established their presence in the market with a design and display that outranks most of the tablets today. It has a 12.6" IPS display with 3K picture clarity. The 2880 x 1920 resolution of the display gives you a immersive experience of the visuals you see, just like sitting in a movie theatre. You also get an awesome movie experience because of the radical 275 PPI pixel density with 121% RGB color spectrum which leaves you with deep and rich color contrast.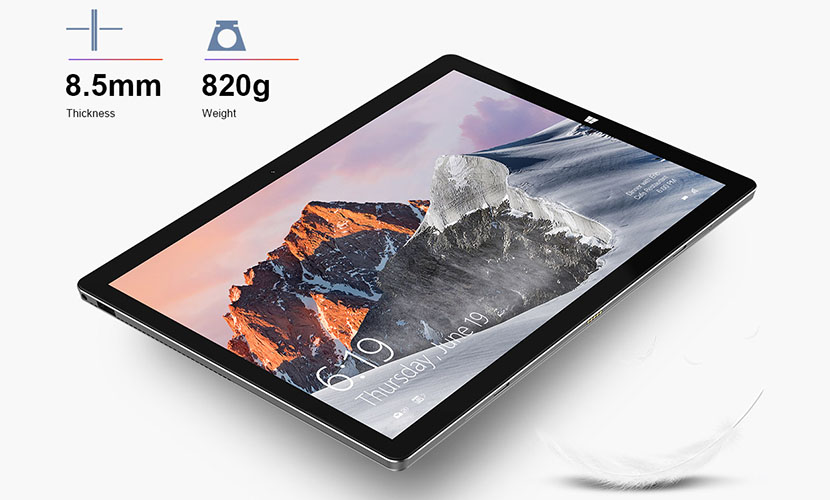 The body design of the tablet is so slim and sleek that you will find no difference between a slim laptop and this tablet today. If the tablet is fitted with the Docking Keyboard, along with the Stylus, it becomes so much more productive to use this tablet to render all your work into it. With the keyboard and stylus, plus the tablet weighing only 820g, it becomes portable to carry this tablet around. The body design of this professional partner is incomplete without the multi-position kickstand. It has a 135-degree rotation that gives you the comfort and ease of using it on the table. The body is also specially designed to dissipate heat through the carefully designed holes in three edges of the tablet.
Battery and others
A premium powerhouse of a tablet is nothing without a powerful battery to back it right? It has a fantastic battery capacity which can support you all day long which also depends on which function you use on the tablet. The action class 1024 Class Active Stylus is a fantastic digital pen that response and translates quicker to the screen.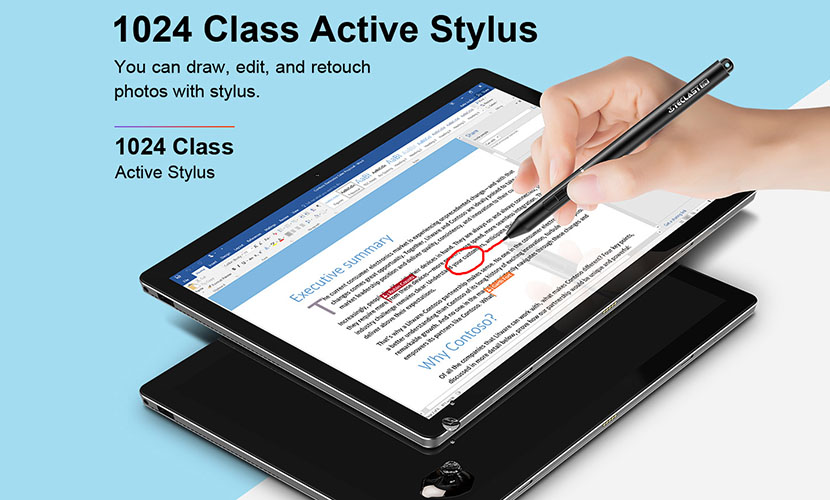 It has a comfortable grip, and the oleophobic coating makes it easy to wipe off fingerprints. It also has 2MP and 5MP front and back camera giving you decent photos. Not expected to be your photography sidekick at all! It has a multifunctional Type-C port along with USB 3.0 which serves you with high rates of data transfer. The Type-C is specially built in for a quick charge or HD video output for large monitors. It also supports Dual-band Wi-Fi with Bluetooth 4.0.
Pros
Fantastic Body design
Responsive Stylus
Powerful Processor
Impressive Display
Great performance
Comfortable Dock keyboard
Huge storage
Final thoughts
Teclast X6 Pro is a premium powerhouse, which I specifically coined for this tablet, as no other words can describe it better. This device is all down to be the perfect sidekick for you to assist through all your work, creative and entertainment needs. I would put this device into the professional category as it serves all the categories plus the features have a professional sense to them. It can be one of the most worthy purchase you can ever have.