When was the last time your tablet or phone slipped out of your hand, and the screen suddenly got damaged? Yes, that bad memory is attached to almost every tablet and smartphone user. It can all be avoided by having a ceiling mount device holder that can be placed in multiple locations and is compatible with any tablet and mobile device of any size. Yes, we are talking about SkyFloat's adjustable ceiling device holder.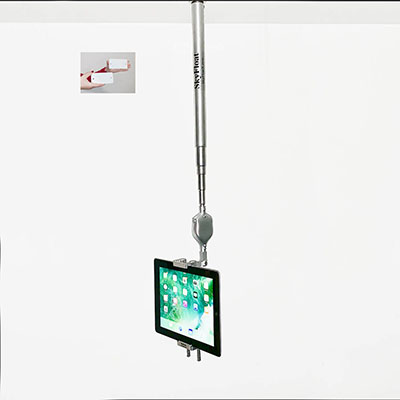 The best part about this type of device holder is that you can carry it in your backup and use it in any workspace.
The device will literally float in front of your eyes, and you can enjoy complete hands-free action. Along with device compatibility, you also get to take advantage of the portable nature.
The unique design of SkyFloat features some rare-earth magnets called neodymium. The magnets are responsible for keeping the metal plate and telescopic arm stable against any ceiling.
The device holder will come with a single telescopic arm and two ceiling plates. The arm provided by SkyFloat is strong, and it can expand from 1.5ft to as long as 6.5ft. This length is more than enough to float your device in any room of your house.
SkyFloat is available online at official store
Even though the plates and arms are made of magnetic material, the device holder is lightweight, and it can easily be carried around till you find an ideal position.
The applications to this device are endless, and you can literally use it for anything you want. You can FaceTime hands-free and still be engaged in other works without constantly handling a phone or tablet.
This tablet holder will be a killer for your kitchen, and it will instantly blend in and change the entire appeal. You no longer need to worry about spilling drinks and water over your mobile and tablet. You can simply flip over to your favourite recipe and start cooking. Your work-at-home sessions will be more productive with SkyFloat device holders, as it can add a secondary screen to your workstation.
Another interesting feature about this device holder is that you can place it at any angle you want and at any height you are comfortable. If you like doing everything from your bed, you can simply use it in your bedroom, and you will never have to suffer from neck stiffness or use your tablet at an awkward angle. The actual holder floating at the bottom can be rotated up to 360 degrees, so you watch movies and sports at any viewing angle.
Some of the common devices used with this type of holder are Apple iPad models and Samsung' Tab S series. Few notable mentions also include Kindle and Amazon Fire. You can also use your smartphone to record videos for different social media platforms. The stability provided by this device holder is incredible, so you will have no problems while recording.
SkyFloat device holders are available on its official website, and they provide guaranteed satisfaction for every product. For 99 dollars, you will get a device holder that is sustainable and portable for you to film videos and extend your daily productivity. SkyFloat also has a valid return policy for thirty, so you can get a replacement of what you ordered or get a full refund.