Towards the end of January 2021, a new Samsung tablet has appeared in the Geekbench. The tablet with the model No SM-T225 was spotted and now it is known that it has received the certification by FCC. The leak on the Geekbench gives details about various features of this awaited Galaxy Tab from Samsung concerning its RAM, Operating System, and chipset. We shall try to understand some of the aspects in this write-up.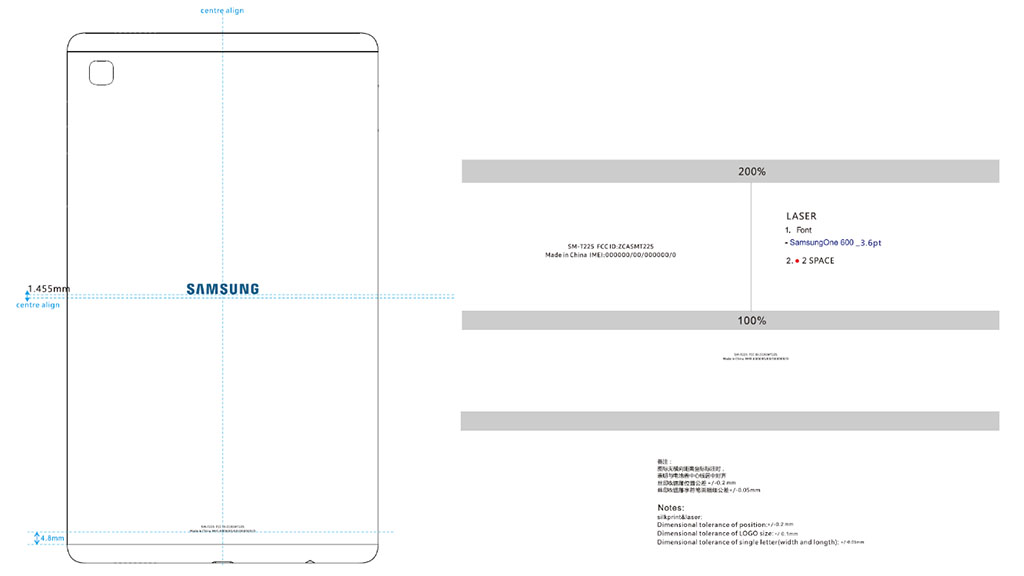 It is true that from the FCC certification not much can be known about this Samsung Galaxy Tab SM-T225. What is gathered is that it will support LTE, WiFi, and Bluetooth Connectivity Options.
It is also clear from the listing that some details about the battery aspect have come up. Like, it is indicated that the battery that will be used for this tablet is manufactured by CUD (Fujian) Electronics Co. Ltd. By taking a hint from here, when a more in-depth search is conducted in the TUV Rheinland with the help of the model number HQ-3565S, the capacity of the battery is revealed to be 5100mAh.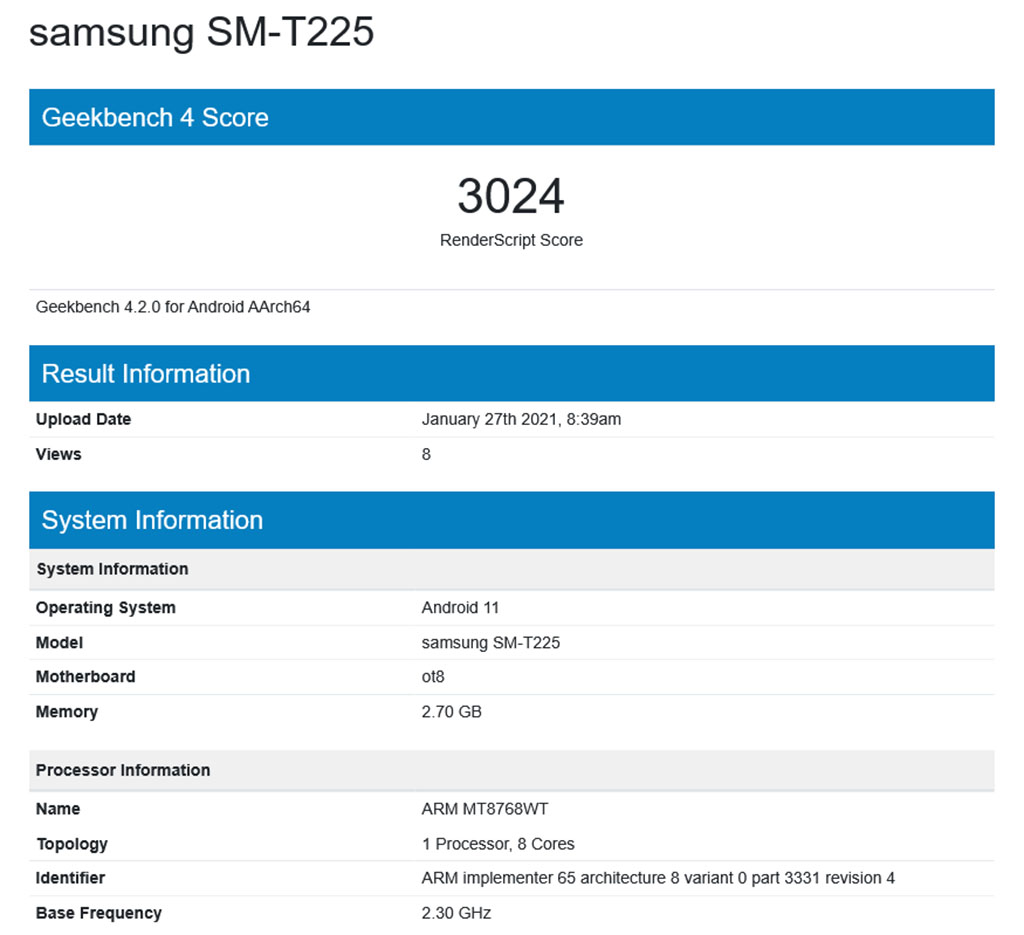 Another detail about the tablet that has been found is that it will include a P-TA200 adapter, which is the same as the 15W Adaptive Fast Charging charger of Samsung. So, the battery life of the tablet will be good for you to carry on a day's work without any kind of interruption, and also charging the device will be easy.
From the presentation that has surfaced, this tablet looks similar to the other recently leaked Samsung Galaxy models, i.e Galaxy Tab A7 Lite and Galaxy Tab A 8.4″ (2021) as far as the design is concerned. So, there raise apprehensions that whether the Samsung SM-T225 Tablet is actual any of these two Samsung Galaxy models.
But a closer view suggests that this cannot be Galaxy Tab A 8.4″. This is because, for the Samsung SM-T225 Tablet, a 3.5mm headphone jack is seen positioned in the bottom unlike the images of Galaxy Tab A 8.4″, where it is seen on the top.
Thus, expectations are growing that this Samsung SM-T225 Tablet which has passed the FCC test is none other than the Galaxy Tab A7 Lite. Going by this logic, Samsung SM-T225 Tablet will have an 8.7-inch display and will sport a slim, metal finish. From more information that is gathered from Geekbench, it will be powered by MediaTek Helio P22T (aka P22 Tab) SoC and will be based on Android 11. It will support 3GB RAM. So, this is engineered to possess all the power to enable it to work flawlessly.
So long, only these many details about Samsung SM-T225 Tablet have been revealed. Going by the specifications and with details indicating that this will belong to the premium Galaxy Series from Samsung, it will not be very tough to assess that this tablet will be a worthy addition to the company's portfolio. We have to wait till more details about the same come up and also till any formal announcement is made by Samsung.