Windows laptops and iPads are hitting the market for a long period of time. To strike out the convertible laptops and obsessed iPads, Samsung introduced Android tablets. And without any doubt, it is actually one of the greatest inventions by Samsung. However, so many tablets have been launched, but Samsung Galaxy Tab S3 is an unbeatable devil. Samsung has come up with the ideal features in the Galaxy Tab S3 that has increasingly become the most selling product for the company.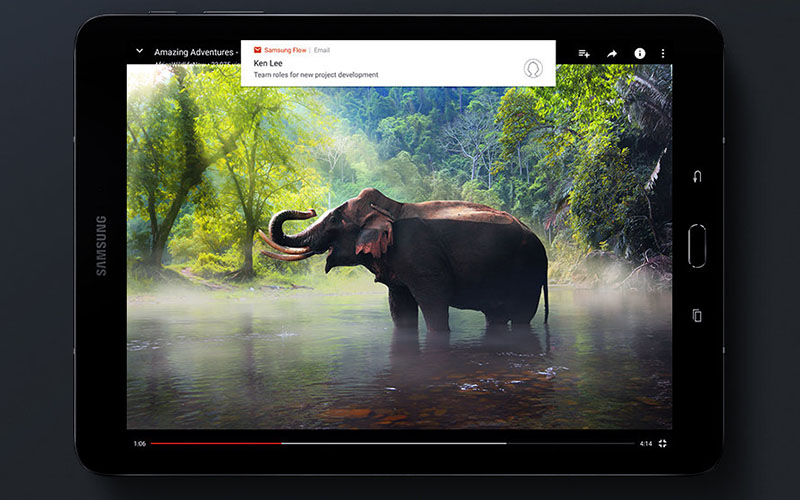 People usually choose tablets over mobile phones as they cannot perform some tasks in their smartphones and some choose over laptops for higher mobility.
Keeping in mind the hard-core competition in the market, let's explore what Samsung wanted to achieve with the Galaxy Tab S3:
Also Read: The New 9.7-inch Apple iPad Review
Admirable design
Samsung has rolled out with the ultimate design that can be treasured for years. It offers a 9.7 inches Super AMOLED display with a resolution of 2048×1536.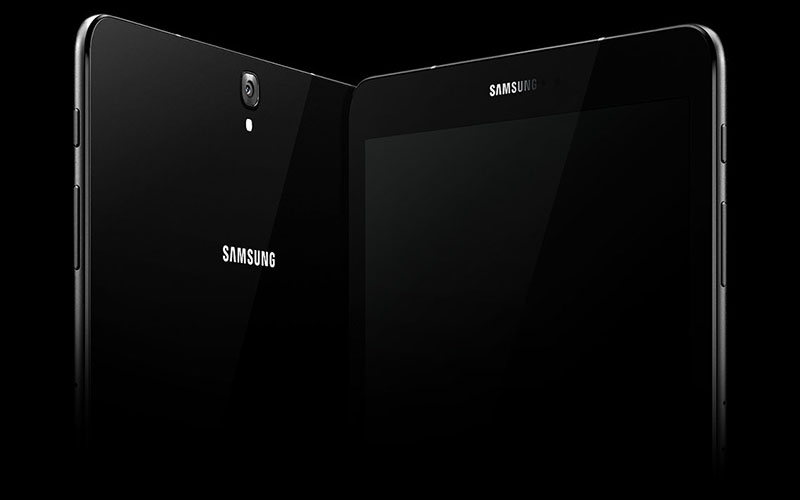 Now you can enjoy watching the video, movies, etc. as the black is deep and contrasts are effective that gives the perfect color of characters in the videos. You can realize that cinematic details while watching your favorite shows. And if you are wearing spectacles or lenses, with the brightness you can dim the light as per your requirement to protect your eyes.
Quad speaker sound
Galaxy Tab S3 has an amazing sound quality with four speakers at the edges, of the brand AKG "quad-stereo". This will add more fun to your favorite shows or movies.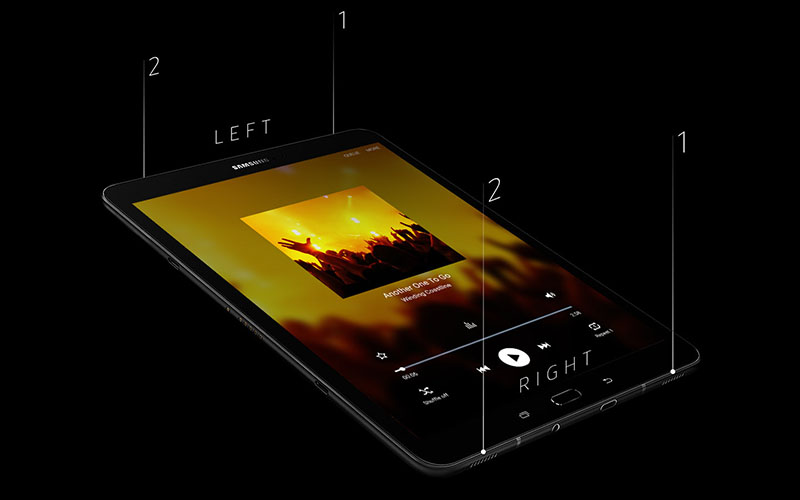 Quad speakers deliver affluent, great stereo sound quality and by revolving your Galaxy Tab S3 automatically adjusts the speaker with the chosen direction so that stereo sound matches exactly what you are watching. Now enjoy crisp in your sound quality and listen to your favorite music with your loved ones to memorize special moments.
Write naturally with a pen
Are you fond of doing paintings? Do you have some inner-creativity that you wanted to explore? Then Galaxy Tab S3 is all that you need. The perfect S pen is quite sensitive but strong enough to help you draw pictures and paint them well. The S-pen is highly intuitive that can become your real-world brush along with paint palette.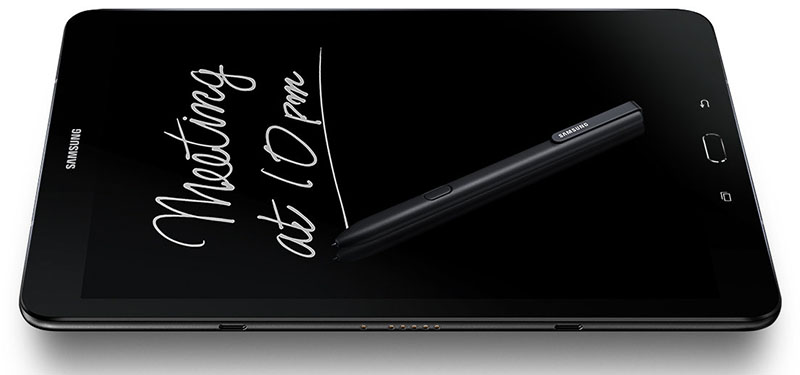 Moreover, with the great pen features, you can make hand-written notes and send to your friends or family members who are at distance. And you don't need ink for your pen it just needs to be charged well.
Focus you can feel
Now, zoom-in to set your focus and click as many pictures you want. The 13MP rear camera and the 5MP front camera gives you an opportunity to become a professional photographer and explore your creativity. Surprised? Well, you can say the camera is "sharp-shooter" it captures great moments on brighter and crisp display. Besides this, the camera has enhanced auto-focus that allows you to take faster and less blurry pictures.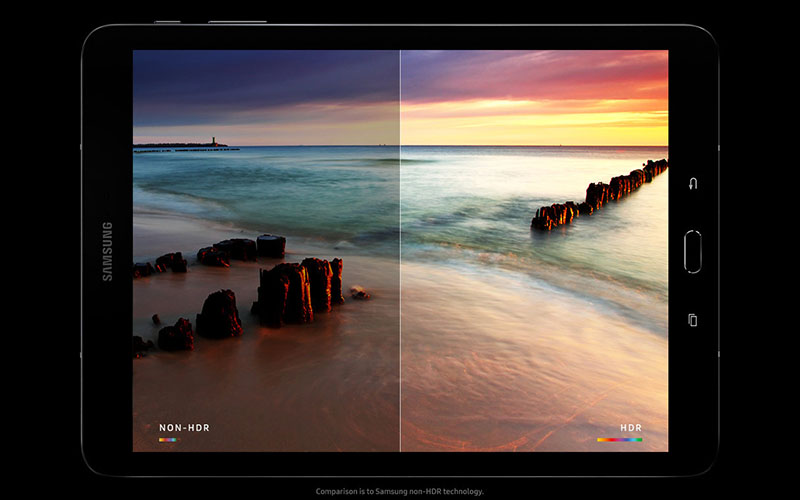 And even in low- lights, it keeps your pictures brighter, clearer and ready to upload. With the 5MP front camera, you can do Skype calling with your friends and upload the pictures on social networks with immediate effects.
The CPU of the Galaxy Tab S3 works 18% for easy multitasking of your activities and the GPU works three times for providing smoother graphics, which is Adreno 530.
Perfect pairing
With easy connectivity, you can switch to feather keyboard that auto-attach with your tab. Moreover, with regards to connectivity, you'll be getting Wi-Fi chassis, USB Type C, Bluetooth, and a headphone jack to stay connected with all the devices around you. You can without any hesitation connect your Tablet PC with your Samsung Smartphone for calls, sharing files and check notifications with just a few clicks.  You can also find different sensors as well. And the secret behind the seamless performance is the Snapdragon Qualcomm 820 processor with 1.6 GHz Quad core. Besides this, the 4GB RAM enables the tab to deliver outstanding overall performance for the running and downloaded apps.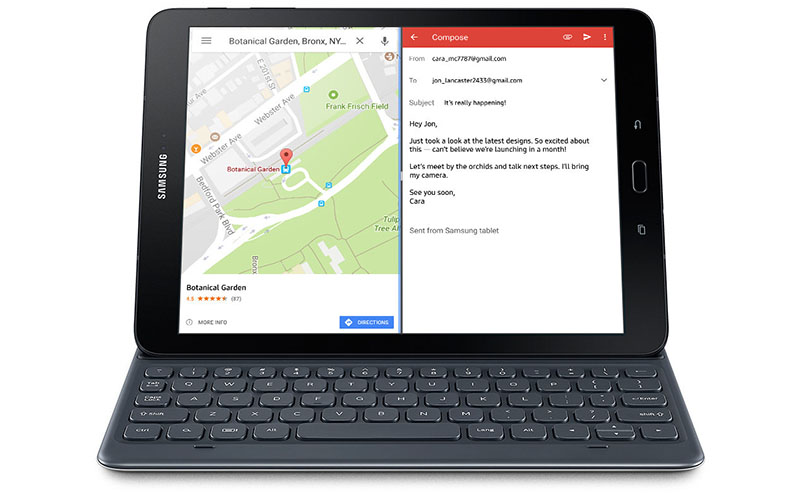 Galaxy Tab S3 offers 32GB storage that can be up to extended 256GB now do unlimited downloading, share videos, click pictures without worrying about the storage. Thus, nothing is going to be deleted ever whether it's an ongoing project, pictures or videos, etc.

Unpredictable operating efficiency
Galaxy Tab S3 comes with powerful Android 7.0 Nougat operating system that enhances everyday productivity with just a few clicks. With the Google Play store, you seamlessly download applications, games, movies, music, and eBooks. It also has the Cloud integration option with Google drive to give you better storage and provide you seamless experience to users.
You can use Google+, Search engine, Gmail, YouTube, and Hangouts. You can also join the gamers via different gaming application on your Galaxy Tab S3.  You can use these apps with split screens and never leave your tasks incomplete.
Gives you the power to do more
The battery backup is totally amazing. Galaxy Tab S3 provides 12 hrs battery backup with continuous browsing and playing videos back to back so that you won't miss out on your favorite shows. Therefore, we can conclude that battery backup by Samsung is quite impressive and will never let you down anytime where you go.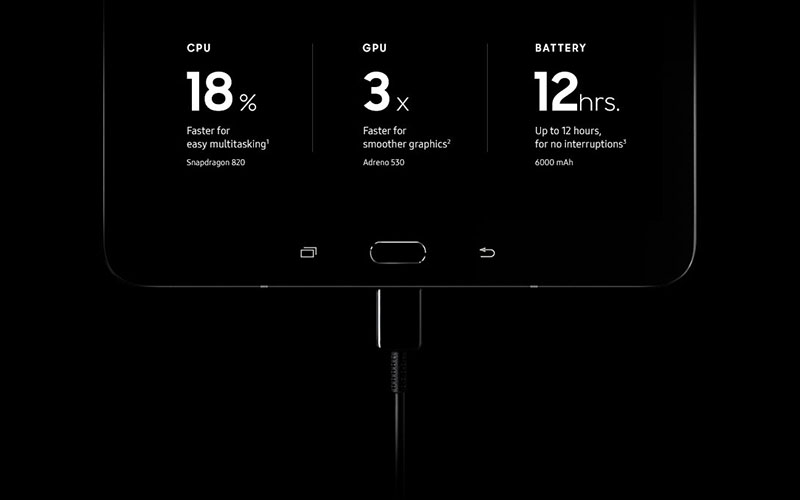 However, if we talk about charging, Galaxy Tab S3 comes with Adaptive Fast Charging lets you charge your device within three hours.

Now go on an adventure clicking pictures and charge your tab for three hours until you take some refreshment and enjoy your day having fun, clicking pictures and uploading photos online.
Verdict
You can enjoy games with greater efficiency, and the battery backup will allow you to enhance your overall productivity seamlessly. This multi-tasking is the perfect one for artist people who want to explore their creativity and people who are fond of gaming. Buy Galaxy Tab S3 today to avail the above-mentioned features of this handy and ultra sleek Android tablet.