As has been seen in the past, like all major brands, Samsung products are also spotted and listed in the Bluetooth SIG Certification portal before their final market launch. Recently, there have been certain important releases by Samsung and now, a very new addition by the brand in the Bluetooth listing has been marked.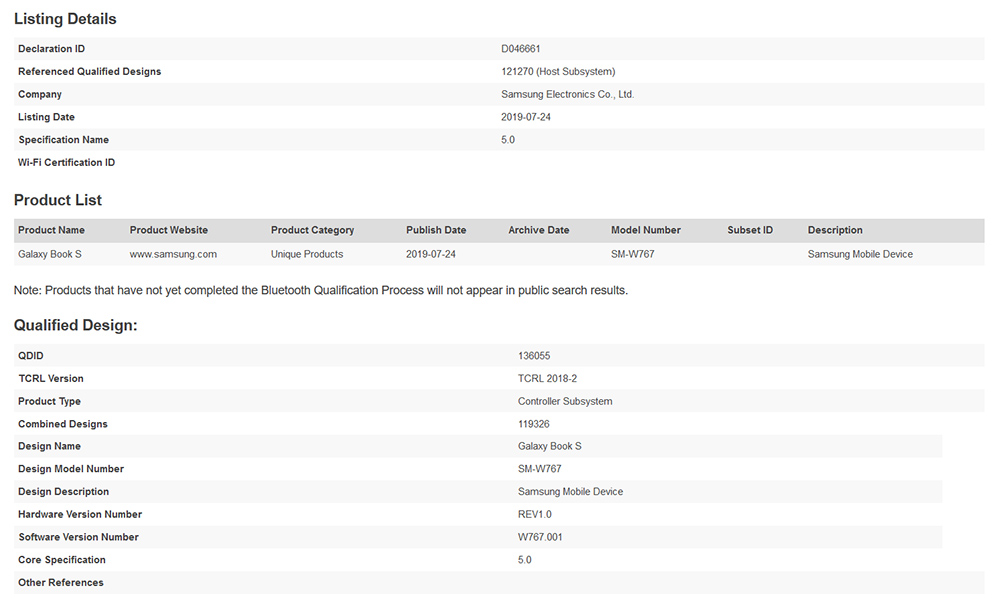 On 24 July 2019, a new product, Samsung Galaxy Book S with the model no.SM-W767 has been seen listed under Bluetooth listing certification. This listing could thus be understood as a kind of indication from Samsung about the launch of this new surprise device in the coming days. Samsung Galaxy Book S was listed under the category of mobile devices that 2-in-1 tablets belongs to at the registrar.
As per the speculations going around in the tech world, this device could very well be considered as the successor of the Samsung Galaxy Book 2 or Galaxy Space that was also unveiled very recently. In fact, there was mention of the same on Geekbench too. Also, going by the model number of the device, which is similar to that of Samsung Galaxy Space, it can be deciphered that Samsung Galaxy Book S will also fall under the category of Snapdragon 850 SoC powered always-connected convertibles.
So, logically, it is then to be powered by a 8-core Qualcomm Snapdragon processor clocked at 2.84GHz and so far is known to have 8GB RAM. As it falls within the SM-W700 series, it is likely to be a 12 inch notebook running on 32 bit -version of Windows 10, will support Bluetooth 5.0 and will come with S pen and keyboard.
After the official listing is done, Samsung will surely not want to delay the formal launch of this high-end smart device that is sure to take the digital virtual market by storm. So, we are likely to witness the launch of Samsung Galaxy Book S either at Samsung's own Galaxy Unpacked Event, which is to be held in New York on 7th of August 2019, or at the IFA Berlin in September 2019.