Every PC and mobile device manufacturer is eyeing the 2-in-1 laptop cum tablet these days. Computers have been bestselling devices for decades now. One of the primary reasons that the personal computer industry is still relevant and thriving is due to the surprising evolution process that it has undergone. Just when the desktop PC was starting to look like fading away, the internet came along and boosted the popularity of the devices.
When people started to question the device's versatility, laptop computer added a new dimension to the way we could use a computer. Then came the powerful smartphones that could perform almost all basic computing tasks and could fit into our pockets. Out of nowhere, Apple revived the tablet PC with the iPad. While many were skeptical about the need of a tablet, when the phones are becoming more powerful with each passing day.
Since then the tablet industry has taken off and how! One of the primary reasons tablets sell like hot cakes is because they do not pose a threat to the mobile phone industry but rather the laptop PC. With detachable keyboards, touch screens, advanced hardware and longer battery life, they are slowly being categorized with laptops.
The RCA Delta Pro is a 2-in-1 device designed for light users. It features a detachable keyboard which can be connected to make it work like a laptop and can be detached for lighter tasks where it functions like a tablet.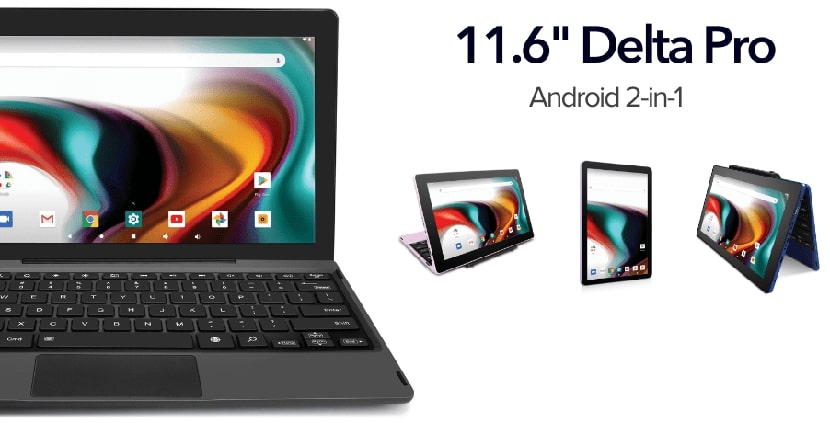 Let's make a detailed overview of the RCA Delta Pro and find out if this device meets users' expectations.
Processor
The RCA Delta Pro is powered by a 1.3GHz Quad-Core Processor. While we would have loved to have an Octa-Core processor, the company has specifically built the device for light users, occasionally for watching videos and browsing the web. All these tasks fit in well within the capabilities of the processor.
RAM
The device has a 2GB of RAM and it is clear that multi-tasking will definitely not be the forte of RCA Delta Pro. Running multiple apps on the background will definitely make the device slower and sluggish. While you can test and run a few light weight games, do not expect the device to run graphics intensive games. This is also not the right device for using other heavy applications like Photoshop or other design suite. The key emphasis here is that it is a light weight computer designed for users whose primary requirement is watching videos on a larger screen, sometimes using a word processor, etc.
Operating System
The device runs of Android 9.0. It is quite clear and obvious as the device cannot justify Windows operating system. Android 9.0 fits good into the other key specs like the processor and RAM. It means that you can run your favorite Android apps on this device and sync data within your mobile phone and RCA Delta Pro.
Battery Life
Battery life is the biggest concern for users today. People who use tabs as a computing device are almost always on the go and finding a charging socket can be difficult. Hence, they prefer a long battery life before they need to plug-in again. The RCA Delta Pro gives you up to 6 hours of battery life which is not bad, neither is it extraordinarily good. We have seen way more powerful devices churn out 12 hours of battery life. But obviously there is no comparison here as they are priced way higher than the Delta Pro.
Memory and Connectivity
You get a built-in storage of 32GB on the device which can be expandable up to 128GB using an SD card. As the device is powered by Android, 32GB is a good amount of base storage. You can easily store multiple apps, word documents, spreadsheets, photos and some videos on it. However, if you watch a lot of videos from storage devices, you might want to have additional storage from a SD card. You can also connect your pen drives and external hard drives using the USB sockets. So, RCA Delta Pro has the storage department sorted. The device also has a 3.5mm headphone jack for an immersive video watching session or for listening to your favorite playlist.
Display Size and Portability
The device has a 11.6-inch touch screen display with a resolution of 1366 by 768 pixels. This is the perfect size for a tablet. You don't want to miss out on a good movie or video watching experience with a smaller screen and you don't have to compromise on the portability. The tab delivers the right mix between portability and size. The removable keyboard is also light-weight and portable. So, you can easily carry around the keyboard along with the tablet in case you have some typing to do.
Verdict
So to sum things up, the RCA Delta Pro is a light weight tablet PC designed for lighter jobs like word processing, spreadsheets, watching videos, browsing the internet, etc. If you are looking for a laptop replacement, this device is not definitely for you. With modest specs, the device can at best be your secondary android device with a larger screen and a detachable keyboard. If this makes sense to you and you are looking for a similar device, you can take a look at the RCA Delta Pro.